Arrowverse Trailer: 'Arrow's' Felicity Has a New Look and Bruises and Barry Shows Off New 'Flash' Suit
The heroes of The CW's DC TV shows are ready to fight back in the new trailer the network released Wednesday.
The new superhero season begins with The Flash Season 5 on October 9. Barry (Grant Gustin) will be fighting to protect Central City as The Flash in a new suit, as you can see in the "Superheroes Fight Back" trailer (above). That doesn't mean he's leaving his previous suit behind. An officer asks if he's going "old school" when he encounters The Flash and Barry says his old suit is "tighter" than he remembers.
The video also offers another look at Barry's Flash Ring and someone carrying a lightning bolt dagger, which is Cicada's weapon of choice. Chris Klein plays the new Big Bad, "whose family has been torn apart by metahumans," which is why he wants to "exterminate the epidemic—one metahuman at a time," according to Warner Bros.' description of the character.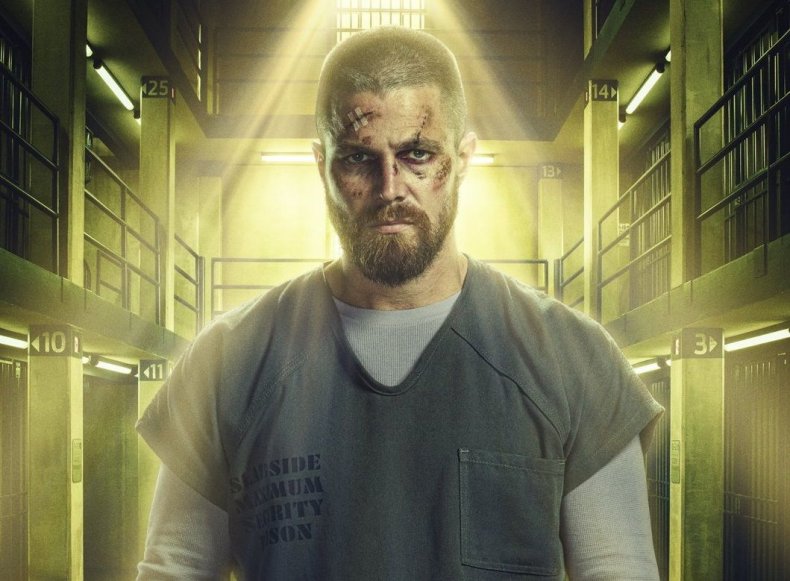 Arrow also debuts a new look for one of its characters in this preview. When Season 6 ended, Oliver (Stephen Amell) announced to the world he's the Green Arrow and, as part of a deal with the FBI to try to catch the villain Ricardo Diaz (Kirk Acevedo), went to prison. (Diaz is still on the loose.) Oliver starts Season 7 off in a supermax prison, Slabside, where he'll be getting into fights and warning someone, "You should have killed me," in the trailer.
"Everything I do is for my family," Oliver says, and his family won't have it easy either. Oliver had arranged for his wife, Felicity Smoak (Emily Bett Rickards), and his son, William (Jack Moore), to enter protective custody, which could explain Felicity's pink hair. It looks like she's attacked. When she visits Oliver in prison, she's beaten and ready to fight back. That tracks with Rickards' comments at San Diego Comic-Con in July. "Just like Oliver is watching his back, Felicity is tired of watching hers and she's going to take some action," she said at the Arrow panel.
While most of the key moments from the new seasons come from The Flash and Arrow, the other series are represented. Jefferson Pierce (Cress Williams) destroys punching bags and is in action as Black Lightning. Supergirl's Kara (Melissa Benoist) describes "trying to unite a divided world" as "overwhelming" and her sister, Alex (Chyler Leigh), is ready to fight. Ava (Jes Macallan) tells the Legends of Tomorrow they fixed history.
The CW DC TV shows kick off their new seasons starting with The Flash Season 5 and Black Lightning Season 2 on Tuesday, October 9, at 8 p.m. and 9 p.m. ET respectively.
Supergirl Season 4 premieres Sunday, October 14 at 8 p.m.
Arrow Season 7 premieres Monday, October 15 at 8 p.m.
DC's Legends of Tomorrow Season 4 premieres Monday, October 22 at 9 p.m.