'Arrow' Season 8: Will Stephen Amell Appear in Final Episodes After 'Crisis on Infinite Earths' Shock?
Usually, if a series is going to kill of its main character, like Walter White in Breaking Bad or (maybe) Tony Soprano, it will do so in its finale. However, in the Arrow episode of the Crisis on Infinite Earths crossover, the show made the decision to kill off Oliver Queen (played by Stephen Amell) for good this time, after resurrecting him as the Spectre at the start of the episode.
On Twitter, Amell sent a message to fans after his character died, reading: "8 seasons and an entire Universe seems like a pretty good time to step away. What a ride."
Those hoping that Oliver Queen will again be able to miraculously return from death for the final episodes of Arrow Season 8 will be disappointed. "He is really dead this time," Arrow showrunner Beth Schwartz confirmed to The Hollywood Reporter. "His journey has led him to make that ultimate sacrifice for his family, for his friends, for the other superheroes. And it just worked out in the timing of doing Crisis that the story made sense."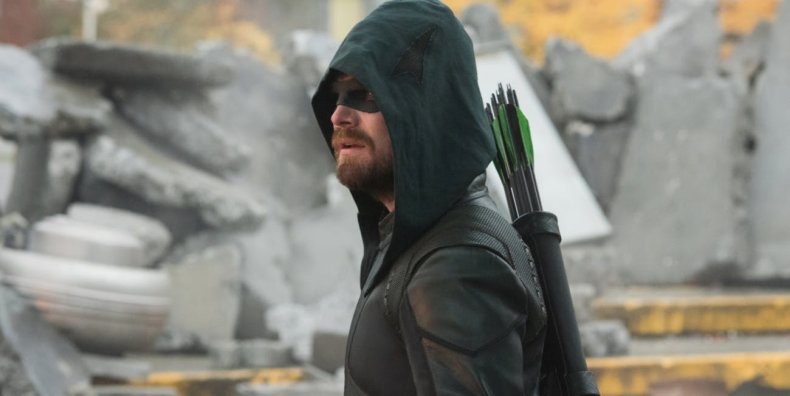 That does, however, raise the question of what exactly will happen in the two remaining episodes of Arrow after the titular character died trying to defeat the Anti-Monitor (LaMonica Garrett). Luckily, Schwartz confirmed that Amell will be back in some form in one of those episodes. "He will be in the in the series finale," she told THR.
Although Schwartz did not exactly reveal how the character will make an appearance, she did seem to hint that the episode will feature flashbacks to moments before Oliver died, featuring not only Amell but a number of other cast members who have come and gone from The CW series.
"In one episode it honors the entire series and finishes several storylines [for] characters from all of our seasons, basically—past and present—in a hopefully very satisfying way," Schwartz teased.
As for what fans can expect from the penultimate episode of Arrow, Season 8, Episode 9 will be a backdoor pilot for a potential series titled Green Arrow and The Canaries, set in 2040 with Mia Smoak (Katherine McNamara) as the new Green Arrow alongside the two Black Canaries, Laurel Lance (Katie Cassidy) and Dinah Drake (Juliana Harkavy).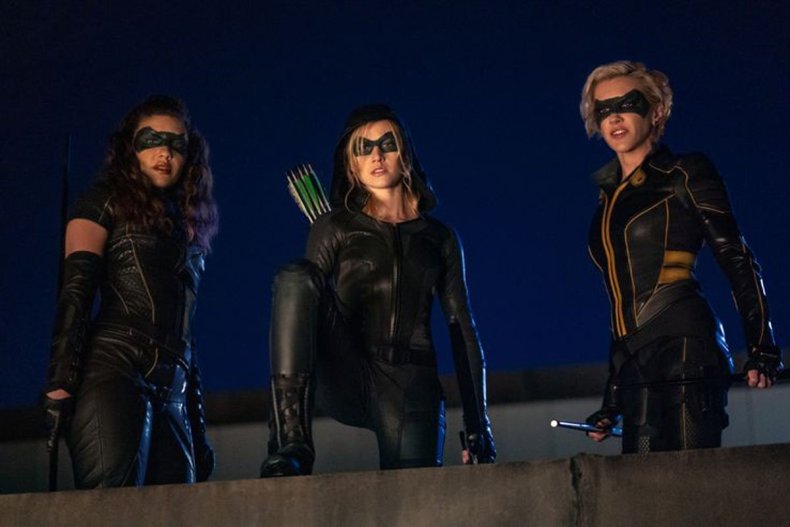 The synopsis for this episode reads: "In the year 2040 - Mia Queen has everything she could have ever wanted - until Laurel and Dinah suddenly show up in her life again and things tale a shocking turn; Laurel and Dinah track a kidnapping victim who has direct ties to Mia."
Schwartz said of the potential spin-off, "I think it's definitely a way of honoring Oliver's legacy, because it's his child and also the women who fought alongside him. But it's going to have its own fresh spin to separate itself from Arrow."
Arrow Season 8 airs Tuesdays at 9 p.m. ET on The CW.