'Arrow' Season 7 Episode 3: Cody Rhodes, Stephen Amell Get SummerSlam Rematch
"Last time didn't end so well for you," Green Arrow says at the tail end of Season 7 episode 3, "Crossing Lines." Yup, it was a subtle reference to 2015 SummerSlam when Cody Rhodes and Stephen Amell went head to head in the WWE ring (Amell's first confrontation with Rhodes' Stardust was from the audience during an episode of Raw months prior).
In tonight's scene, both Green Arrow and Derek Sampson, played by Amell and Rhodes respectively, are in prison. They face off in a fight club hosted by prison boss Brick, who has ties to Ricardo Diaz's associate, only known as "the demon" at this point.
Oliver, still hurt from a self-inflicted stab wound last week, absolutely wrecks Sampson in the ring (pretty sure Rhodes' character is actually dead). And Ollie doesn't stop there. He takes out a bunch of guards, all in an effort to find "the demon," who according to Brick, is on level 2 of the prison. He's successful, and is sent downstairs by episode's end.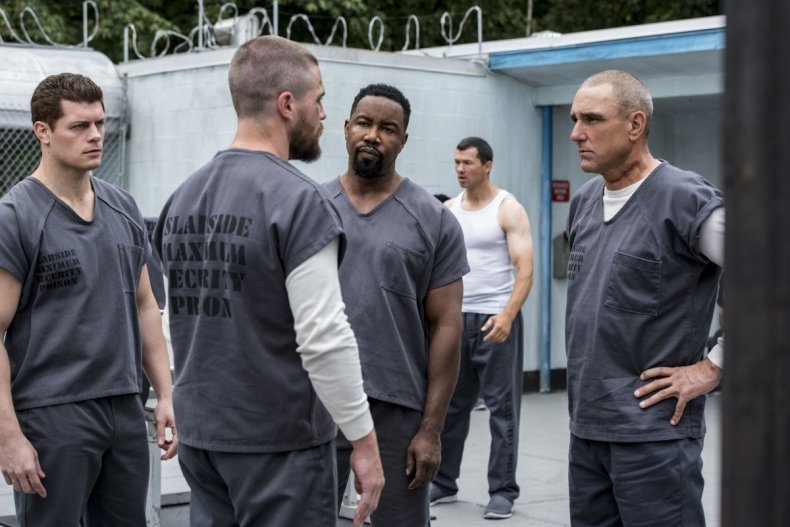 Outside of prison walls, Team Arrow is somewhat back together again. Agent Watson, Felicity, Curtis, Dig and Rene break into the CDC after discovering Diaz wants vials of disease, potentially for an airborne attack. They aren't successful in stopping the break-in, but Lyla has a development. She appears to have evidence Diaz has influence at ARGUS, and she's going rogue to do a proper investigation.
The episode's title comes from Lyla's dialogue. "There's more evil in the world than people willing to fight it. Sometimes you have to cross the line for the greater good." Looks like Dig and Lyla may take on Green Arrow's vigilante duties after all.
It's nice to see Season 7 can hold its own without the Old Man Roy/Future William flashforward sequences in every episode. Amell's acting and choreography is at a series high. The Silencer's noise-cancelling abilities make her fight scenes exhilarating to watch. Diaz continues to be the opposite of threatning, which is dissapointing but also suspicous—he's been around for two seasons now...if not an expert martial artist like the comics, where are they going with this?
Observations
-No sign of copycat Green Arrow.
-Jon Jr is the cutest.
-What if Stan is "the demon?"
-Diaz injected himself with...something?
-Rene and Dinah are holding The Silencer captive? Oh okay, it's like that....