'Arrow' Season 8 Netflix Release Date: When Will the Final Season Be Streaming Online?
Arrow Season 8 may have been airing on The CW since October, but some fans have been waiting to watch the last-ever episodes of the show all at once when they drop on Netflix. This means they have had to hide away from spoilers about what happens to Oliver Queen (played by Stephen Amell) in the final season and the dramatic Arrowverse crossover Crisis on Infinite Earths.
However, those fans do not have long to wait until the last 10 episodes are streaming. The season finale of Arrow (Season 8, Episode 10, titled "Fadeout") will air on The CW on Tuesday, January 28, in an episode that Amell said in a Collider interview ends with "the action sequence to end all action sequences."
Arrow showrunner Beth Schwartz added in an interview with The Hollywood Reporter: "In one episode it honors the entire series and finishes several storylines [for] characters from all of our seasons, basically—past and present—in a hopefully very satisfying way."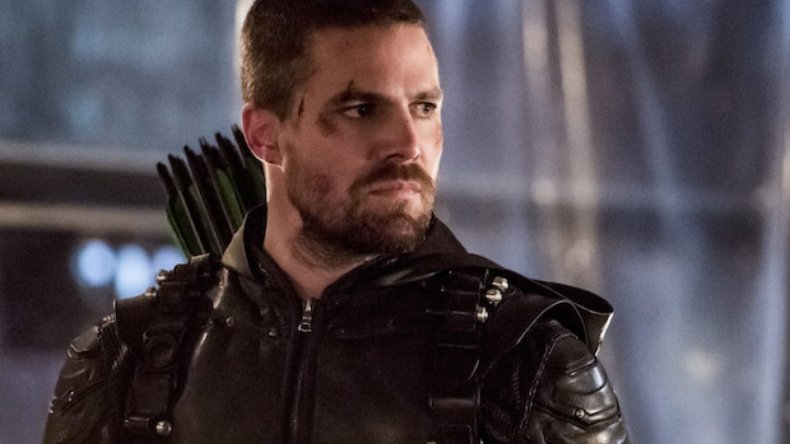 After that episode has aired on The CW, the season's Netflix release date will be just over a week away. The deal that currently stands between The CW and Netflix means every one of its shows that debuted before fall 2019 goes onto Netflix in full eight days after its season finale airs. This means that Arrow Season 8 should be on Netflix on Wednesday, February 5, when it will join the seven seasons already on the streamer.
As new CW series like Batwoman and Katy Keene are going to HBO Max after they air, fans have been left to worry that the shows will leave Netflix for a new home. However, Variety reported that Arrow will be on their current streamer for "the next few years."
However, Arrow and the other Arrowverse shows will also eventually stream on HBO Max. Seasons of CW shows will join the streamer 30 days before the release of their following seasons, meaning that the most recent seasons of The Flash, Black Lightning and Legends of Tomorrow are likely to come to the streamer in August and September 2020.
It is not sure, however, how this will affect Arrow, which after all is not getting a new season. Season 8 is likely to be on HBO Max by fall 2020, where it will be joined by new DC Comics shows like Green Lantern and Strange Adventures, as well as Season 2 of Doom Patrol.
Arrow Season 8 concludes on January 28 on The CW.