'Arrow' Season 8 Release Date, Cast, Trailer, Plot: When Does the Final Season Air?
Arrow Season 8 is the final season of The CW show, which is celebrating its last set of episodes by bringing back some familiar faces from the former cast of the show for a plot that will pay tribute to the eight years of the series and set up the Crisis on Infinite Earths crossover.
Fans can read on for details of when the show will air, all of the cast members who are coming back and what the Arrow Season 8 trailer reveals about what they will be doing.
When Does Arrow Season 8 Air?
Arrow is the penultimate CW scripted series to return this fall, with episodes of Season 8 airing from Tuesday, October 15 at 9 p.m. ET on The CW after episodes of The Flash. Season 8 will be a much shorter season of the show, with 10 episodes compared to the usual 22 or 23.
This is good news, however, for fans who like to binge seasons of Arrow all at once on Netflix, as it means the season will be on the streaming service a lot sooner. An exact release date has not been confirmed, but it is likely to drop on the website in January or February 2020 when the previous instalments dropped in May.
Netflix is also the streaming home for past episodes, with Seasons 1 to 7 streaming now. Before they are released on the streaming service, Arrow Season 8 episodes can be stream on The CW website and app, which will host the five most recent episodes.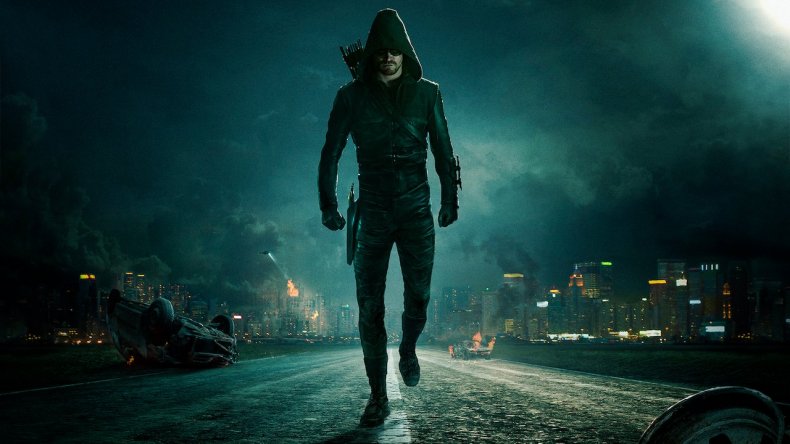 Who is in the Cast of Arrow Season 8?
The Arrow cast will be joined by some former cast members in the last 10 episodes. Malcolm Merlyn (played by John Barrowman) will be back in the premiere, as will Tommy Merlyn (Colin Donnell) and Moira Queen (Susanna Thompson), in what executive producer Beth Schwarz called "a love letter to the pilot and to the series" in an interview with GameSpot.
Later on in the season both Thea Queen (Willa Holland) and Roy Harper (Colton Haynes) will also be back to join Oliver Queen/Green Arrow (Stephen Amell), John Diggle (David Ramsey) and Laurel Lance (Katie Cassidy).
While these reunions will be sweet for Arrow fans, they cannot stop the spectre of death hanging over the season as The Monitor (LaMonica Garrett) appears again to warn Oliver about the upcoming Crisis on Infinite Earths (this year's Arrowverse crossover) and the future in which The Monitor has seen the superhero's death.
What will Happen in Arrow Season 8?
According to Schwartz in an interview with TV Guide, Season 8 will be on the move, with only a fraction of the remaining episodes set in Star City. She said: "In our upcoming episodes, we visit places that we've gone to in our previous season. So they'll take place in different locations. I think we only have, like, maybe one or two episodes actually in Star City."
The official CW plot synopsis, meanwhile, reads: "After a violent shipwreck, billionaire playboy Oliver Queen (Stephen Amell) was missing and presumed dead for five years before being discovered alive on a remote island in the North China Sea. He returned home to Star City, bent on righting the wrongs done by his family and fighting injustice.
"As the Green Arrow, Oliver successfully saved his city with the help of his team including former soldier John Diggle (David Ramsey), computer-science expert Felicity Smoak (Emily Bett Rickards), former protégé Roy Harper (Colton Haynes), street-savvy Rene Ramirez (Rick Gonzalez), metahuman Dinah Drake (Juliana Harkavy), brilliant inventor Curtis Holt (Echo Kellum) and Earth-2 Laurel Lance (Katie Cassidy).
"In the wake of discovering what his future holds, Oliver will find himself pit against his most challenging battle yet, one that will leave the multiverse hanging in the balance. In Arrow's final season, Oliver Queen is forced to confront the reality of what it means to be a hero."
Is There a Trailer for Arrow Season 8?
In July, during San Diego Comic-Con 2019, The CW released a trailer what featured a compilation of the show's finest moments so far alongside footage from Season 8 that promises the epic battle waiting for Green Arrow alongside The Flash (Grant Gustin), Batwoman (Ruby Rose) and many others in the upcoming crossover.
Arrow Season 8 airs Tuesdays at 9 p.m. ET on The CW