'Arrow' Season 7 Spoilers: Felicity's Smoak Tech and Dealing With Oliver in Prison
Felicity isn't going to have an easy time in Arrow Season 7 with her husband, Oliver, in prison, but there may be some good news, involving Smoak Tech, for her, TVLine reported Thursday.
It's been three years since the Legends of Tomorrow Season 1 episode "Star City 2046" featured Smoak Technologies, Felicity's (Emily Bett Rickards) own company. That aired at the same time as Arrow Season 4, during which Felicity was the CEO of Palmer Technologies after Ray Palmer (Brandon Routh) signed his company over to her. The Smoak Tech building was also part of the alien's dream world in the "Invasion" Arrowverse crossover in Arrow Season 5.
Until now, Smoak Tech hasn't been seen in the current timeline on any of the Arrowverse shows, but that may change in Arrow Season 7. "It's possible you might see something like [Smoak Tech] this season," showrunner Beth Schwartz told TVLine.
While Smoak Tech is still only a possibility, fans have still made merchandise with the name. Stephen Amell, who plays Oliver, posted a photo of himself wearing a Smoak Technologies T-shirt on Instagram in June. "Being aspirational about S7," he wrote in the caption.
Felicity intended to start her own company in Season 6 with Curtis (Echo Kellum). The name of the company was to be Helix Dynamics, and they were going to mass-produce a bio-stimulant implant Curtis invented. He created it after Felicity was shot and paralyzed in Season 4, and with it, Felicity can walk.
It's unknown what will happen with Helix Dynamics and if Curtis will be part of this potential Smoak Tech. Felicity and Oliver's son, William (Jack Moore), were to enter protective custody after the events of the Season 6 finale so it's unclear if she and Curtis can even continue to work on Helix.
Oliver and Felicity had discussed her and William entering protective custody during his trial in Season 6 if he had gone to prison then. He hadn't, but when he was arrested and sent to supermax prison at the end of the season, it was back on the table.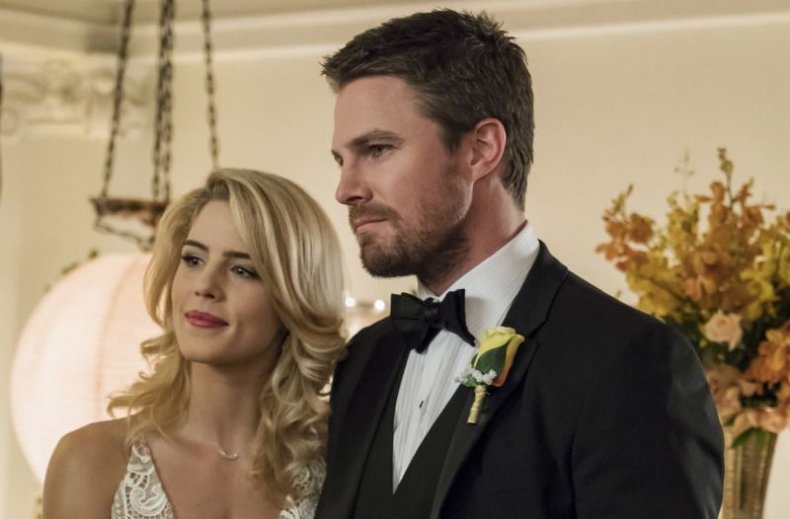 When Season 7 begins, Oliver is in prison, as seen in the trailer released at San Diego Comic-Con in July (above). "Felicity is definitely coping the worst," Schwartz said to TVLine. "It's been tough for her."
Rickards spoke about what Oliver being in prison means for her character at the Comic-Con panel. She and William are "alone," she said. "Just like Oliver is watching his back, Felicity is tired of watching hers and she's going to take some action."
Arrow Season 7 premieres Monday, October 15 at 8 p.m. ET on The CW.