Arrowverse Crossover 2018 Dates Reveal Three-Night TV Event
The CW has secured three nights of programming for the 2018 Arrowverse crossover event. The Flash crossover episode starts Sunday, Dec. 9 at 8 p.m. The crossover event continues with Arrow on Monday Dec. 10 at 8 p.m., and concludes with Supergirl Tuesday Dec. 11 at 8 p.m.
Legends of Tomorrow is absent from this year's crossover event. The newest DC Comics show on The CW, Black Lightning, is not part of the Arrowverse (yet) and therefore will not participate. The CW did not reveal a story synopsis with the announcement.
The only peculiar part about this schedule is why The Flash and Supergirl swapped their regular time slots. It could have to do with story, and the only detail we have so far is that Batwoman will be introduced at some point during the crossover event. It's still unclear which episode to expect her debut, but Supergirl star Melissa Benoist has been the only actor to tease interactions with Batwoman so far.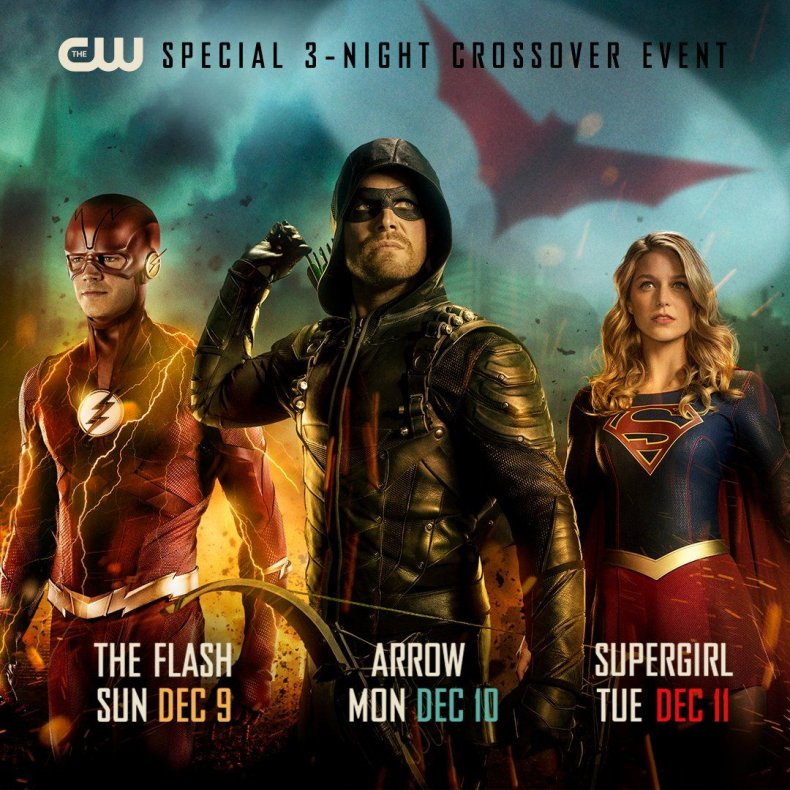 "Throughout the seasons, Kara's had a few funny quips about Batman and her opinions on him – she thinks vigilantes are nuts," she told DigitalSpy. Batwoman is joining the CW lineup during the 2018 crossover, "So I'm excited to see her meet Batwoman, and see how they interact."
The "Invasion!" crossover event two years ago spanned four nights and four shows. Last year's crossover, "Crisis on Earth X," was two nights, two hours each night. This year's crossover seems to have found a happy medium. While it incorporates less characters, the event will still be a substantial three hours worth of television. Arrow star Stephen Amell said this year's event will focus on story and characters more than previous crossovers.
"We went so big with the crossover last year, you can't go bigger, so you have to go more about the characters and the story," he told DigitalSpy.
Are you excited for this year's crossover event? Let us know in the comments. The Flash and Black Lightning return Oct. 9, Supergirl returns Oct. 14, Arrow returns Oct. 15 and Legends returns Oct. 22.