Premier League: Five Things We Learned From Arsenal vs Manchester City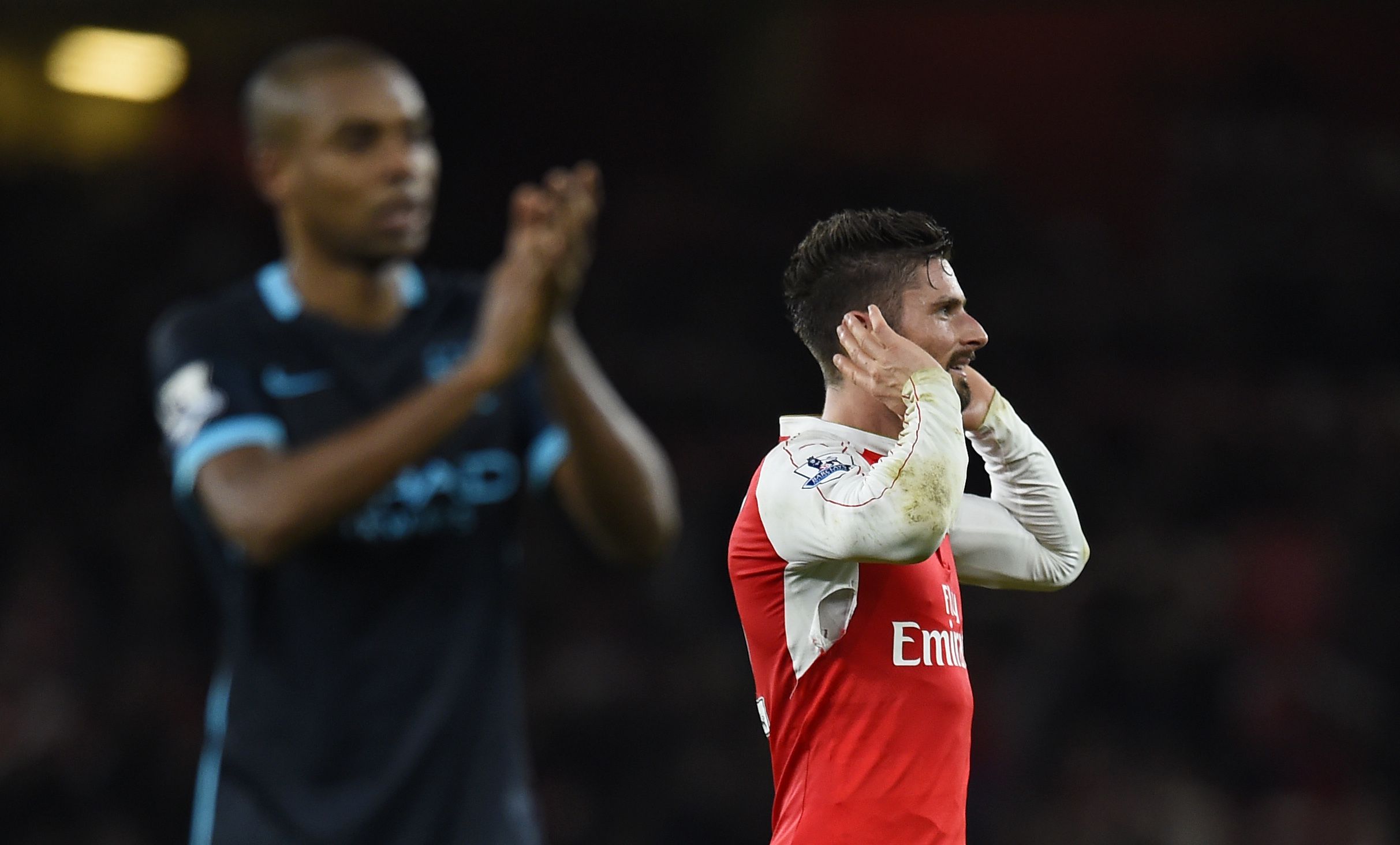 The final English Premier League game before Christmas always promised the kind of satisfying bang you only get with an overpriced cracker, and it did not disappoint. London club Arsenal raced into a 2-0 lead at The Emirates Stadium against Manchester City, then had to withstand a furious late rally from their expensively assembled visitors. But what did we learn about the state of each team and its prospects for 2016?
Arsenal is now facing its best chance to win the Premier League in a decade
Arsenal's rivals are playing through treacle, and Leicester City, the shock league leader, will surely struggle to avoid injuries and a blip in form after Christmas. Which means the London club, previously fallible in games against sides on the same technical level, seems imbued with an exciting new steely desire to fight for results—the same kind of hassling and harrying spirit that Manchester City conspicuously lacked Monday night, aside from the last 20 minutes when it realised the game was slipping through its fingers. City now trails Arsenal by four points, with Manchester United a distant seven points behind. The race, as it stands, is between plucky, vibrant Leicester and Arsene Wenger's team.
Manchester City's struggles could be solved by a new manager
This is curious. For all the money it has spent, the gilded new players, the squad depth, City too often plays in a stilted, laconic manner. That was the case in the first half at The Emirates, and by then the game was gone. A manager can only inspire his players if they are willing to listen to that inspiration, and it seems that Manuel Pellegrini, affable as he is, has come to a natural impasse at Manchester. The elegant specter of Pep Guardiola, who has just announced he is leaving Bayern Munich at the end of this season, hangs over the Chilean Pellegrini and that surely can't help. Still, Pellegrini has the English Premier League's most expensive toys to play with, but nobody seems to be having any fun. Change is needed at Manchester City.
Jesus Navas' impotence in front of goal suggests psychological issues at work
It used to be chronic homesickness that affected the Spaniard—a major reason why, despite being a burgeoning talent, he remained at Seville for a decade before his move to Manchester City. Now it seems that frailty is manifesting itself on the pitch. Midway through the second half at The Emirates on Monday, Navas, a substitute, received a beautiful pass that put him through on goal. He drove towards the net, but then tried to find fellow substitute Wilfried Bony with an impossible pass and the chance was lost. Forwards who cost £15 million ($20 million) and upwards are expected to have predatory, selfish instincts in front of goal. Navas's callowness is hurting his team.
When Yaya Toure plays, Manchester City fire up
So why can he not do so for 90 minutes? Toure strolled through the first half—and 25 minutes of the second—before jolting awake and putting in a masterful last third of the game, including a goal into the top corner that seemed to defy physics, so gently was it struck and so sweetly and powerfully did it fly. And this has always been the problem with the Ivorian, whose combination of power and finesse is delectable but is only occasionally combined with the requisite application. Once he began to dictate the play, City's other forward players roused themselves for a stirring effort. Too late, though. Toure has to perform consistently if City are to catch Arsenal.
Stretching the play is more dangerous than tiki-taka
And this may be Arsene Wenger's greatest discovery. Where Manchester City still appear wedded to approaching the penalty area politely, in the manner of a wedding guest deliberating over a tired set of canapés, Arsenal now look to play the ball long to striker Olivier Giroud more often, ensuring that midfielders like Aaron Ramsey can run off and in behind him. That presents an added difficulty for lumbering defenders like Eliaquim Mangala of City, who would prefer to have all the play going on in front of them. Wenger, famously intractable, has made a tactical tweak this season and, so far, it is paying off. Arsenal are by no means a long-ball team, but variety has added spice and life to their attack.