Arsene Wenger and Pep Guardiola Show Appetite for Struggle as Alexis Sanchez Fires Arsenal Past Manchester City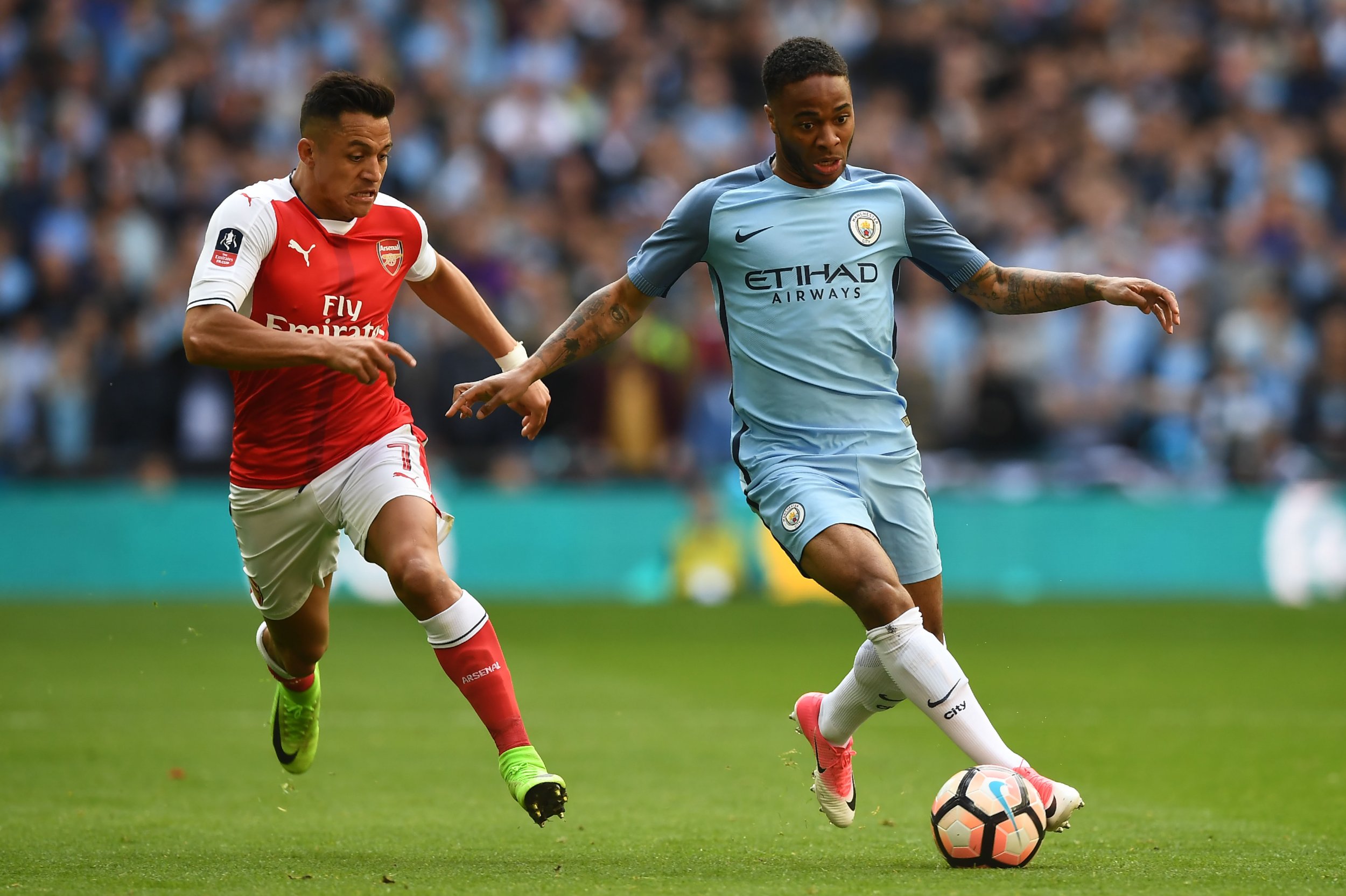 The bellicose noise floated up the steep concrete steps leading to Wembley Central, more than three hours before Arsenal and Manchester City kicked off.
"We've got, Guar-di-ola," the name cut into a tripartite, lengthened, savoured in the sunny moments before the tension in the belly, the dreamy hours when anything remains possible for the football supporter.
Almost a season into his career in English football, City's urbane, brilliant Spanish manager seems almost more cultish than when he arrived in the summer of 2016. To those who follow him, he can seem infallible. Detractors, or the excommunicated, will point to no Champions League in three seasons at Bayern Munich; to a Premier League season that has City slogging, still, for a place in next season's Champions League rather than the title.
"I came here to prove myself, if not I would have stayed at Barcelona or Bayern Munich maybe," Guardiola said in the week leading up to the FA Cup semifinal. If there is something Sisyphean about all elite sportspeople then it seems especially true of Guardiola, had myth's most famous boulder-roller got his rock to the top and then decided to start again for the hell of it.
"The struggle itself is enough to fill a man's heart," Albert Camus wrote in The Myth of Sisyphus, imagining the toiler not as tortured but content to sweat when faced by life's absurdity.
By keeping on pushing, Sisyphus "revolts," according to Camus, accepting his fate but refusing to give in to it. Death is coming, but there is nobility in the struggle to get there.
To Guardiola's counterpart on Sunday at Wembley. Arsene Wenger has stumbled this season, worse than ever in his 21 years in north London that can be roughly divided into two parts. The first, three league titles won, an "invincible" side built and a Champions League final lost. The second, a move to an expensive new stadium, a shift in focus to smaller, technically-exquisite players.
Champions League qualification, every season. Exiting at the last-16 stage, every season. Two FA Cups, in 2014 and 2015.
Wenger has struggled but absurdity is not a currency that football owners will tolerate indefinitely. Arsenal looks likely to miss out on the Champions League next season, a difficult situation for a club that must keep paying for its Emirates Stadium until 2031. Its north London rival, Tottenham Hotspur, will almost certainly finish ahead of it. Still it looks likely that Wenger will stay, to try and finish off a job that seems to have no logical endpoint.
Absurdity and revolt. Wenger, the man who introduced so many new ideas to English football, has changed the shape of his side in recent weeks. Against City, as against Middlesbrough in the Premier League last Monday, he began with five defenders, three center backs and two "wing-backs" designed to stretch City's midfield. It's not novel, exactly, but it suggests a desire to keep on moving the boulder.
Revolt and absurdity. Both sets of fans, singing at once, and to different tunes, how they support the world's greatest football team. It can't be true for both and it's true for neither. City staggered somewhere in the vicinity last season to the Champions League semifinals where it lost to Real Madrid, before Guardiola turned up for the challenge of taking it two steps further to winning the thing. Arsenal has not got to that stage since the spring of 2009. This season, Bayern Munich chased it around home and away at the last-16s stage in a 10-2 aggregate victory. In his programme notes before this game, Wenger wrote that City was "on the same level as us [Arsenal]." Absurd, in its way, too.
Camus, a fine goalkeeper in his youth, must have appreciated the senselessness of professional football. There's no real reason why this matters, especially to supporters, other than that it just does. No discernible reason why Wenger, at 67, can't walk away from the bile and protests and shrug his shoulders into retirement, or at least another job where he would be universally appreciated, at first.
No reason, perhaps, other than the creation of something beautiful and utilitarian at once. That desire, along with this perverse hankering for the struggle, is something Wenger and Guardiola seem to share. It was here on the pitch, on Sunday, in human form in the eternally frustrating Mesut Ozil, and David Silva, who thinks several steps before he runs. Silva was substituted on 22 minutes by Raheem Sterling, who has the potential to be beautiful. The advantage of youth, perhaps—Sterling is just 22—is that it will run to the bottom of its lungs and then do it again without asking why. Sterling's first act was almost beautiful—a dipping volley from 20 yards, wide of Petr Cech's right-hand post.
Mostly, these days, Arsenal has remnants of the beauty without the utility. In Wenger's best days, it had both—watch Patrick Vieira again, for fun—but today City was able to twist and turn around its midfield and gradually, almost imperceptibly, establish control. Wenger retreated from sight, into his technical area. Guardiola paced and pulled at his face and gestured on the edge of his. Both teams had the ball in the net—City's goal, scored by Sterling, should have stood but was disallowed unfairly. Guardiola was unimpressed. Well, this does matter, somehow.
Absurdity. A plane flying over Wembley, trailing a banner. "Expel Ken, Corbyn Out." Round and round it went—there was one yesterday, too, exhorting Chelsea's fans to chant "Antonio, Antonio" for their manager, Conte, against Tottenham Hotspur. Ionesco might have approved, or at least Vic and Bob off Shooting Stars.
Arsenal improved, anyway—nipping into tackles, passing more crisply, getting to the ball before City. It's always hard to figure out why a 15-minute break can make a dominant team cowed and vice-versa but, at the start of the second half, Wenger was out on the edge of his technical area and Arsenal was dominant.
Absurdity—of course City scored at that point. Yaya Toure looped a ball over the Arsenal midfield, Sergio Aguero took one heavy touch and one exquisite dink and Arsenal was down a goal.
The City supporters shook the earth. "We've got, Guar-di-ola" except louder this time, quietened, absurdly, when Arsenal equalized nine minutes later through Nacho Monreal, a left back playing as a left winger. City summoned cannon fire. Toure hooked against a post; Fernandinho left Arsenal's crossbar quivering with a header. Danny Welbeck, on as a substitute, curled an effort away from goal at the other end of the ground, in front of Arsenal's supporters.
On, and on, the boulder pushed into 30 minutes' extra time. In the 11th minute of that, the 101st of the game, Alexis Sanchez was quickest to a loose ball and poked home. Unlikely, scrappy, a goal that will dare Wenger to go on struggling, convince him that there is worth in the fight beyond the self-contained sweetness of a spring Sunday afternoon.
Of course, you can understand why Wenger wants to go on at times like this, and why Guardiola wants to go again and again in different countries, with different teams. On Sunday there was glory in the struggle, the revolt, the passion of football. Asked once whether he would choose the theatre or football, Camus replied the latter. Of course you would. This was existential drama crossed with theatre of the absurd, and it was glorious.