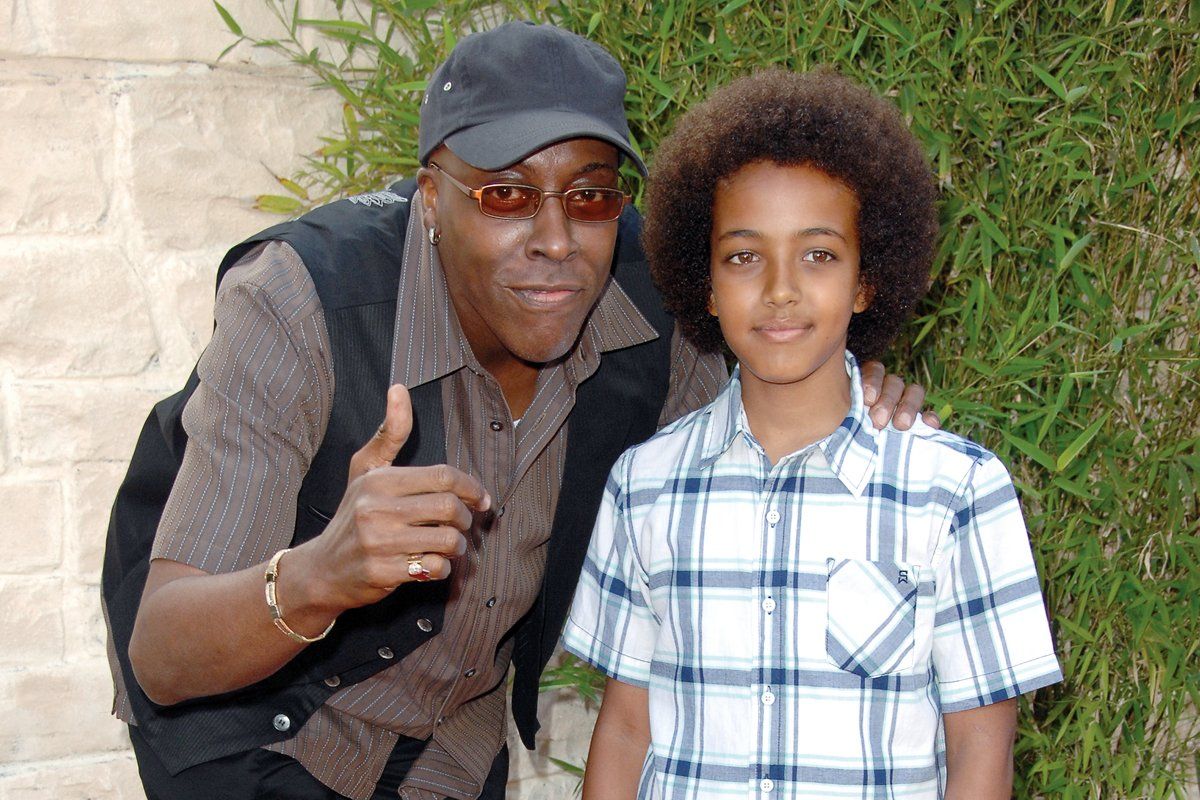 Though it's hard for me to believe now, as Father's Day approaches, there was a period when I actually thought I'd never become a dad. At one point in my career, while still hosting The Arsenio Hall Show, I was told by my doctor that it might not be physically possible for me to have children. The idea of not becoming a dad saddened me big time. So many of my close friends, like Magic Johnson and George Lopez, had children and really seemed to enjoy fatherhood, and I enjoyed watching them enjoy fatherhood. At times it was difficult to remain hopeful. But that all changed a few years later, when my girlfriend at the time became pregnant. In September 1999, Arsenio Cheron Hall Jr. was born.
I would have been overjoyed for either a daughter or a son. Oh, who am I kidding? I was obsessed with having a son. I've been a sports fanatic for as long as I can remember, and for years all I'd wanted was for my dad to sit down and watch the games on TV with me, but it never happened. My father was a no-nonsense, dedicated, and focused minister, and there was usually a sermon he needed to prepare for or a Scripture he needed to study, and that always came first. As much as I loved my Dad and knew he loved me, I promised myself that if I had a child and if he were a boy, I'd always watch the games with him.
Unfortunately my relationship with my son's mother ended early in his life, but she understood the strong bond I wanted to have with him because of my own childhood. I was determined to be there for my son's first walk, talk, boo-boo, and whatever else. I didn't want to miss a thing.
I knew going in that being a single parent would be one of the toughest jobs I'd ever have. I'd been a talk-show host, actor, comic, and on and on, but this gig was going to be my defining moment. So I made a decision to stop working and put my career on hold. I did a few projects here and there, like voice-overs for cartoons such as Scooby-Doo and The Proud Family, anything I thought my son would enjoy. But that was it.
Instead, for the past 12 years I've spent mornings making my son turkey bacon (his favorite) and evenings double-checking his homework and getting him ready for bed. I've even learned a bit about what makes a good parent even better. Because of the fractured state of my relationship with his mother and my own insecurities as a new father, I'd often look to old friends for inspiration and advice. Will Smith was married once before and still enjoys a great relationship with his first wife and son, seamlessly blending his first family with the family he now has with Jada Pinkett Smith. Whenever I'd see them out and about as one big family, I'd wonder, how does Will do it? So one day I asked him, and I will never forget how simple his answer was. Will told me that "you do what you have to for your children's well-being and happiness. It's not about you anymore, it's about them." Will is younger than I am, but he had that one figured out.
I know I did the right thing by taking time off to raise my son. But it also came at a price. I turned down many opportunities over the years because I didn't want to leave him for long periods of time. And in Hollywood, as in any business, the calls stop coming when you don't answer.
But that's started to change, thanks to my son. Celebrity Apprentice was one show he and I always loved to watch together. I'd been offered the chance to appear on the show a few times, but I turned it down because it would have taken me away from him for two months. But one day he just said to me, "Dad, go to New York and do Celebrity Apprentice. I want you to. You can win it all." Then he added, "Just don't forget your birth certificate." Only a comic's son would make that joke to his father as he was about to face Donald Trump.
I took his advice, and a few weeks ago I won Celebrity Apprentice. It was a fun ride, and now I'm looking forward to working more. I think I can finally juggle the "dad thing" and the "work thing" all at the same time. Something I know mothers do every day. I'm happy I made a choice to be there for my son, to watch all the games with my son, and now I just hope people still want me to make them laugh.
Arsenio Hall is the recent winner of Celebrity Apprentice and former host of The Arsenio Hall Show.