Trump's 'Art of the Deal' Ghostwriter Says Hope Hicks 'Ended Up in Hell'
While President Donald Trump's inner circle has yet to sound off on the Wednesday night resignation of campaign darling and White House communications director Hope Hicks, the Trump biographer who ghost wrote Art of the Deal is wasting no time offering biting commentary on the sudden departure.
"Hope Hicks is an enabler with spectacularly bad taste in men who ended up in a hell of her own making," wrote Tony Schwartz on Twitter. "She's lived too much too soon."
He continued, "I'm sure there is a moral in this story, but for the life of me, I can't figure out what it is."
Schwartz famously spent hundreds of hours with Trump in preparation for "Art of the Deal," a memoir-advice hybrid released in 1987. Since then, he has often offered critical takes and insight into the president. "He's a scared child," Schwartz wrote in an op-ed for The Guardian in January. "He is significantly angrier today: more reactive, deceitful, distracted, vindictive, impulsive and, above all, self-absorbed—assuming the last is possible."
Hicks's resignation immediately caused speculation. The 29-year-old friend and former employee of Ivanka Trump had long been considered one of the president's most loyal allies, sticking with the administration through its myriad controversies.
New York Times reporter Maggie Haberman, who broke the story, said: "[Hicks] told colleagues that she had accomplished what she felt she could with a job that made her one of the most powerful people in Washington, and that there would never be a perfect moment to leave."
Rumors of an ouster began circulating shortly after it was revealed that Hicks had told the House Select Permanent Committee on Intelligence that she sometimes told "white lies" for Trump.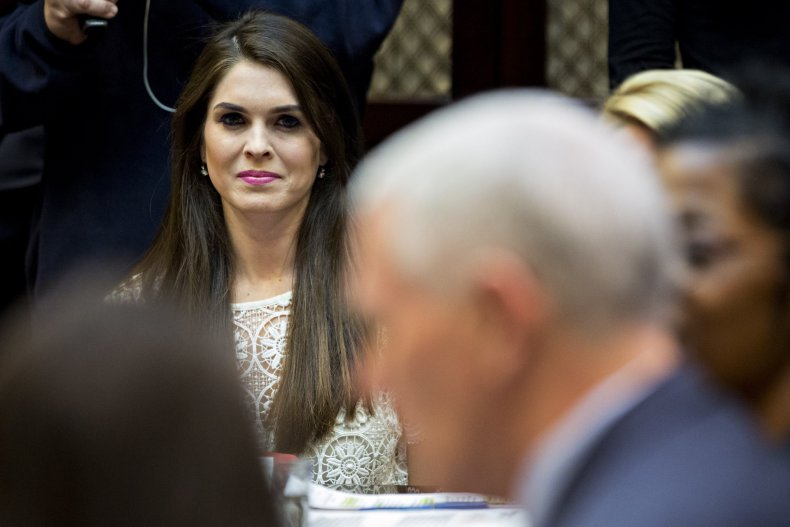 CNN reported on Wednesday that Trump had "berated" his communications director for the remark, calling her "stupid." Sources told the network that it "rattled" Hicks.
Representative Adam Schiff, the top Democrat on the House Intelligence Committee, said on Thursday that the former communications director was tight lipped on several subjects, despite her "white lies" remark.
"The most significant issue I had with her testimony were the whole areas where she refused to testify on the instructions of the White House," Schiff said in an interview with The View, adding that he would like to see Hicks subpoenaed. "We have very important questions to ask of Hope Hicks about the preparation of that false statement about the meeting at Trump Tower with the Russians."
Hicks has not officially commented on her departure, save for a statement in which she praises the president for his "generosity." Trump issued glowing remarks in return.
"Hope is outstanding and has done great work for the last three years," Trump said in the statement. "She is as smart and thoughtful as they come, a truly great person. I will miss having her by my side but when she approached me about pursuing other opportunities, I totally understood. I am sure we will work together again in the future."