Art Stolen by Nazis Must Be Returned to Holocaust Victim's Heirs 80 Years Later, Court Rules
Two works of art looted by the Nazis 80 years ago must be returned to the heirs of a Holocaust victim, a New York judge has ordered.
The drawings, both by Austrian expressionist Egon Schiele, once formed part of an extensive collection of 449 art pieces owned by Fritz Grunbaum, before his persecution by the Nazis. Jews and other owners of what the Nazi Third Reich deemed "degenerate art" had their belongings seized en masse until Germany's defeat in the war.
Through the years of looting, Nazi agents seized tens of thousands of works by some of the greatest painters and printmakers of the 20th century. The mass theft has resulted in many pieces, desired by museums and collectors alike, having questionable legal status today, as living heirs of the works' prewar owners have claimed legal ownership. The looting extended far beyond contemporary art that Adolf Hitler considered decadent, taking valuable works from every century, sometimes to fill out collections of Nazi party officials or to eventually fill the halls of his own planned gallery of art.
Related: A University is probing whether a Nazi torturer's "Jewish skeleton collection" is hidden on campus
The Nazi regime confiscated Schiele's Woman in a Black Pinafore and Woman Hiding her Face in 1938, along with dozens of other works by the painter in Grunbaum's possession. The art collector was then sent to the Dachau concentration camp, where he died in 1941.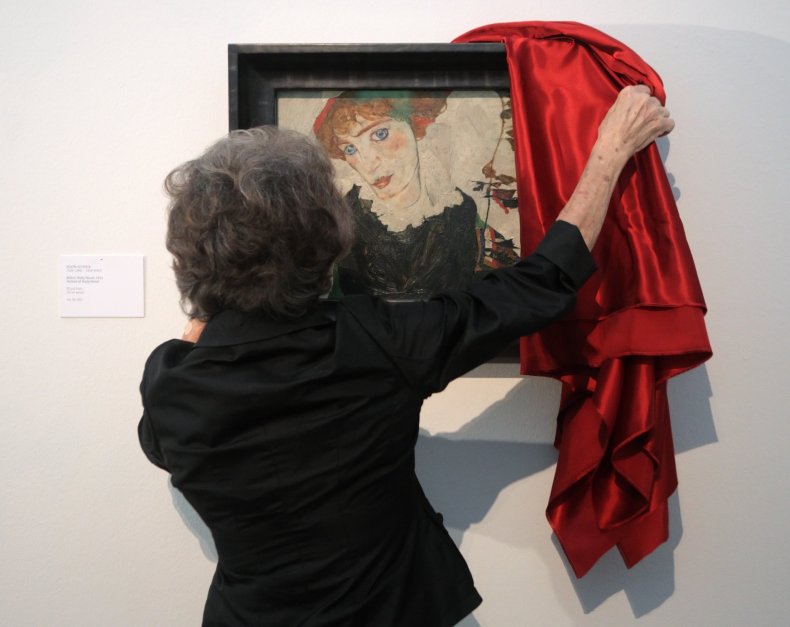 After changing hands following the end of the war, the two pieces eventually ended up in the possession of London-based art dealer Richard Nagy. He exhibited them at a show in New York, in 2015, when Grunbaum's heirs discovered the works were for sale and launched a case for their return.
A Manhattan court ruled against Nagy's claim that his ownership of the works is legitimate because he bought them legally and that the heirs' rights had long since expired, Reuters reported. Instead, Justice Charles E. Ramos ordered their return to Grunbaum's living heirs, Timothy Reif, David Fraenkel and Milos Vavra.
Ramos ruled that the original transfer rendered their current status invalid as "a signature at gunpoint cannot lead to a valid conveyance." Grunbaum was coerced into signing the works over to his wife, who was also eventually murdered.
The judge invoked the 2016 Holocaust Expropriated Art Recovery Act, which effectively extended the statute of limitations for launching claims about returning art looted by the Nazis for up to six years following its "actual discovery." The court win could embolden the case of many Holocaust victims' heirs whose claims over looted art have so far been unsuccessful. The work of Schiele has previously been subject to restitution court cases, such as the one surrounding the Portrait of Wally, which took a decade to resolve but ended in 2010 with an Austrian museum paying $19 million to the piece's original owner, in order to continue displaying the canvas.
Raymond Dowd, a legal representative for the heirs hailed the verdict as a triumph for art recovery efforts, saying it "brought us a step closer to recovering all of the culture that was stolen during the largest mass theft in history, which until now, has been overshadowed by history's largest mass murder."