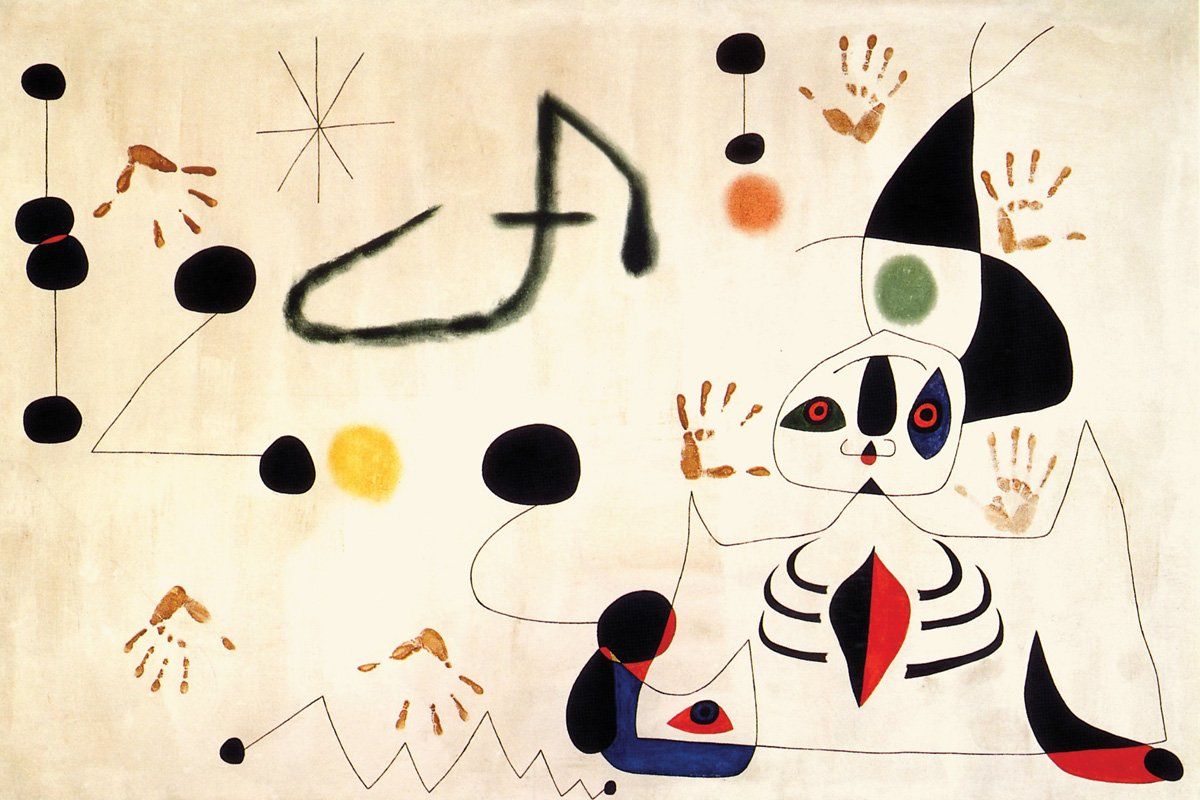 Of the many indignities foisted on Occupied France, the charade of a vibrant Paris art scene under the Nazi jackboot was salt on an open wound. A pageant of rubber-stamped galas filled an ersatz cultural calendar, while in hovels across the country, artists—many perse­cuted for their heritage, beliefs, or "degenerate" ­creations—defied a war waged not least against art. Now at the Musée d'Art Moderne of the City of Paris, a monumental retrospective—L'Art en Guerre, France 1938–1947, or "Art at War," running through Feb. 17—explores that dark era.
Vast and affecting, the exhibit features 400 pieces by 100 artists—from headliners like Pablo Picasso, Henri Matisse, and Marc Chagall to unknowns with thin but powerful repertoires. It includes loans from museums in 10 countries. More than a panorama of artistic life in a dramatic time and place, it is a history lesson, as chilling anti-Semitic public notices lay bare. The most revealing pieces are those, many rare or never before seen, from inside internment camps: bleak or ironic, mundane or fanciful, devised with the materials at hand in defiant proof of humanity. "No, painting is not done to decorate apartments," Picasso famously declared in 1945. "It is an instrument of war for attack and defense against the enemy."
The show opens ominously, inviting visitors through a vestibule strung with blackened burlap sacks. Photos of disjointed dolls confected by German surrealist Hans Bellmer set the tone. A flashback to January 1938—just months before appeasement in Munich would seal Europe's fate—when Marcel Duchamp hung 1,200 sacks of coal from the rafters of the International Exposition on Surrealism in Paris. Curators Laurence Bertrand Dorléac and Jacqueline Munck hold up that 1938 show as no less than a premonition. A waking nightmare, soundtracked with asylum screams, strewn with dead leaves, permeated with coal-roasted coffee, it invited visitors to explore Salvador Dalí's Rainy Taxi installation (also known as Mannequin Rotting in a Taxi-Cab) by flashlight.
It was, L'Art en Guerre argues, the surrealists' take on the horrors to come. Within months, the show's illustrious roster would be forced into hiding or exile, personae non gratae in a somber new order. Bellmer and Max Ernst were caged away as "foreign undesirables" in camps on French soil. Between 1938 and 1946, 200 such camps would detain 600,000 people—­foreigners, Jews, communists, and more—preludes, for some, to Nazi death camps.
Soon, the Paris art scene, so eclectic and cosmopolitan between the wars, was ghoulishly abridged—though art that fit a sinister ideal enjoyed official sanction. (Recall that Adolf Hitler, an "embittered artist" in the cliché phrase, never got over failing the Vienna Academy of the Arts' entrance exam.) Arno Breker, Hitler's favorite sculptor, would show his athletic Aryan specimens at the Musée de l'Orangerie in the Tuileries Gardens in 1942.
L'Art en Guerre showcases pieces from the launch of the Musée National d'Art Moderne. Clinical, cleansed of daring, abstraction, and disorder—and devoid of foreign content—that 1942 show was curated to please. Its landscapes, nudes, and religious imagery ticked the right boxes in collaborationist Marshal Philippe Pétain's "Work, Family, Fatherland" tryptic.
But behind the scenes, artists in hiding, exile or captivity used their craft to cope and resist. Banned from exhibiting, Picasso persisted in the same Left Bank atelier that yielded Guernica in 1937. There, he turned out new treasures in solemn browns and grays, triumphs celebrated only after war's end. His spare, playful Bull's Head—­handlebars grafted to a bicycle seat—is pure obstinacy in a world of deprivation.
On the Mediterranean coast, endangered artists took refuge while the U.S. rescuer Varian Fry sought to deliver them to safety abroad. Whiling away, surrealists invented a fantastical tarotlike game, the Jeu de Marseille, the most famous of the collective works featured in the exhibit, many no more than doodles. For Victor Brauner, a Romanian Jew for whom Fry could not secure passage to the U.S., scarcity bred ingenuity. Short on supplies in his Alpine refuge, Brauner devised a technique to keep painting using walnut stain and wax.
But the real showstoppers here are by prisoners. With paltry wares, some catalogue horrors: barbed wire, latrines, lice, pestilence. The desolation of Felix Nussbaum's 1940 tableau In the Camp is hardly bearable knowing his war would end at Auschwitz. Other pieces are escapist fantasies. Horst Rosenthal's comic book on the Gurs camp features Mickey Mouse and the wry subhead "Published without the authorization of Walt Disney." Rosenthal, too, would die at Auschwitz. The most striking work is eloquently simple: a stamp-size bird in a barbed cage or the replica cell one prisoner builds inside a matchbox as a New Year's gift to his parents, with "best wishes for 1944." "We could never say enough about the force of creative resistance against the morbidity of totalitarianism," the curators write. "The treasures of invention to create the essential from nothing."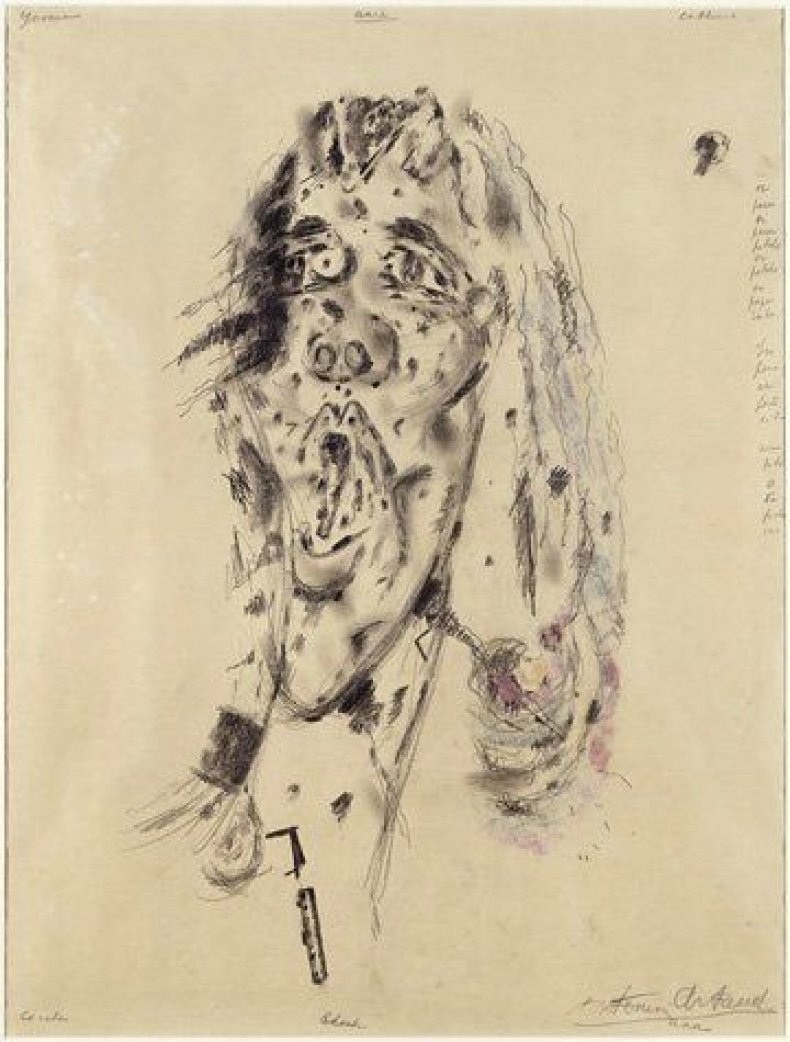 Dizzyingly ambitious, L'Art en Guerre's effort has earned some critical knocks in Paris for doing too much. Its coda stretches well beyond war's end to the artistic catharsis that followed: spiritual revival, indulgence in lavish materials, the human form willfully imperfect, even postwar scandal over Jean Dubuffet's Art Brut.
But the show shines brightest when it savors individual stories. Jeanne Bucher, a tough Alsatian in her 70s, sheltered imperiled artists and dared to show Wassily Kandinsky in her discreet Paris gallery. Joseph Steib, an ailing amateur, fought Hitler in his kitchen with a paintbrush. His vivid scenes, soaked in wishful thinking, flit between anger, hope, and satire. The exhibit exposes them as Steib did at war's end, in a "Salon of Dreams." They are eloquent figures in a war waged on artists—and proof that art won.