'Artemis Fowl' Disney+ Release Date, Cast, Trailer, Plot: All You Need to Know
The Artemis Fowl movie is finally being released, 19 years after the first plans were announced to make a film out of Eoin Colfer's 2001 novel about a young criminal mastermind living in a fantasy world. Thor director Kenneth Branagh has directed the film, with a cast featuring Colin Farrell, Josh Gad and Judi Dench and headed by Ferdia Shaw as the titular Artemis Fowl II. Disney+, who is releasing the movie, have released a trailer, which has a plot based on the first two books in the series.
When is Artemis Fowl out on Disney+?
After originally being scheduled to be released in August 2019, the movie was pushed back to May 2020 after Disney purchased 20th Century Fox, only to be pushed back again due to the coronavirus. Now, the movie is being released on Friday, June 12, and is coming to Disney+ rather than a theatrical release.
Speaking to Screen Daily, Bob Chapek said of the movie coming straight to streaming: "We're going to evaluate each one of our movies on a case-by-case situation as we are doing right now during this coronavirus situation. I think you know that Artemis Fowl is moving over to Disney+ given the demographics and appeal of that film, which was not originally the plan."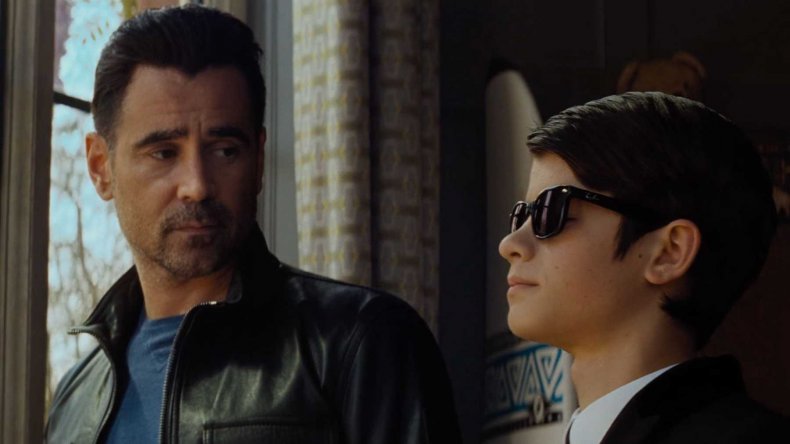 Who stars in Artemis Fowl?
The cast is led by 15-year-old Ferdia Shaw, playing the 12-year-old genius. Shaw is making his feature film debut, and beat 1,200 boys to the coveted role. He is also the grandson of Robert Shaw, known to a generation of film fans as Quint from Jaws.
Though Shaw may be a newcomer, he will be starring alongside some big names, including the Oscar-winner Judi Dench and Frozen's Josh Gad (both of whom also starred in Branagh's last movie Murder on the Orient Express). Dench will play elf leader Commander Root, while Gad plays dwarf thief Mulch Diggums. Colin Farrell, meanwhile, plays Artemis' father Artemis Fowl Sr.
Lead character Holly Short, a fairy who is kidnapped by Artemis, will be played by Lara McDonnell, previously seen in the BBC's Bronte sisters TV movie Walk Invisible, in which she played the young Anne, and Love, Rosie, in which she played the younger version of Lily Collins' main character.
Speaking to Glamour, she said of first meeting her a-list co-stars: "I remember the first time I met Judi Dench which is an experience within itself, I cried. I couldn't believe she was a real person standing in front of me.
"She came up to me, introduced herself and I could feel myself about to cry. I held up my hand to shake hers and she just hugged me...Kenneth Branagh had this amazing idea where we baked fairy cakes together. And whilst we baked with Judi Dench we talked about the film."
What is Artemis Fowl about?
The official Disney+ synopsis reads: "Artemis Fowl is a 12-year-old genius and descendant of a long line of criminal masterminds. He soon finds himself in an epic battle against a race of powerful underground fairies who may be behind his father's disappearance."
Branagh told ComicBook.com that the first movie brings together the plots of the original book and its sequel, Artemis Fowl and the Arctic Incident. He said: "The first book has a relative simplicity, Eoin calls it 'Die Hard with fairies.' It's a siege movie."
The Cinderella and Much Ado About Nothing director continued saying that they added to this, "just one basic incident from the second book...which is the kidnap of his father, and lace that into the first story, so that the emotional drive was there."
The first trailer was released way back in November 2018, which was followed by a set on promos that came out earlier this year.
Artemis Fowl is released on Disney+ on Friday, June 12.