Tennis Icon Arthur Ashe's Hometown Statue Defaced With 'White Lives Matter'
A statue honoring tennis great Arthur Ashe was vandalized amid protests in the late icon's hometown of Richmond, Virginia.
Richmond's local NBC affiliate reported that the statue was spray-painted with "White Lives Matter" on its base, and "WLM" was also spray-painted on some surrounding stones. Someone apparently tried to cover the original writing with "Black Lives Matter" and "BLM"in purple spray paint.
Local reporters tweeted images of the scene. According to local ABC affiliate reporter Alex Thorson, a woman saw a man spray paint "White Lives Matter" on the statue around 11:30 a.m. EST. People later took brushes to try to clean the statue.
Richmond Police Department did not respond to Newsweek's request for comment in time for publication. CMG Worldwide, who handle Ashe's estate, did not respond to Newsweek's emailed request for comment by time of publication.
Ashe was a historic figure in pro-tennis. He was the first black player for the United States Davis Cup Team and the first and only black man to win singles titles at the U.S. Open and Wimbledon, according to Biography. He was also the first African-American to be inducted into the Tennis Hall of Fame. He died in New York in 1993, after contracting AIDS from a blood transfusion. He was 49 years old. He was buried in Richmond.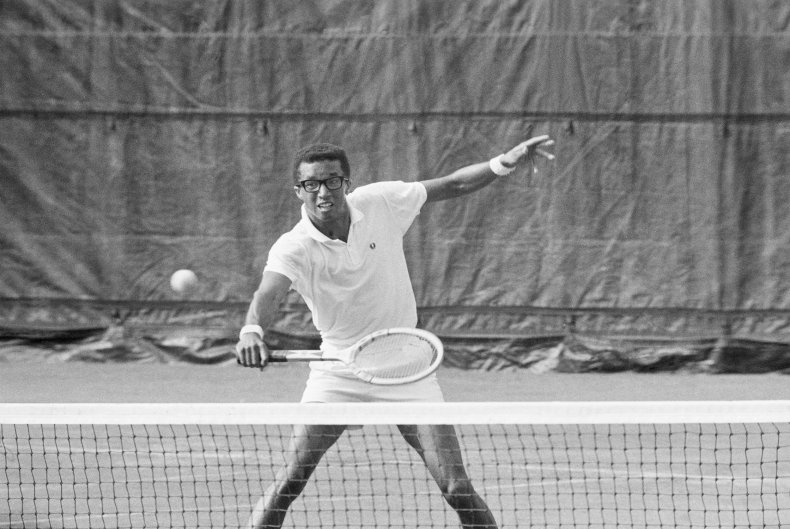 The statue honoring Ashe was built in 1996. According to a 2016 interview with a CBS affiliate, sculptor Paul DiPasquale pitched the tennis player on the statue before he died. "He said he liked my work and believed I could do it," DiPasquale said in the interview. "And the city supported it, because they wanted a statue in the Black Sports Hall of Fame, which Mr. Ashe had been in talks to become a chairman of. All of these things just seemed to come together... and then he died."
In 2017, NBC News reported that Ashe's statue was the lone statue depicting a black sports figure on Richmond's Monument Ave. The other five statues depict Confederate leaders Robert E. Lee, Jefferson Davis, Stonewall Jackson, J.E.B. Stuart and Matthew Fontaine Maury.
In the 2016 interview, DiPasquale said he was nervous about trying to get the statue placed on Monument Ave. "When they suggested placing him on Monument Avenue, I thought that was a bad idea, because I thought we would lose," he said. "The debate changed to 'Why shouldn't Arthur Ashe go on Monument Avenue?' In other words, is he or is he not a hero? Is Monument Avenue an avenue for heroes, currently? Or just generals and admirals of the Civil War? And clearly the answer is that Monument Avenue is a living avenue for heroes."