Article 50: Key Battlegrounds for the U.K.-EU Brexit Talks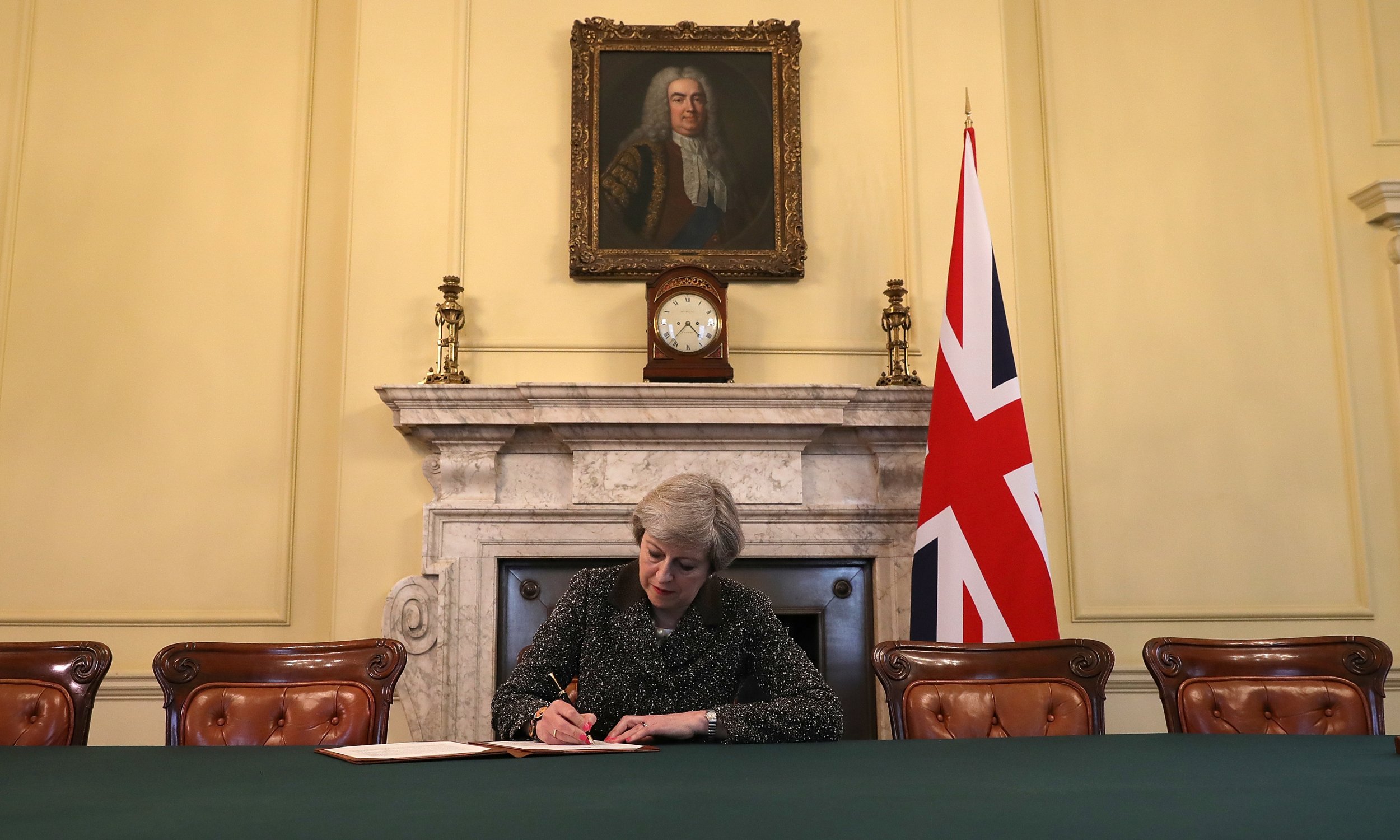 It's been nearly a year since the U.K. voted in the EU referendum. But on Wednesday, Britain finally begun the formal process of Brexit, as Prime Minister Theresa May wrote to European Council president Donald Tusk to notify him of the U.K.'s plans for departure.
Now there will be at least two years of negotiations, with clashes all but certain—not only between the two sides, but within each of them too.
Here are five key battlegrounds to watch out for.
Britain paying its way
Just like a real divorce, some of the bitterest squabbles may be over money. At the moment, Britain pays more money into the EU budget than it takes out; in 2016 the U.K. government paid £13.1 billion ($16.3 billion) to the EU budget, and EU spending on the U.K. was about £4.5 billion ($5.6 billion).
This is already sowing division among the 27 remaining members of the EU. Sweden, another net contributor, recently called for the overall budget to shrink. Austria has said that member states that don't take their share of refugees should be punished with reductions in EU spending.
Given the explosive nature of the issue, EU negotiators may look to extract as much money from Britain as they can to soften the blow. There is already debate over whether Britain should pay an "exit bill" of up to 60 billion euros ($64.7 billion) to settle its outstanding liabilities, and this will be one of the first issues in the talks. Then there are questions about whether the U.K. should choose to continue contributing to any individual EU schemes.
On the one hand, stumping up some cash could be a bargaining chip for May to get something she wants from the Europeans. On the other, the British public, and the pro-Brexit tabloids, might not like seeing any numbers with too many zeroes in the final deal.
Knowing their rights
The rights of EU citizens living in the U.K. and U.K. citizens living across the rest of the EU has been an ongoing source of debate. I first wrote about the issue almost exactly a year ago today. EU freedom of movement rules mean that people from any member state have been able to go and live and work in any other, without too much thought at all. Now, they're worried they might have to leave.
The British government has repeatedly said it wants to guarantee EU citizens' right to stay in the U.K. But it has also said that it can't do so until and unless it gets a reciprocal guarantee about the future of its own citizens. The EU institutions and member states have been quieter, but they are all too aware of the pressing nature of the issue, especially countries like Poland with very large populations living in Britain.
This, too, is going to be one of the first issues discussed in exit talks, and the general belief among pundits and observers is that there will be a guarantee of these citizens' rights to continue living in their adoptive countries.
But that's just the start, and many unknowns remain. What is the cut-off point to be able to come to Britain and stay? Will these citizens still have rights to all the same healthcare and other benefits? Will their current children keep their rights when they turn 18? Will future children have the same rights? Can they access the same education? Can they leave the country and return? Just some of the mind boggling questions to which the only fitting answer at the moment is a Gallic shrug.
A new relationship
As well as working out the basic divorce settlement with the EU, Britain wants to sort out a new free trade agreement with the bloc; the EU's single market is the U.K.'s largest foreign trading area, and many British businesses are keen that their work there is disrupted as little as possible.
Such a deal would be highly complex and involve a lot of granular detail. But the first battle over it is the timing. Britain wants to work on it in tandem with the divorce settlement, Brussels thinks it can't be started until afterwards. The British government says it can be settled in two years, some experts think it could take as much as a decade.
One potentially problematic issue within such a deal would be whether the City of London, Britain's finance center, could retain its "passporting" rights, which allow businesses there to ply their trade throughout the bloc. Losing it could mean a big hit to London businesses, and jobs moving overseas.
May has also promised that Britain will not be subject to rulings from the European Court of Justice. But that means it's unclear how trade disputes would be settled. This sounds like a dry issue now, but may prove very emotive later in the process.
Observing our customs
Theresa May has said that she plans to take Britain out of the customs union, an arrangement between European countries that means they do not apply tariffs to each others' goods, and agree to apply the same tariffs (a "Common External Tariff") to non-members' goods.
She has also said she will seek to obtain the easiest possible trading arrangements with the continent for British businesses. But business as usual is unlikely.
Trade experts have warned Newsweek about one possible concern. British businesses exporting goods into the EU after Brexit would likely need to submit to so-called "rules of origin" checks at the border, to establish whether the British company had paid tariffs on any parts of their goods imported from a third, non-EU country. That could be time-consuming and costly.
And there's the issue of the Irish border, between the U.K.-aligned north and the independent southern Republic. At the moment, this border barely exists. But after Brexit, customs checks and other border controls might have to be stepped up. That could re-ignite tensions in the formerly violence-ridden countries.
Over the borderline
Immigration fueled the Brexit campaign; arguably more than any other issue, public opposition to mass uncontrolled immigration from the EU was responsible for the public voting to leave the bloc.
On the other hand, Britain's thriving jobs market has been partly based around a plentiful supply of labor from other EU states, and some sectors like healthcare, agriculture and hospitality are highly dependent on EU labor.
Theresa May has pledged that she will gain some control over EU immigration, which almost certainly means not signing up to freedom of movement rules. We know that long term, the British government wants to focus on fostering skills in the British-born population to help them take jobs that once would have been done by immigrants.
But there is a big question mark over how much immigration from the EU the British government will want to allow in the shorter term, and how that will be achieved; whether through sector-by-sector deals, or a gradually tightening immigration regime.