Artificial Intelligence Laser Snow Plow Could Keep You Safe On The Roads This Winter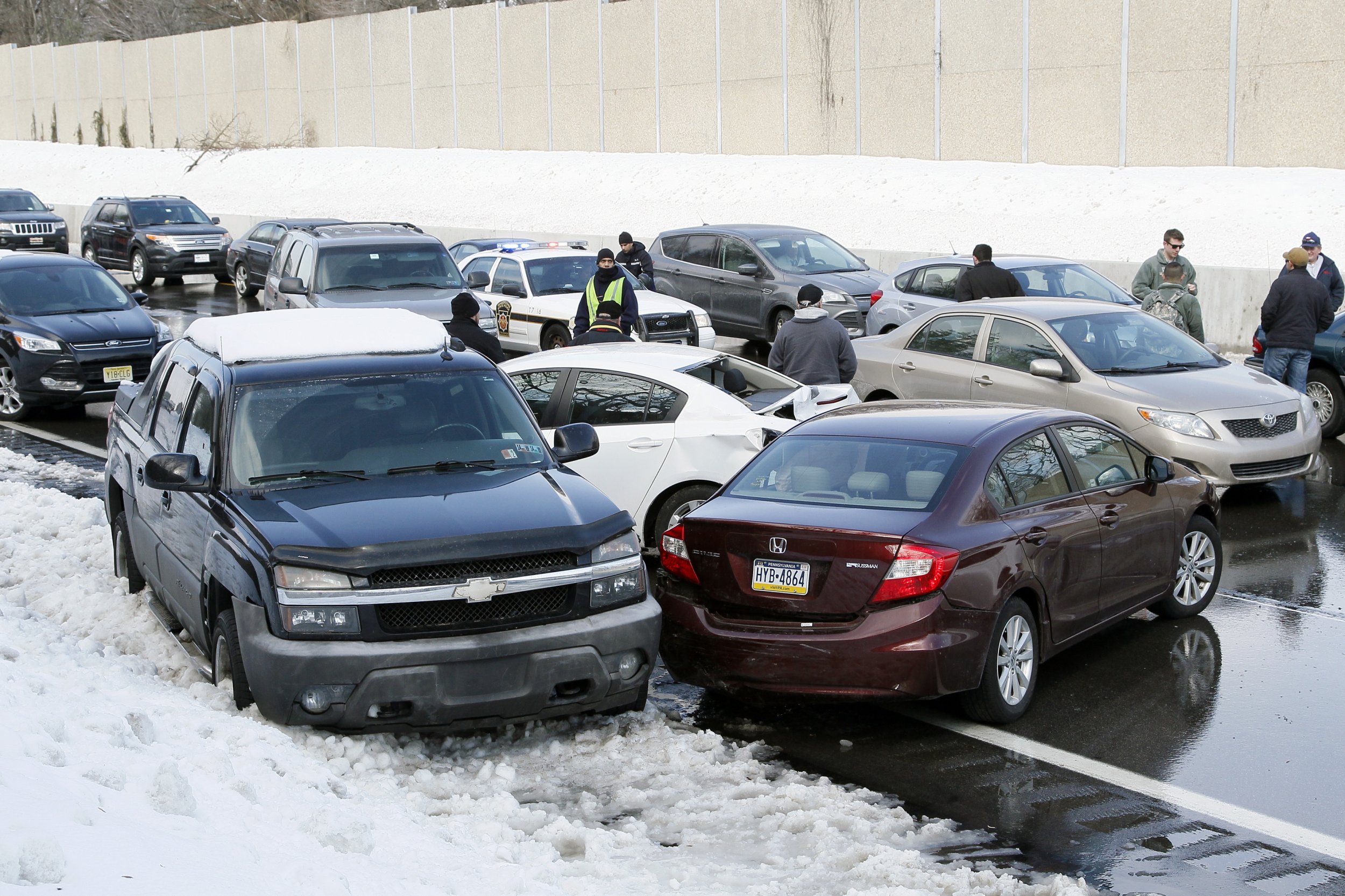 Laser technology could make your neighborhood snow plow smarter. By equipping normal salt-spreading trucks with an "artificial intelligence" device, icy roads could be rid of a dangerous, invisible killer, scientists say.
According to the Federal Highway Administration, almost 117,000 people are injured—and over 1,300 killed—every year on snowy, slushy and icy roads. Over 70 percent of American roads run through snowy areas, with agencies spending upwards of $2.3 billion dollars clearing snow and ice.
However, strapping laser-based microscopes to winter service vehicles could reduce traffic accidents, research published in Applied Spectroscopy Reviews shows. By detecting the chemicals present on the ground, smart trucks could select the best possible de-icer for the job.
This will be good news for staff at Moscow's Sheremetyevo Airport staff, who had to contend with a snow-chasing joyrider earlier this week.
Chemical residue causes car crashes
When icy roads are treated with salt, a mineral called hydrohalite is sometimes left behind. This invisible residue can be very dangerous to drivers. "The hydrohalite behaves somewhat like ice. It is slippery," study author and associate professor at the Technical University of Denmark, Rolf Berg, tells Newsweek.
Normally, snow plows and other winter service vehicles sprinkle salt across roads to prevent the build-up of ice and slush. When salt mixes with ice it creates brine, which has a lower freezing point than water. According to the study authors, this practice should melt ice so long as temperatures stay above -5.8 degrees Fahrenheit (-21 degrees Celsius).
But hydrohalite, unlike pure ice, is not removed by salt spreading. The invisible chemical lingers on roads and can make driving dangerous.
"As the nights get colder, we will again see the widespread use of salt to de-ice roads. However, this method will not work when hydrohalite has been formed, exposing the public to a serious risk of road traffic accidents," Berg explained in a press release.
Laser spectroscopy can identify dangerous hydrohalite instantly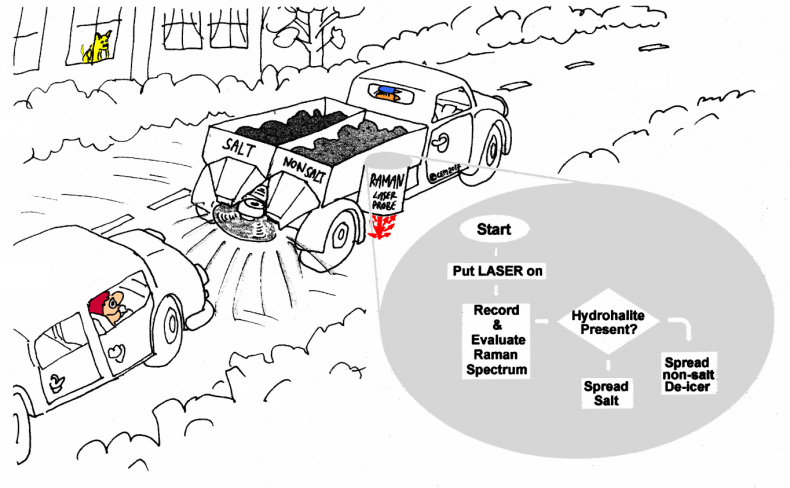 His team believe equipping winter service vehicles with something called a Raman spectrometer could identify the dangeous chemical. This microscope uses lasers to identify chemical materials quickly and effectively.
Strapping a Raman device to a de-icing truck could instantly alert its driver when it detects hydrohalite on the road. The driver can then switch from spreading traditional salt to a special hydrohalite-dissolving substance. Mixing sand or gravel with the salt, for example, could help to keep roads safe in winter. An "artificial intelligence"-based version could switch between different deicers itself.
"Equipping salt-spreading trucks with Raman detectors—essentially small boxes which would sit underneath the vehicles—would be a relatively straightforward solution, potentially reducing the number of road traffic accidents and even saving lives," Berg said.
At the moment a manual version of the system costs around $20,000, according to Berg. If they were mass produced, this price could be slashed.
Raman devices are used by NASA
Laser Raman detectors aren't just for road safety. "Raman spectroscopy is used for many different analytic tasks. For example, it is used for quality control for the production of color pigments like white titanium dioxide," Berg says. The powerful technology will be a vital component of NASA's 2020 Mars mission.
For the amateur neighborhood snow-scooper, quality controller or space engineer, portable Raman spectrometers are available online.