A new artificial intelligence tool can turn extremely blurry images of faces into computer-generated portraits in more detail than ever before.
Scientists from Duke University in North Carolina have unveiled research showing how a new algorithm can transform a "handful of pixels" into a realistic-looking face with up to 64 times the resolution—out-performing rival up-scaling techniques.
According to the researchers, image outputs will have differences to real people as the tool "imagines" features like eyelashes, wrinkles or stubble. But from the blurred snaps, the AI produces super sharp results while remaining self-supervised.
The algorithm is named PULSE (Photo Upsampling via Latent Space Exploration), and the proof-of-concept has now been released online for anyone to try.
"Never have super-resolution images been created at this resolution before with this much detail," said computer scientist and team leader Cynthia Rudin. Previous AI could scale an image of a face up to eight times its original resolution, experts noted.
The team said their tool was not designed to identify people. It won't turn a blurred face from CCTV into a high-res image of a real person, for example. It fills in gaps to make faces that look "plausibly real," but generates people who don't actually exist.
Researchers said the tool can make "any number of uncannily lifelike possibilities" from a single poor-quality snap, each looking subtly like a different person.
Previously, tools would take a low-res image and predict what extra pixels were needed by trying to match pixels in high-res what the algorithm has seen before. While that tactic worked, results could end up looking "fuzzy and indistinct," the team said.
To solve that, the new system designed by Duke's computer scientists scours a mass of AI-generated examples of high-resolution faces and searches for those that "look as much as possible like the input image when shrunk down to the same size."
The real-time AI process can be seen in action below: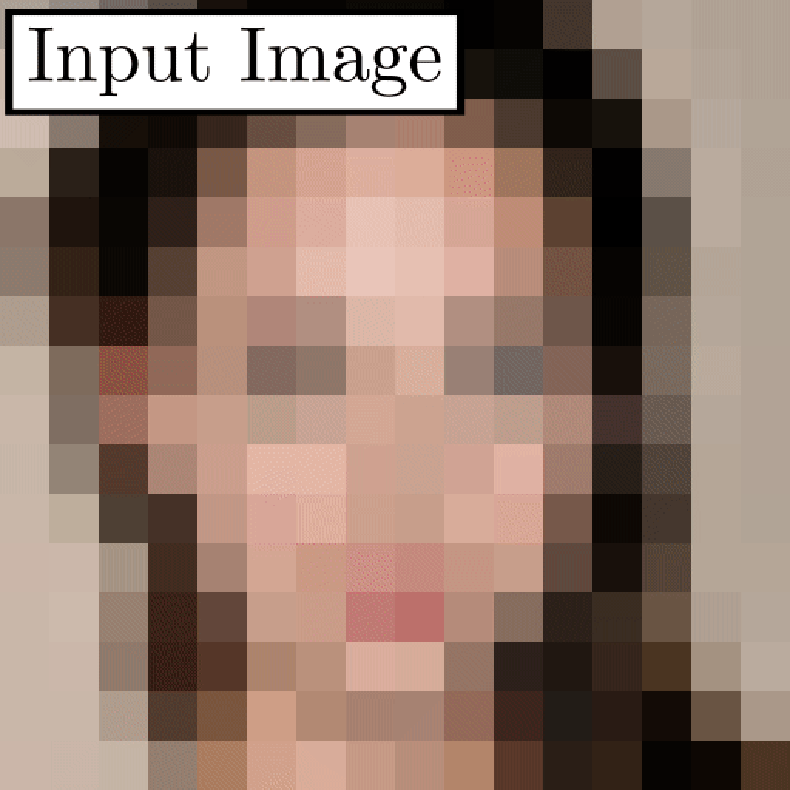 The ultimate aim of the study was to generate a high-resolution (HR) image from a low-resolution (LR) image. And it appears to have been a success.
The team said its AI was able to convert a 16x16 pixel image of a face to 1024x1024 pixels in a few seconds, adding more than a million pixels in the process.
Researchers Sachit Menon, Alex Damian, McCourt Hu, Nikhil Ravi and Cynthia Rudin published an image showing how it worked on blurred pictures of themselves: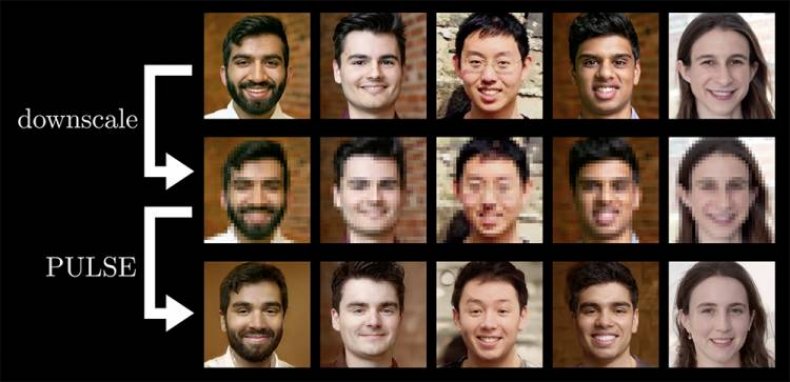 They said the technique was not limited to faces, explaining that it could be applied to low-res shots of "almost anything" to create sharp and realistic-looking pictures.
In one experiment, researchers asked 40 people to rate 1,440 images generated via the PULSE AI and five other image scaling methods between one to five. PULSE did the best overall, scoring almost as high as high-quality photos of actual people.
The researchers are scheduled to present the tool at the 2020 Conference on Computer Vision and Pattern Recognition (CVPR), being held virtually from June 14 to June 19.