Artist Explains Putin Sculpture That Suddenly Appeared in Central Park
New Yorkers were shocked on Thursday to find a red sculpture of Russian President Vladimir Putin, atop a red tank, had been added to a children's play area in Central Park.
The guerrilla art was the work of anti-war artist James Colomina, who is based in Toulouse, France.
Speaking to Newsweek, Colomina explained how he installed his latest piece, and what message he was trying to convey with the provocative sculpture.
Describing putting the sculpture in place, he said: "It's a game of cat and mouse, you have to pass between the mesh of the net.
"I waited until there were no more police cars and park security officers. And then I quickly installed the sculpture as if it had always been there."
Colomina said the artwork is aimed at "denouncing the absurdity of war" and highlighting the impact on children, hence the placement in a play area.
The artist explained: "What inspires me, in general, is the news and injustices.
"I experienced the invasion of Ukraine as a trauma.
"The city I currently live in Toulouse in France is twinned with the city of Kyiv.
"Art, in all its forms, can be the support of a denunciation of war and its atrocities. It allows you to say things differently and participate in the duty of memory. It seems essential to me to react.
"This sculpture aims at denouncing the absurdity of war and at highlighting children's courage when faced with violent, catastrophic situations triggered by others."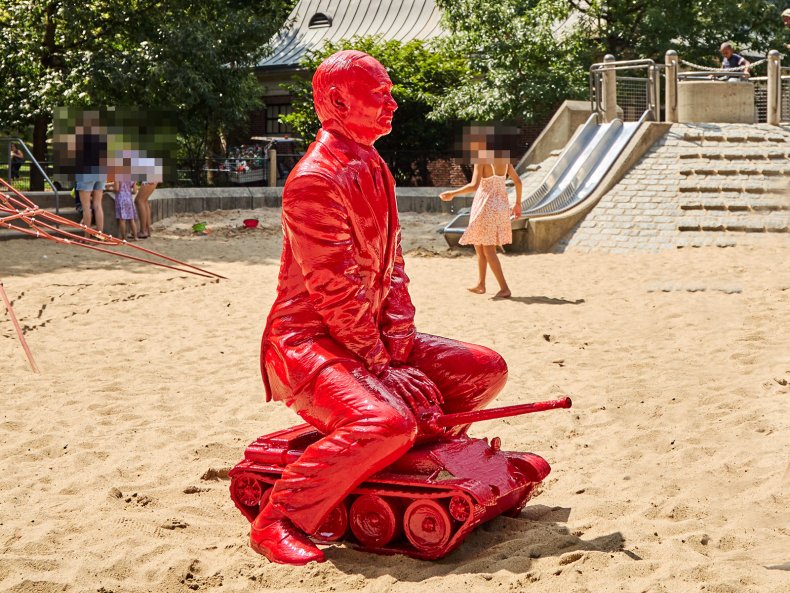 Photos from the scene show young children dropping sand over the Putin sculpture's head, and squirting it with water pistols.
Speaking to NowThis from the artwork one woman said: "I think it's pretty funny actually. I think it's a good way to express one's opinion and show the world there are a lot of people out there who are not happy with what is happening."
Roman Hryshchuk, a Ukrainian MP, tweeted a photo of the sculpture with the caption: "Bloody Putin on a small tank in a playground in Central Park. Children are playing near him.
"Symbol of courage of children, who face cruelty caused by one unhappy person.
"Installation in New York by French artist James Colomina."
Colomina is renowned for his distinctive street art, which uses detailed red sculptures to make social and political statements.
Russia invaded Ukraine on February 24.
Earlier this month former Russian president Dmitry Medvedev, a close Putin ally, argued Russia should "restore the borders of our Motherland."
The post, which was deleted 10 ten minutes after it was posted, suggested Kazakhstan and Georgia should be reintegrated into Russia.