Artist Paints Scene of Infant's Killing in Front of DA's Office to Protest 'Woke' Reforms
Scott LoBaido, a Staten Island artist known for his political work, poured blood-evoking red paint on the sidewalk outside of Manhattan District Attorney Alvin Bragg's office on Tuesday.
The scene set up by the artist also included a small pink jacket similar to the one worn by a Bronx baby who was shot in the face earlier in the month by a stray bullet. The baby, Catherine Ortiz, celebrated her first birthday Friday in a hospital where she is recovering from brain surgery.
LoBaido documented his paint-splattered creation outside Bragg's office in a video he posted on Twitter. In it, he explained his artwork was created as a protest against the official's crime policies.
"Got arrested (my fault—not the good cops of this city's fault) for calling out these WOKE, bleeding heart, criminal loving District Attorneys especially Alvin Bragg," LoBaido wrote in his post containing the video.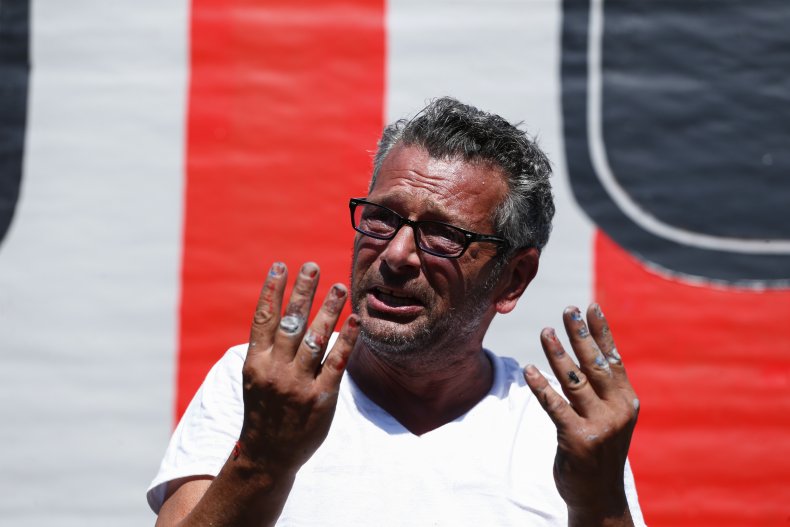 Though LoBaido said on Twitter he was arrested, a New York Police Department spokesperson told Fox News that no arrests had been made. The outlet reported LoBaido was briefly detained and issued a cease summons.
LoBaido also posted videos on Monday and Saturday in which he angrily discussed his feelings regarding the baby who was shot. He also railed against New York City Mayor Eric Adams.
Below is the video LoBaido posted of the red paint he splattered outside of Bragg's office. Viewers be advised of graphic language.
LoBaido says in the video that his sidewalk creation also features a pair of women's shoes to symbolize a woman who was killed when she was pushed in front of a subway train, as well as a police cap for two officers who died after being shot in Harlem on Friday.
During the protest on Tuesday, flyers created by LoBaido can be seen on the ground that criticize New York Governor Kathy Hochul, Mayor Adams and President Joe Biden.
The Twitter video shows a close up of one flyer, which read: "Hey Joe Biden, Governor Hochul, Mayor Adams, STOP with your 'Hearts and Prayers' BULLS##T!!! GET THESE WOKE F#CKING DISTRICT ATTORNEY MURDERERS OUT OF OFFICE!!!"
LoBaido has made news in the past for creating a large Donald Trump-endorsing installation on a yard in Staten Island in 2016 and for being arrested while protesting at the Brooklyn Museum. His website also features works for sale that protest President Biden, as well as works that celebrate America and police officers.
Newsweek contacted LoBaido for comment but he did not respond in time for publication.