Artist Plans to Wear Virtual Reality Headset Non-Stop for a Month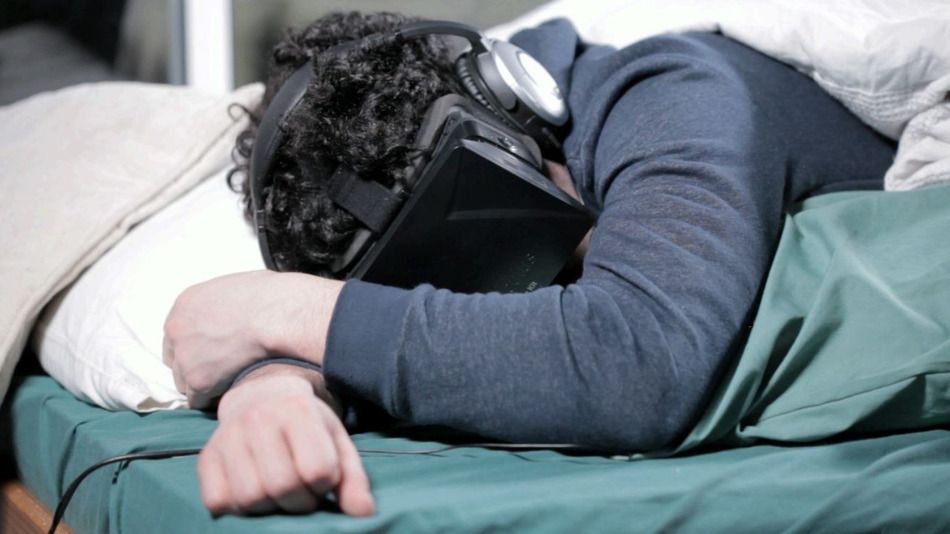 A London-based artist is attempting to crowdfund a performance in which he spends a month wearing a virtual reality headset.
Mark Farid will wear the Oculus Rift headset 24 hours a day, seven days a week, for 28 days, as part of a performance called Seeing I, engaging with his environment solely through what he sees and hears through the virtual device.
Life as he knows it will be restricted to a small space with a bed, toilet and shower. What he sees and hears will be recorded by special glasses worn by a man he's never met: the Other.
For the 28 days, Farid will live a life mirroring what he sees through the goggles, eating, showering, and using the bathroom in line with what he sees through the headset. However, the footage that Farid sees will be collected by the Other six days in advance to account for the preparation of food and his environment.
The only people who will be able to determine whether the headset comes off are a neuroscientist and psychologist, who will supervise the experiment, or project curator Nimrod Vardi.
Although the identity of the Other will be a mystery to him, he might not be a mystery to you as applications to play the role will be open on Friday November 28th. The Other will be selected by Farid's support team.
However, Farid specified a number of characteristics that they must meet: You must be at least 21 years of age, cannot have had a prior relationship with the artist, be a heterosexual male who is in a relationship and currently living with their partner, and you are not allowed to tell anyone (except for your partner) that you are the Other.
Farid aims to fund the project through Kickstarter and be ready to go ahead next autumn. The experiment will culminate in a feature-length documentary.
"It's a metaphor for life," Farid told Newsweek.
"It's about how technology and society are affecting us. We could be living that way in the future. You could be your ideal person, live your ideal life." Farid asserts his belief that free-will is an illusion and that today's man-made, technologically driven world has led to a lack of autonomy. "The world was built for what we see and hear, and it's all man-made. Technology is becoming our new reality."
Seeing I will explore questions about our perceived personalities and identities, and whether they are inherent or culturally influenced, as well as how we are affected by the influx of technology. By living without any human interaction, the possibility of losing his sense of identity is very real. "Will I lose my sense of self? And what does that say if I do?"
Farid, whose parents are both psychiatrists, has been undergoing psychology sessions in preparation for the experiment, and will continue to do so throughout the duration of the experiment as "a major part of the project". The only interaction he'll have during the 28 days of the experiment will be for an hour each night when the Other goes to sleep and he speaks to a psychologist. He refers to the process as a "verbal diary" and predicts it will be the only thing to aid with the difficulty of sleeping. "From testing, that was the hardest. That's partly why the psychologist is there." Otherwise, he says, "It's just me and my thoughts."
Does Farid hope to meet the Other? "Yes," he said. The timing, however, is dependant on the rehabilitation process that he'll be undergoing after the experiment. "I'm really interested to see what kind of thoughts I will think of him. How well will I know him? I'll see everything that he does but how well will I know the person?"