Artist Tom Friedman: Recapturing the Attention of the Art World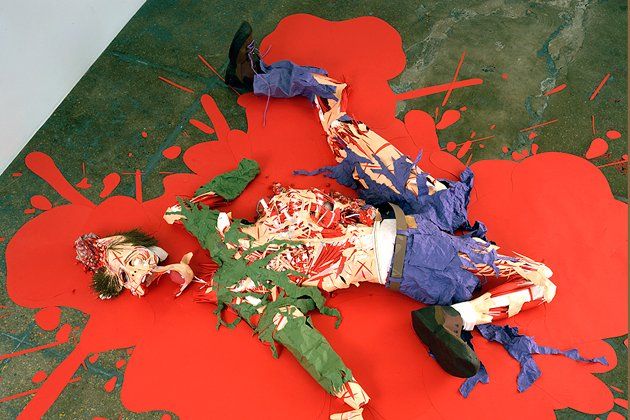 Sometimes an artist does a self-portrait that captures a career moment: Rembrandt, bankrupt and exhausted; van Gogh, earless and unnerved. The latest self-portrait by Tom Friedman, glimpsed in his soaring studio in Massachusetts, also gets his status right. It is a life-size carving of Friedman (no relation to the author of The World Is Flat) that captures every crack in his running shoes, the ribbing on his gym socks, the pink flesh on his 46-year-old legs, and then ... nothing. The portrait breaks off halfway up Friedman's calves, as though the rest of him were erased. It gets at how he has come across recently: as a pow-erful artist who seems to have faded from view. That impression may get corrected this month, with Friedman's first New York solo show in seven years, at the well-respected Luhring Augustine gallery.
"Tom's a very good artist, and I look forward to seeing him come back into view," says Robert Storr, now head of Yale's art school but once the curator of Friedman's breakout exhibition at New York's Museum of Modern Art, in 1995. "But it will take a body of work that will snap people's heads around again."
At Luhring Augustine, Friedman's self-portrait-as-feet will be joined by a bug-size sculpture of the artist flying a kite and an eight-foot-tall statue of him peeing, modeled from crumpled turkey-roasting pans.
A decade ago, Friedman established himself as one of the liveliest figures in American art. There was the flea-size speck of his own feces, on view in a show that toured to the New Museum in New York in 2001. "I wanted to find a material that you could present the smallest amount of and it would have the most impact," he once said, an argument I bought but that others dismissed as horse crap. (Wrong animal, but never mind.) There was also the bloody portrait of himself as a suicidal jumper who'd just hit the ground, made entirely from cut and folded paper. And a self-portrait carved from one aspirin. But since then, Friedman's presence has seemed to dwindle, not so much in terms of lines on his CV (he's done well in Europe) but in terms of sheer on-the-scene oomph.
Weirdly, that fadeout seemed to coincide with his move to the power-ful Gagosian Gallery, in 2006. He had solos in its London and Los Angeles branches, but never in New York. Friedman sees it as a bad fit. "I went in thinking it would be interesting to impose subtlety"—the subtlety of his art—"with a larger megaphone ... [But] it's a gallery for Jeff Koons and Damien Hirst, people who are powerhouses of their own." The schmoozing, especially, wasn't for him. "You have to be a bit more corporate-savvy to be in that situation, and I'm a nice Midwestern boy." (He's from St. Louis.) You wonder if a Friedman piece called Monster Fly captures his feelings about the art world and his place in it. Attached to one spot on the wall there's a sculpture he's made of a housefly, enlarged to the size of your thumb; a little ways off on the wall there's one of Friedman, maybe half the fly's size—and running from it for his life.