Artist Uses Sketches to Simulate How His Schizophrenia Feels in Viral Videos
One filmmaker is on a mission to destigmatize schizophrenia by sharing information on his viral TikTok account.
Christopher, who goes by @xoradmagical on TikTok, has gone viral for his "schizophrenia simulators" that simulate how he feels when he has a schizophrenic episode. He has received more than 11 million views on a simulation video from October and more than 9 million views on one from December 20.
In his most popular video, which was posted on October 9, Christopher showed an altered version of his bedroom with many voices whispering in the background.
"Hey, pst, up here," one voice said as the camera panned up a ladder and showed an empty attic space. Then an animated face popped out before quickly disappearing. Three faces then appeared and as he turned the camera toward the bedroom window another face appeared.
Schizophrenia is a brain disorder that affects less than one percent of the population, according to the American Psychiatry Association. When the chronic disease is "active" individuals experience episodes that can involve hallucinations, delusions, and trouble thinking.
Individuals suffering from schizophrenia might also experience psychosis which includes a loss of touch from reality and difficulty differentiating real from imaginary. However, the APA reported that people with schizophrenia are "not any more dangerous or violent than people in the general population."
Christopher explained to Newsweek that many of these misconceptions exist because many people with schizophrenia are not always comfortable talking about their experiences or answering questions.
"Spoken/written language can never accurately portray what it is like, because it is so complex experientially, so misunderstandings are far too common," he explained.
In the comments of his video, users thanked Christopher for sharing his visual and auditory experiences.
"As a therapist, your simulator videos give me a deeper understanding of what some of my patients truly go through, beyond just the dsm explanations," one user commented.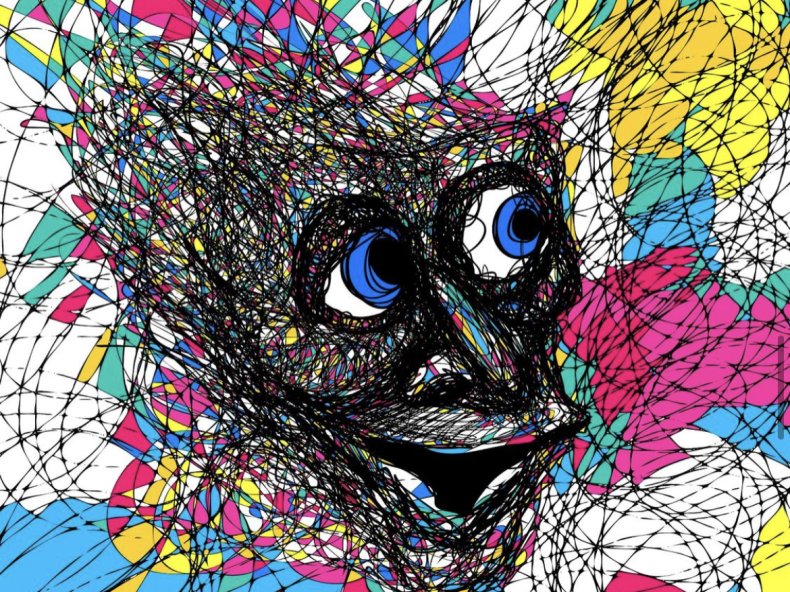 In a response video, Christopher explained that the problem with the Diagnostic and Statistical Manual of Mental Disorders (DSM) is that they are not completely accurate to the "day to day experience" of people who experience the disorder.
"Whereas talking about it more intimately, you get to see the human part," he said in the video. "The human connection, uncanniness, heartbreak, love, and magic that comes with experiencing something like schizophrenia."
Christopher told Newsweek that he started making simulator videos after hospitalization in September. He said that personally, his schizophrenia is often complicated. He said that although he sometimes gets hit with paranoia or feeling of alienation, for the most part, there is an "intense beauty" in his hallucinations.
"For me, the experience is spiritual in the sense that my schizophrenia forces me to integrate my light and dark attributes," he told Newsweek. "Fortunately, through self-care, mood medications and cognitive behavioral therapy I have found a way to live with it these days and it only got better when I stopped self stigmatizing and learned to accept who I am."
In another viral video, Christopher showed the difference between what people think schizophrenia feels like versus how it actually is. In the video, the TikToker stood in the snow with his hands covering his ears as two animated creatures told him he was going to "hurt everyone" he loved.
In the second part of the video, while showing what schizophrenia is "really like day to day," he walked outside as three non-threatening animated beings having an inaudible conversation near his head.
Many users commented on that video with stories about their own experiences or ones they'd heard about from others.
"My grandma has it, sometimes they tell her jokes that are so good that we hear her giggling," one commenter wrote.
"It's cool how you inform people about schizophrenia and its [sic] effects," another said. "Keep doing what you're [sic] doing man."
Another user commented that their sister used to work with a man with schizophrenia who felt like he was hanging out with "a bunch of pandas and animals" and he said they were his friends.