Andrzej Sikora, the artist who let Oxford High School shooter Ethan Crumbley's parents stay in his Detroit studio, "doesn't watch the news," his attorney said Monday.
Police arrested James and Jennifer Crumbley in Sikora's studio early Saturday morning and said 65-year-old artist could be charged if they determine he played a role in their disappearance. The Crumbleys proved hard to find after their 15-year-old son fatally shot four classmates last week, though their attorney argues they weren't hiding.
Sikora's attorney, Clarence Dass, said the studio owner didn't know that the Crumbleys faced criminal charges when he allowed them to stay, according to local station WJBK-TV. Dass said, "Mr. Sikora doesn't watch the news like many people do and wasn't actually following the development after Oxford."
"Andrzej Sikora is very concerned that he's even roped into this, but I do believe when all the evidence has panned out and all the facts are sorted through, there's not going to be evidence that he knowingly aided and abetted or harbored a fugitive. In fact, he was not in the loop," Dass said, according to the station.
Sikora let the couple stay in his studio's basement until 5 p.m. on Friday, when he left, and told them lock up when they departed, Dass said. They remained at the studio until about 2 a.m. on Saturday when police, following a tipster's lead, arrested them there.
If Sikora had known that police had issued a warrant for the couple's arrest, he would have called the police, Dass said.
"The minute he did find that out, he went without an attorney to the Detroit Police Department and told them everything," he added.
Detectives were set to interview the artist on Monday to learn more about the incident and his connection to the Crumbleys, and he has not been charged with a crime, according to WJBK.
The Crumbleys on Saturday pleaded not guilty to four counts of involuntary manslaughter and are being held on a bond of $500,000 each. Ethan Crumbley is charged with first-degree murder and terrorism among other charges.
Oakland County prosecutor Karen McDonald accused the Crumbleys of "egregious" acts during a Friday press conference. On Tuesday morning, the day of the shooting, the two were called into a meeting with a school counselor after a teacher discovered drawings on Ethan Crumbley's desk she found alarming.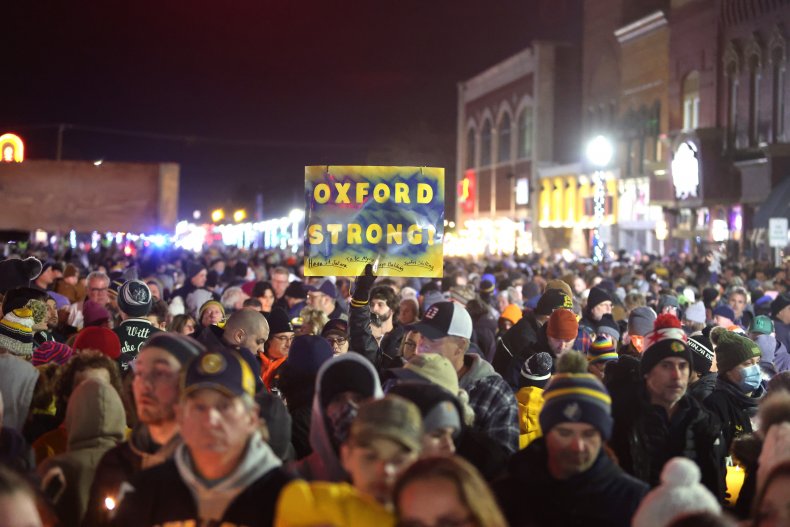 During the meeting, they resisted the idea of having their son leave school at the time. They also allegedly failed to ask him if he had a gun at the time or check his backpack, according to McDonald.
A few days before the shooting, a teacher also noticed Crumbley searching for ammunition on his cellphone. School officials alerted his parents about this but allegedly did not receive a response.
"Thereafter, Jennifer Crumbley exchanged text messages about the incident with her son on that day, stating 'lol, I'm not mad at you, you have to learn not to get caught,'" McDonald said.
Oakland County Sheriff Michael Bouchard said on Friday the couple was missing, though their attorney argued they always intended to turn themselves in.