The Artist's Jean Dujardin Is a Revelation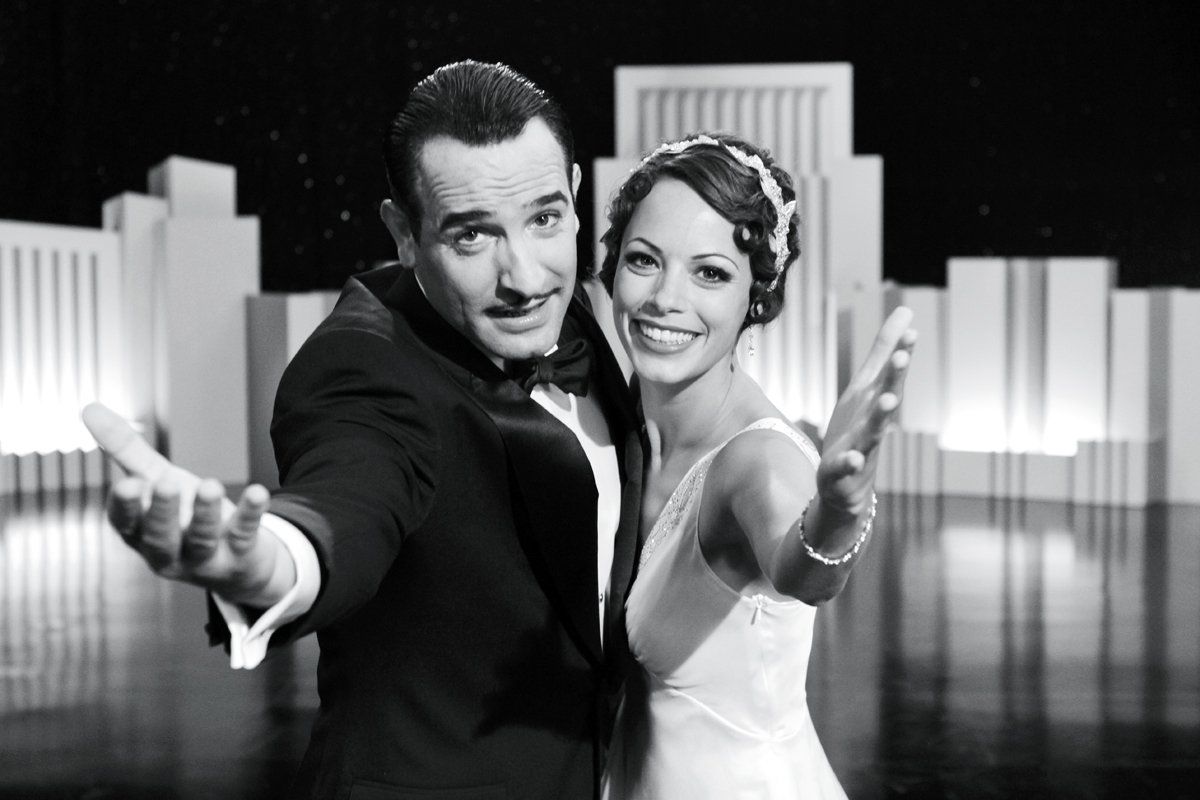 For once the Oscar buzz is louder than the movie. A silent film in black and white, a slim-budget promenade through period Hollywood on the arm of unheralded French leads, The Artist screams long shot. And yet from Cannes to Los Angeles, Michel Hazanavicius's bold throwback—its light whimsy, darker intrigue, and full orchestral score—is the talk of the town. Atop the marquee, France's Jean Dujardin is a revelation as a silent-film icon troubled by the new talking pictures. He won best-actor honors at Cannes in May, memorably dropping to one tuxedoed knee before Robert De Niro, the festival's jury chief, as he collected his prize.
George Valentin (Dujardin) is the star with the lady-killer smile, Clark Gable mustache, and scene-stealing screen-dog sidekick. Peppy Miller (Bérénice Bejo, seen above) is the eager ingénue. Like Singin' in the Rain, the film opens at a white-tie movie premiere in 1927. The staging, indeed the story, recalls that 1952 classic—one of many unabashed homages to regale cinéastes—although The Artist summons gloomy lows to offset its cheery highs. George's and Peppy's lives intertwine and love takes hold. But when the studios add sound to their films, she shines as he falters.
Strong performances from John Goodman as a studio boss and James Cromwell as a devoted chauffeur back up the French leads. And Hazanavicius's technical trickery works magic: subtly accelerated action, 22 frames per second instead of 24, renders period flavor, while the slight cheat of 1940s lighting lends heady glamour: a canvas for Dujardin's physical heroics.
The lead with the matinee-idol looks is a stranger to Hollywood. (Harvey Weinstein's drive to bag the first best-picture Oscar for a silent film since 1929 has Dujardin, 39, shuttling between Paris and Los Angeles with an English tutor.) But he is beloved in his native France, the second-highest-paid Gallic star after 2007 Oscar winner Marion Cotillard. Le Monde calls him "perhaps the most American of French actors" for his virile physique and fun-loving flair.
With tap lessons but no dialogue to master for The Artist, Dujardin soaked in silent classics by F. W. Murnau and Frank Borzage. He studied Douglas Fairbanks, Gene Kelly, and Vittorio Gassman for movement before a 35-day Hollywood shoot. But for all its novelty the pressure falls away on a "silent" set, since quiet isn't required for shooting. "It's pretty comfortable. [Usually] the silence on set can be pretty heavy—when you hear 'Camera! Action!' It can be inhibiting," Dujardin told Newsweek at a taping in a vintage studio off the Champs-Elysées. "But here the fact the sound continues, the sound of the extras, the city, it's almost less like cinema. You can quickly get caught up in it. It's very alive."
This is Dujardin's third film written and directed by Hazanavicius—the first two, ironically, are troves for great lines. OSS 117: Cairo, Nest of Spies and OSS 117: Lost in Rio, are relentlessly funny French spy spoofs set in the 1950s and 1960s. Dujardin is a suave, chauvinist, oblivious man of mystery who gets by on his charm: picture Don Draper meets Austin Powers with a French colonial twist. The Artist's Bejo, Hazanavicius's real-life partner, appears in the first film as the Bondish bumbler's Egyptian guide.
The son of a metalworker from suburban Paris, Dujardin's trajectory is remarkable. He worked in construction out of high school, before military service that was mandatory at the time. He parlayed his stint in an infantry unit in grim northern France into a glittering comedy career. "Ten months. I wasn't going to war. You have time. So I wrote up characters. [Military service] is surely the only place where you see all of society," Dujardin explains. "Folks you'll never see again," he says. "It was very cold. I wrote, with a headlamp in my bed, characters I'd seen in the afternoon," he says, adjusting an imagined lamp on his forehead, writing on his knee.
After the Army, Dujardin pitched to Paris bars a stand-up bit with 11 personas. "It always sounds a bit like 'get out the violins' to say it," Dujardin says smiling, fiddling in thin air. "But I really started from the very bottom with my sack of one-man-show clothes in a bar. 'Do you have a cellar? Can I play down there?' You start in front of seven people. But it's OK—it's not even a slog. It's really enjoyable."
He fell in with a sketch troupe at a cabaret. They got TV gigs, spoofed a boy band in a music video, and Dujardin scored his breakout role in 1999. In Un Gars, Une Fille (A Guy, A Girl), he featured opposite the delightful Alexandra Lamy in popular six-minute vignettes that aired before the evening news, nearly 500 episodes over four years. (Fans swooned when Dujardin and Lamy married in real life in 2009.) But Brice de Nice, a 2005 cult hit about a surfer dude on the Riviera (where there is no surf) opened movie doors.
After The Artist, his 25th film, Hollywood is knocking. But Dujardin says, "I'm not especially tempted. I don't have that dream." For the right job, sure. But a Frenchman "shouldn't delude himself" into expecting roles beyond cliché French lover or villain. For women it's different. "The French woman represents something. There's something people like, the Chanel side, the Dior side—it's la française. And Marion does that very well," he says of Cotillard, his costar in 2010's Little White Lies. Indeed, the Oscar gods have never smiled on a French actor, while French actresses—Simone Signoret, Juliette Binoche, Cotillard—have snapped up statuettes. The Artist's silence could be golden next February, yet Dujardin insists he isn't practicing thanking the Academy in the shower.
"It's really a childlike pleasure—the set, the cinema—a kid's dream. I think you have to keep that, marvel at it," says the corporal turned comic turned dramatic lead. "To be with a little dog, to be able to dance, to be in incredible theaters," Dujardin says, "that's where the imagination is." George Valentin couldn't have said it better himself.