Artists, Labels up in Arms About 'HitPiece Music NFTs' Offered Without Consent
Independent music label Needlejuice Records is fighting back against a so-called "crypto-thief" that the company says is selling NFTs of their artists without authorization.
A website known as HitPiece, which claims to provide "one of one NFTs of all your favorite songs", suddenly began selling the NFTs—in this case, digital links to the artists' music. However, this was reportedly done without authorization from Needlejuice or any of the individual artists.
NFTs, or non-fungible tokens, appear as records on digital ledgers called blockchains. This allows the tokens to be purchased and sold online, similar to cryptocurrency.
While NFTs are most often associated with digital artwork, an NFT itself is just a container. An NFT can contain links to music, video, memes, games or anything else that can be stored digitally.
Tuesday afternoon, the Nashville-based Needlejuice, which represents 39 different indie bands and specializes in creating physical vinyl records, tweeted: "Neither us nor our artists have consented to @joinhitpiece selling NFTs of our music. Crypto grifters prove once again that they do not care about artists or ethics- just their dystopian end goal of turning every facet of life into a stock market pump & dump scheme."
In light of HitPiece's activities in the crypto market, Brandon Brown, cofounder of Needlejuice, spoke to Newsweek regarding potential actions that the company would take.
"We've never been in the position of having to send a cease & desist before, but now we've started talking to our lawyers to ask about the next steps to make sure the music that we distribute digitally is off the site," Brown stated. "As far as a class action lawsuit goes, it might depend on how much they've managed to sell; the appeal of these NFTs (to those that are into that sort of thing) would certainly be stronger for major label artists and vary wildly for independent ones, especially the internet-native artists we tend to support."
"I think it would be nice to see a class action suit taken against them, as many of these NFT schemes prey upon artists who are too small to fight back," Brown added.
When asked about steps Needlejuice would take against these scammers in the future, Brown said that part of the problem was that "there's really no preventative measure to stop things from being minted. I could go and mint the webpage featuring this article and maybe Newsweek could convince brokers not to list it, but it's still on the chain and in somebody's wallet forever."
"What you have to do is set firm boundaries and consequences in any way you can, and what that means for a small label like us is still something we are exploring." Brown added. "If the community that has formed around our label are aware that these projects are unauthorized, they can perhaps inoculate casual fans who are less plugged-in and the number of potential victims will be vastly reduced."
In regards to his general take on NFTs, Brown said that he believes "the design of the underlying systems that power crypto and NFTs is fundamentally flawed."
"It's a decentralized currency that relies on unregulated centralized entities to do anything useful...worst of all, NFTs are designed to turn everything into financial securities, a brave new world where everything in your life is some kind of stock," Brown continued. "Some of our artists are interested in the way NFTs can be used to create unique experiences for fans...Needlejuice, however, has always been opposed to scarcity. We strive to keep as much of our catalog in print as possible so that nobody has to pay scalper prices for an album they cherish."
"NFTs are fundamentally antithetical to our core values as a company," Brown went on.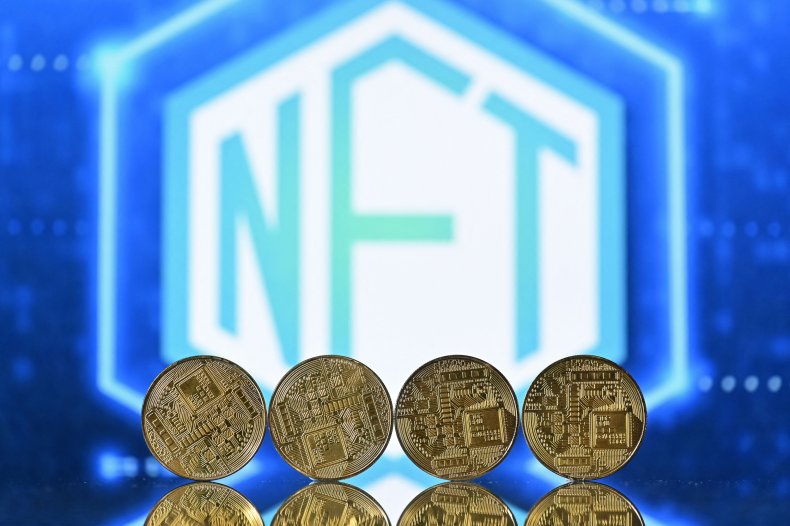 One band that Needlejuice represents, OK Glass, told Newsweek that HitPiece's actions were likely just an effort to "[cast] a wide enough net" to make money off music fans who may not know whether or not their favorite bands have consented to having the NFTs minted.
"I don't think they're going to make fistfuls of money with this site," OK Glass said. "But they might get like 10 people who will spend $100 each to own the Twenty One Pilots song they love, and it costs less than $100 to host a website."
OK Glass also said that they "cannot imagine [HitPiece] is going to last for very long."
"I assume what they want is for copyright owners to 'claim' their stuff so they can sell it," the band continued. "But by preseeding their website with virtually every song on Spotify, they are just attracting negative attention."
The band also noted that most of the posts on HitPiece's Twitter account amounted to "damage control," and that the majority of the artists interacting with the account were asking to be taken off the website.
Amidst a flurry of backlash, HitPiece released a statement on Twitter: "Clearly we have struck a nerve...to be clear, artists get paid when digital goods are sold on HitPiece. Like all beta products, we are continuing to all user feedback."
The unauthorized usage of NFTs and the greater cryptocurrency market continues to generate controversy.
The currency has come under fire recently for being a simply way for scammers to sell works without permission from the artists. The question of whether or not a person beyond the copyright owner of something can sell that work as an NFT remains a hot topic.
Most experts agree that copyright laws still exist, even in the digital ecosphere of blockchain. Fortune noted that "even in the decentralized world of NFTs, copyright laws apply, and investors should understand their importance prior to investing."
Fortune added that, following an NFT purchase, "blockchain doesn't tell the buyer...whether that piece was merely a copy of somebody else's copyrighted work—rendering that purchase worthless and subjecting the buyer to substantial legal liability if it is resold."
Newsweek reached out to HitPiece via Twitter for comment.