NYC Art Exhibit Responds to '2016 Presidential Election Charade'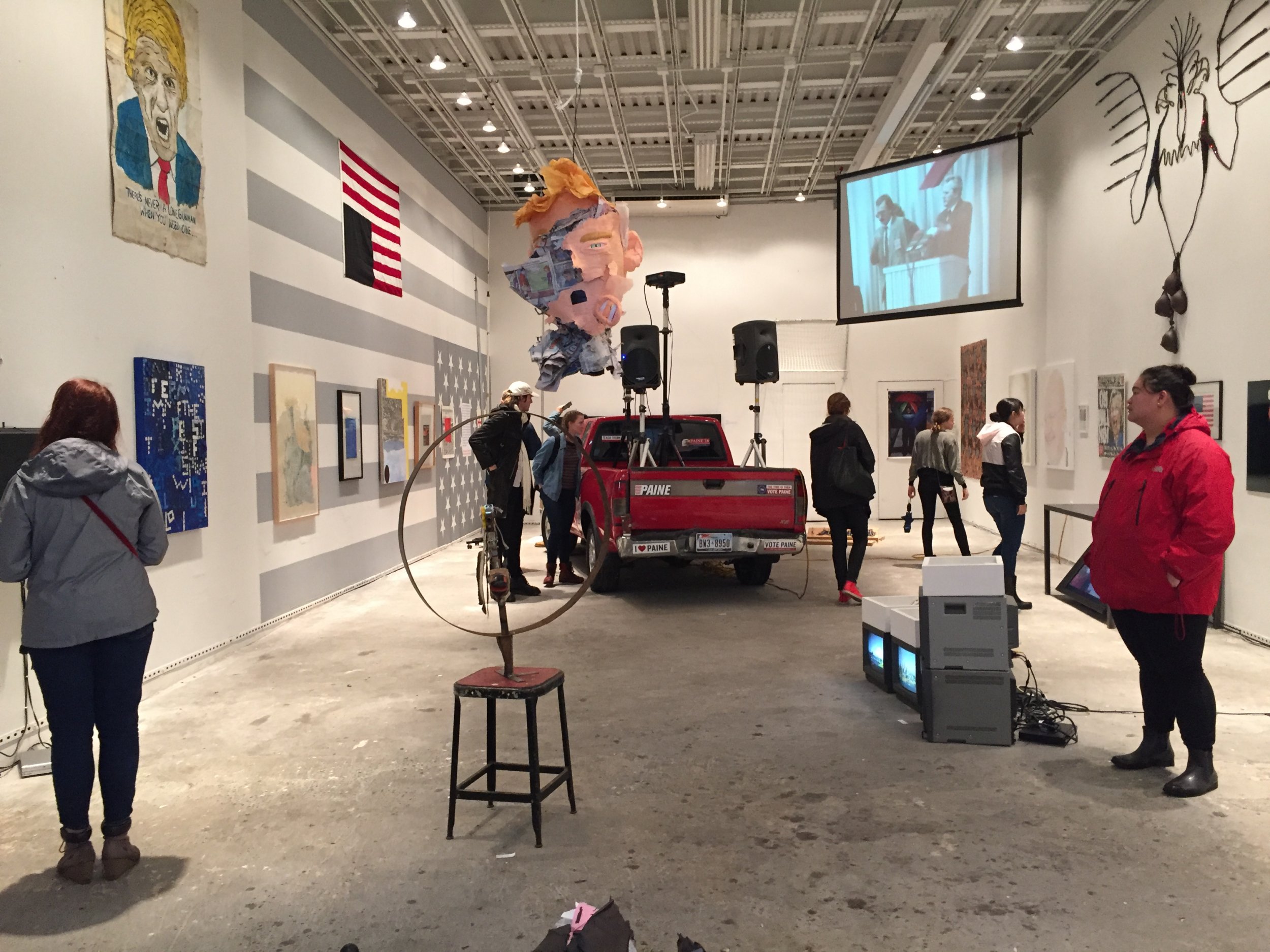 Juan Puntes was seething when he heard Donald Trump say he "could stand on New York's Fifth Avenue 'and shoot somebody,' and still not lose voters." The founder and artistic director of WhiteBox, a nonprofit art space on New York City's Lower East Side, quickly decided to postpone the gallery's next scheduled exhibition and create a time and place for artists to react to Trump and the "2016 presidential election charade."
"That just got to itch me, irk me enough, and I just picked up the phone," Puntes tells Newsweek, speaking a couple of days after the exhibit opened. He was sitting on the folded-down tailgate of a pickup truck that was part of the exhibit, wearing a corduroy cap and an oversized gray shoelace where a tie might normally go. That call connected him with his colleague Raul Zamudio, and the two decided to curate the show with Blanca de la Torre, using Zamudio's suggested title, "#MakeAmericaGreatAgain." They sent out a last-minute email to artists they knew with "urgent invitation to participate" in the subject line and opened the impromptu exhibit exactly one week later, on February 1.
Stepping into the gallery on a rainy afternoon last week, visitors saw a trio of televisions flashing distorted drawings of politicians in front of American flags. A soulless computerized voice emanated from one of them, reciting a brief speech interspersed with the sounds of a crowd cheering, like the muffled echo of a rally.
"My fellow Americans, we are the best country in the world," it began with each successive loop, lacking the natural cadence of a human voice. "We are spreading freedom and liberty across our empire, and we will continue to rule the world thanks to our invincible military. Our currency is gaining strength. Our appetite for supremacy and authority endures. And because of this, the rest of the world is on their knees. God bless America." Titled American Circus, Federico Solmi's piece is actually from 2014, but it seems as though it could have been created specifically for this occasion.
Front and center in the next room: a Donald Trump piñata, the mangled paper head still hanging from the ceiling and the body in two parts directly below, flanked by a baseball bat. Pablo Helguera's "interactive" piece had arrived intact but became one of the main attractions at the opening, Puntes says. It's perhaps notable that the injuries to the piñata's face revealed newspaper comic strips inside.
High up to the piñata's left, another work depicted Trump's unmistakable mug. Beyond it, half the gallery wall was painted with a grayscale American flag, upside down, a distress signal. (The U.S. flag code states that "the flag should never be displayed with union down, except as a signal of dire distress in instances of extreme danger to life or property.) Other works were displayed against the sign of distress.
Though Trump's comments spurred the exhibition, and the Republican candidate figured prominently in it, some artists took a broader view of WhiteBox's call. One work on paper spells out "Oil you need is blood" in black, gray and red block letters, one black drop topping the first i and one red drop under the first o in blood. Another work, hanging caddy-corner to American Circus, used white thread on an expanse of black leather to embroider the words "Let's make America white again."
When Kyle Goen received the email from WhiteBox, he immediately agreed to join the exhibit, and then contemplated which of his works might be appropriate. He ultimately chose Black Lives Matter: What Are You Doing to Participate? and These Are My Brothers: Ayotzinapa. The first began as a project outside the gallery context, with Goen screen-printing posters and handing them out at demonstrations.
For the iteration at WhiteBox, he has one framed poster on the wall and a big pile of them stacked on a wooden platform on the floor nearby. "By taking a print," he wrote in the project description, "you are entering into an agreement with the artist that you will go to www.blacklivesmatter.com to learn about the history of #BlackLivesMatter, and the founders Patrisse Cullors, Opal Tometi, and Alicia Garza."
"I think the Black Lives Matter movement represents the most powerful pushback that both parties are going to have during this election," he tells Newsweek. "I think the pushback that we've already seen has challenged different candidates," he adds. "People are talking about things they weren't talking about before Black Lives Matter started."
Goen says his second work felt connected to a more nuanced conversation about immigration than some presidential candidates, and certainly Trump, are having. These Are My Brothers: Ayotzinapa is a movie screen–sized mosaic of portraits of the 43 students who went missing in Mexico. It hangs outside, above the door to WhiteBox. Standing across the street as a light rain continued to fall, he demonstrated how the seemingly blank rows of rectangles morphed into portraits when he shone light on them, or viewed them with a camera's flash.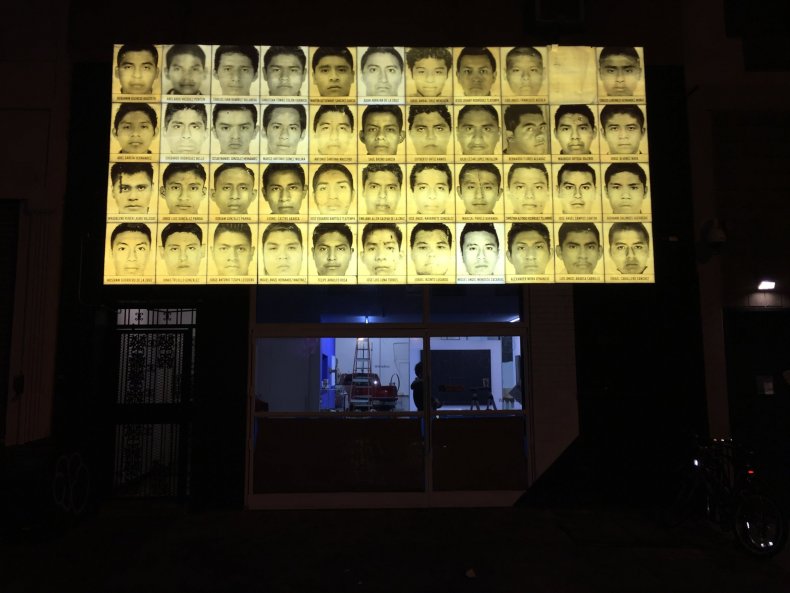 "Trump doesn't exist," in Goen's works, per se, "but when you get into the nuances of what Trump is representing and the fear and the hate that he's kind of riling up," he says, the pieces are "relevant to the garbage that Trump spews. He's a fearmonger, whipping everybody up into a frenzy about fear of the other."
The exhibit's initial opening coincided with the Iowa caucuses; the reception that evening was called "Live From Des Moines." In his call for contributions, Puntes said the evening would include live music and performances and allow visitors to "[witness] the ignition of a charade that may push us to the wrong edge of the international cultural cliff."
WhiteBox has a second event planned for Tuesday, in conjunction with the New Hampshire primaries. The evening will begin with a live stream from 42 Maple Contemporary Art Center in Bethlehem, New Hampshire, hosted by local radio host Phil Rivera and featuring a project that uses paint "as a vehicle to create a dialogue between adults and youth voters experiencing their first presidential elections," and a performance piece in which a dancer and a musician propose "collaboration as radical thwarting of fear-based hate rhetoric."
At WhiteBox, "Donald Trump" (Brian Andrew Whiteley) and "Sarah Palin" (Rebecca Goyette) will give speeches, another performance piece will critique the American dream and question what it means to be successful, and a screen will show a major television network reporting primary results. On February 20, one day before the exhibition closes, the gallery will host its final "#MakeAmericaGreatAgain" event, "Live From South Carolina."