Asa Hutchinson and Bill de Blasio Spar Over Vaccine Mandates: 'It's Keeping People Alive'
Arkansas Governor Asa Hutchinson, a Republican, and New York City Mayor Bill de Blasio, a Democrat, debated the merits of COVID-19 vaccination mandates during an appearance on CNN Sunday morning.
The debate came days after de Blasio announced a new vaccination mandate for employees at almost all businesses in the city. The private sector mandate goes into effect on December 27, and affects tens of thousands of unvaccinated workers and around 184,000 businesses. New York City has also mandated vaccines for public sector employees and has made vaccination a requirement for those who want to dine out, attend events or participate in recreational activities.
Hutchinson, meanwhile, has opposed COVID-19 vaccine mandates, though he has strongly encouraged Arkansas residents to get vaccinated against the virus.
During the appearance on CNN's State of the Union on Sunday, host Jake Tapper noted the two political leaders' different opinions on the issue, and then turned to Hutchinson.
"New York City has sweeping mandates for workers and businesses and it might sound too sweeping for some people, but 71 percent of residents of New York City are fully vaccinated," Tapper said.
"Arkansas has no mandates and only 50 percent of your residents are fully vaccinated. Does that not show, Governor Hutchinson, that vaccine mandates work?" Tapper asked.
Hutchinson said he doesn't believe so. He noted that "never in the history of our country has government mandated the private sector to require vaccinations."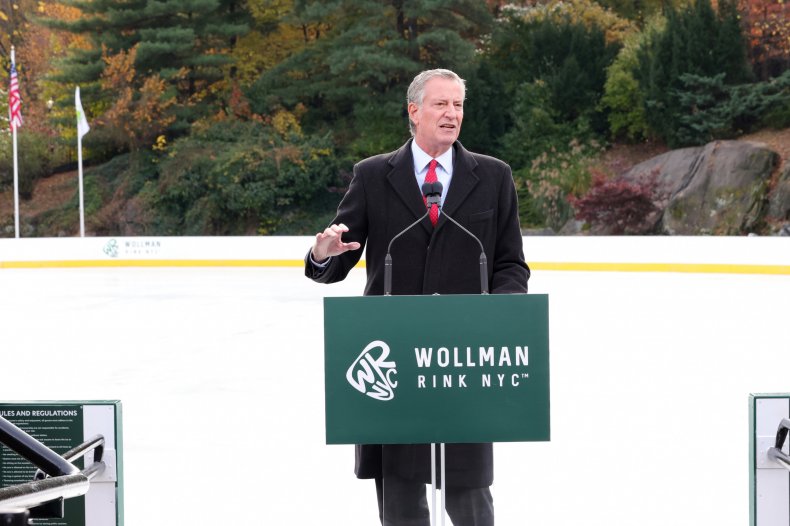 "To put this into the businesses does a number of things. One it hardens resistance, that's what we see in Arkansas, but I think across the country," Hutchinson said. "Secondly, the courts have struck it down. By-in-large the president's mandate, these mandates, are unconstitutional overreaches and the courts are looking at it in that fashion."
Hutchinson also raised concerns about the impact the vaccine mandates can have on the workforce.
"But if you're looking at a million employees and you get a 90 percent vaccination rate, you still have 10 percent, which is 100,000 workers. And whenever the businesses are struggling with workers, our service providers, they're providing for their family, you don't need to add 100,000 to the unemployed list," the governor said.
In response, de Blasio brought up the recently discovered Omicron variant of COVID-19, which scientists believe may resist vaccines.
"This variant moves fast, we have to move faster," de Blasio said. "And I'll tell you what I hear from our business community: That their greatest fear is shutdowns. Their greatest fear is going back to where we were in 2020...You mentioned unemployment, the greatest threat to employment right now is that the Omicron variant and the cold winter months are going to supercharge COVID and take us backward."
De Blasio noted that since the city put mandates in place in August, it has administered one million additional doses of the vaccine.
"A lot of those people made the decision because the mandate was there and it was the thing that moved them, and it's keeping people alive," he said.
Hutchinson said he believes that "we're right now dividing our country on this issue of mandates," and said he believes education is the way to improve vaccination rates.
He added that private businesses should be able to mandate vaccines for their employees, but argued that decision should be up to them.
"But to put the mandate in is unprecedented, it's going to cause hardship and it's going to cause division in our country as you can already see," Hutchinson said.
De Blasio agreed that the mandates are unprecedented.
"I agree we don't have a precedent because this is absolutely an unprecedented crisis, and we're about to go into year three of it," de Blasio stated.
"We thought several times we were going to leave the COVID era behind. We could leave it behind in 2022, if we truly focus on vaccination and put the tough mandates in place to make sure we turn the corner," the mayor added.