Asa Hutchison Met With Jeers During COVID Event as Cases Surge in Arkansas: 'Liar'
Arkansas Governor Asa Hutchinson faced some backlash during an event he hosted Friday in an effort to promote COVID-19 vaccinations.
Hutchinson, a Republican, was met with heckling from some members of the audience who called him a "liar," the Arkansas Democrat-Gazette reported on Saturday. Some members of the audience held up signs as the governor and Arkansas Secretary of Health, Dr. Jose Romero, spoke.
Not all of the more than 100 attendees at the event, which was held at the Siloam Springs Community Building, protested the governor. Some spoke in favor of vaccinations, and raised concerns about the public health risks of COVID-19, according to the newspaper.
The event came as COVID-19 cases are surging in Arkansas, as the highly contagious Delta variant spreads throughout the U.S. The state is seeing its highest number of COVID-19 cases since January, local news station KARK reported on Friday.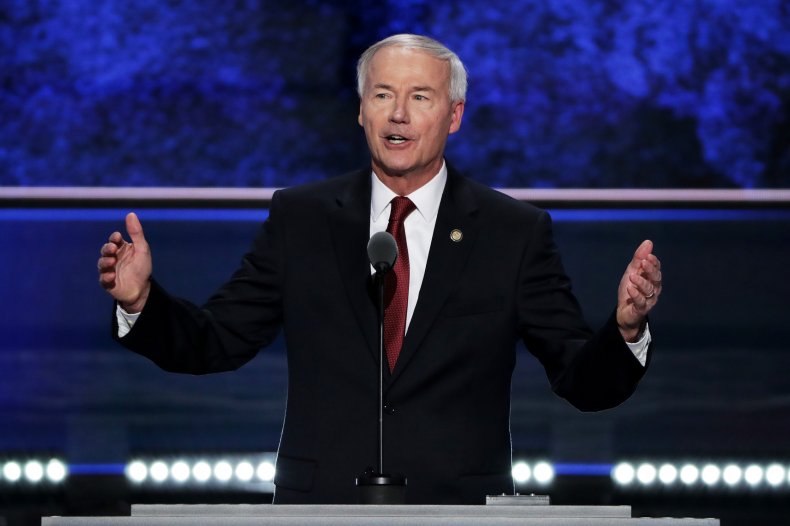 State officials reported more than 2,500 new cases on both Thursday and Friday. As of Friday, the number of people hospitalized with COVID-19 infections neared 1,100.
On Thursday, Hutchinson declared a public health emergency and called for a special legislative session to give school officials the flexibility to impose mask mandates.
Earlier this month, Hutchinson announced he was launching a "statewide community COVID conversations tour" in response to the increase in cases.
Hutchinson said the tour would be "a chance for me to continue to encourage people to get vaccinated. "
"This is the challenge we face. A month ago, the number of our active COVID cases and our hospitalizations had declined. We were increasing our vaccinations across the state. We were very optimistic about the return to normalcy," the governor said on July 9.
"Then over the past month, our vaccination rate stalled at about 40 percent, and the Delta variant showed up. This right-left punch has sidetracked our return to normalcy," he added.
Only 36.3 percent of Arkansas residents are fully vaccinated, according to data from the Mayo Clinic.
But Hutchinson said Friday that since he hosting his conversations, the state has seen a 40 percent increase in vaccinations, according to the Democrat-Gazette.
"I think it's the essence of democracy whenever you have the government being asked tough questions and health advisers of the important issues of the day," Hutchinson said at Friday's event.
"Whether they are opposed or not they had the opportunity to speak out today," he added.
Newsweek reached out to Hutchinson's office for comment but did not hear back in time for publication.