ASAP Rocky Update: Rapper Could be Sentenced to 2 Years Behind Bars Depending on Evidence
ASAP Rocky began trial in Sweden on Tuesday. The rapper, whose birth name is Rakim Mayers, and two other men from his camp entered a not guilty plea in regards to an assault of a man in Stockholm in early July.
Thirty-year-old Rocky and the two others were arrested after allegedly attacking 19-year-old Mustafa Jafari on July 5. Jafari is requesting 139,000 Swedish crowns—about $14,500 in U.S. currency—in damages. A Swedish Prosecution Authority rep told the New York Times the Testing rapper might be facing additional fines based on his daily earnings along with a maximum of two years behind bars.
It is unclear if Rocky will be extradited to the U.S. or serve time in a Swedish detention center if convicted.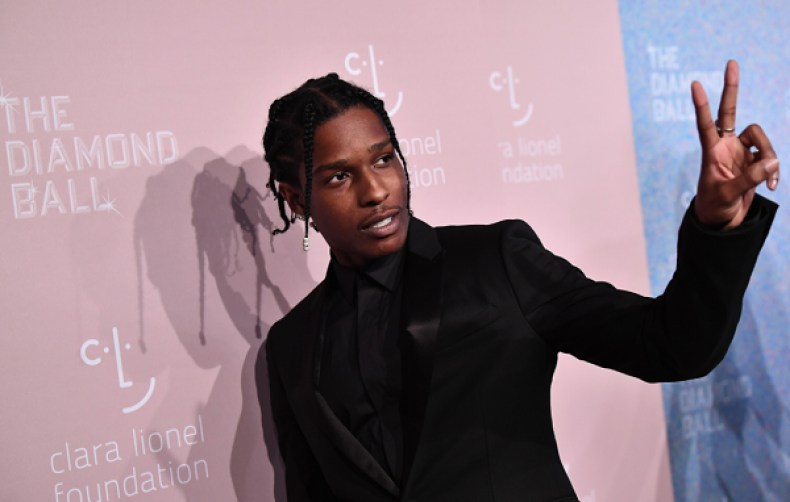 Rocky's legal team argued the men were acting in self-defense after Jafari harassed them as they were walking down a Stockholm street. Videos shared on Rocky's Instagram account ahead of the attack depicted two men following the group, one of whom appeared to throw a set of headphone's at the rapper's bodyguard. Rocky told the men to stop following them in a second video, saying, "We don't want to fight y'all. We're not trying to go to jail."
However, prosecutors claimed surveillance footage taken from nearby local security cameras and witnesses' phones painted a different story of Rocky allegedly throwing Jafari on the ground before punching and kicking him with the help of the other men.
Prosecutors are reportedly hoping to connect a broken bottle found at the scene of the crime to the attack following allegations of the men hitting Jafari over the back with a bottle. However, Rocky's attorney's disputed the claims and said no such evidence was found.
While on the stand on Tuesday, Jafari recalled the attack and said he "felt like they were going to beat me to death," New York Times reported.
"I was shocked that he took me by the neck and lifted me up," Jafari said during the trial. "I tried to hit him, but my [punches] did not land."
He claimed he was only following Rocky in efforts to retrieve his headphones.
Rocky did not take the stand during the hearing. His attorneys are expected to present evidence proving the RCA artist's innocence on Thursday with hopes of securing a verdict by Friday, according to NBC News.
In the U.S., fans and celebrities like Kim Kardashian West and Kanye West have rallied support for Rocky. President Donald Trump also reached out to the Swedish government on Rocky's behalf. In a series of tweets, the president blasted Swedish Prime Minister Stefan Löfven for failing to act.
ASAP Rocky Update: Rapper Could be Sentenced to 2 Years Behind Bars Depending on Evidence | Culture