U.S. rap star A$AP Rocky has got the help of major celebrities and politicians after being detained in Sweden following a street altercation that was captured on video.
The rapper, real name Rakim Mayers, was arrested while on tour in Stockholm for "gross assault" after a street brawl between his entourage and two men on June 30, according to The Hollywood Reporter.
But according to the rapper's Instagram account, the victim is seen with another man following and repeatedly harassing him. The rapper said that a fight broke out after the men swung at his security first.
Celebrities rallied to his support after reports emerged that he was in solitary confinement, with his manager John Ehmann writing on Instagram that he was enduring a "lack of access to life-sustaining food as well as unsanitary conditions."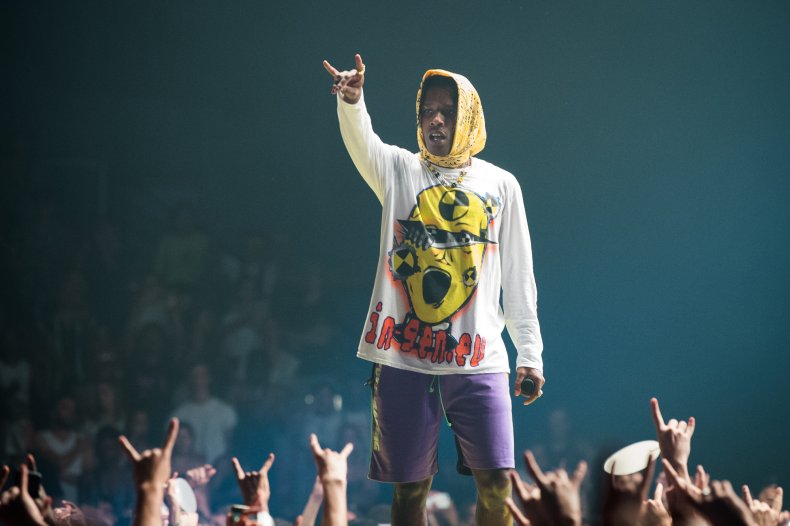 Along with her husband Kanye West, Kim Kardashian West tweeted a link to a TMZ report that said, "President Trump is very much aware" of A$AP Rocky's legal situation and that "he's got his team working to get him freed."
This followed contact between the rapper's management and Trump's son-in-law, Jared Kushner, who raised the case with the president. The U.S. State Department is also "actively working to get A$AP out of jail," according to TMZ.
The rapper has also had the backing of Reps. Adriano Espaillat, Hakeem Jeffries, André Carson, and Joaquin Castro, all of whom claimed he was being kept in "inhumane conditions," The Washington Post reported.
On Thursday, Kardashian tweeted her thanks for the political efforts being made to help the rapper.
"Thank you @realDonaldTrump, @SecPompeo, Jared Kushner & everyone involved with the efforts to Free ASAP Rocky & his two friends. Your commitment to justice reform is so appreciated," she added, in reference to her meeting with the president to discuss prison reform last year.
A Swedish prosecutor has requested more time to conclude his preliminary investigation into the assault allegations. "We…now need until Thursday next week to be able to finish the preliminary investigation," Daniel Suneson said in a statement, according to Reuters.
The 30-year-old musician was raised in Harlem, New York, and moved to New Jersey where he started rapping. A member of the hip-hop group A$AP Mob, from which he adopted his stage name, he came to the attention of Sony in 2011 with the mix-tape Deep Purple, which was followed by the street album Live.Love A$AP.
The album was re-released by Sony in 2012, the year he performed alongside Rihanna at the MTV Music Video Awards, according to allmusic.com.
The album Long.Live.A$AP was released in 2013 and went to number one on the Billboard 200 in its first week. His second album, At Long Last A$AP also debuted at number one. He is also a music producer, operating under the pseudonym Lord Flacko.