ASAP Rocky Arrives at LAX After Release From Swedish Jail, Verdict in Assault Case Still Pending
New York rapper A$AP Rocky arrived at Los Angeles International Airport early Saturday morning after being released from police custody in Sweden over his involvement in a brawl that landed the rapper in detention and set off an international firestorm.
"THANK YOU FROM THE BOTTOM OF MY HEART TO ALL OF MY FANS, FRIENDS AND ANYONE ACROSS THE GLOBE WHO SUPPORTED ME DURING THESE LAST FEW WEEKS," he wrote on his Instagram feed after he was released from detention pending the outcome of the verdict in his prosecution, which is expected to be delivered on August 14. "I CANT BEGIN TO DESCRIBE HOW GRATEFUL I AM FOR ALL OF YOU. THIS HAS BEEN A VERY DIFFICULT AND HUMBLING EXPERIENCE I WANT TO THANK THE COURT FOR ALLOWING ME BLADI AND THOTO TO RETURN TO OUR FAMILY AND FRIENDS. THANKS AGAIN FOR ALL OF THE LOVE AND SUPPORT."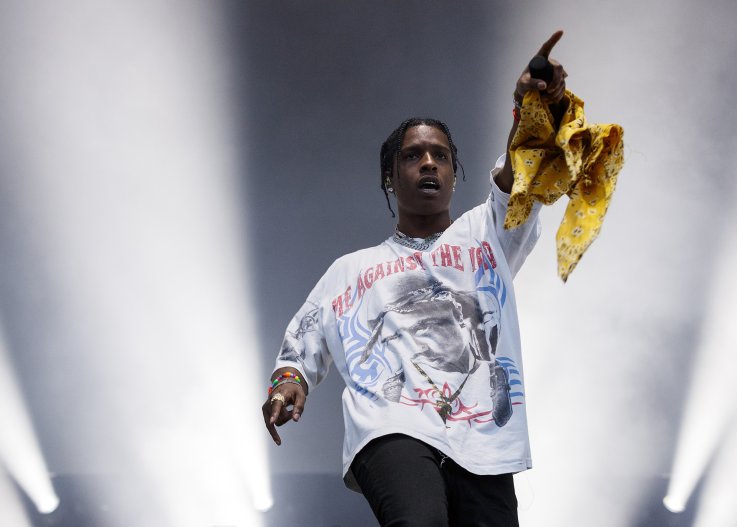 President Donald Trump celebrated Rocky's impending homecoming in a tweet.
"A$AP Rocky released from prison and on his way home to the United States from Sweden," Trump wrote Friday afternoon. "It was a Rocky Week, get home ASAP A$AP!"
Rocky, born Rakim Mayers, and a pair of his associates had been jailed in Stockholm since about July 3 over a scuffle with 19-year-old Mustafa Jafari. Rocky claims he and his group were being harassed by Jafari repeatedly, at which point they had no choice but to defend themselves, he says, by reciprocating violence after Jafari attacked them. A viral video taken of the encounter did not capture Jafari's aggression, but did record Rocky's self-professed response.
The 30-year-old rapper's detention in early July came about while police began to investigate the incident, setting off international outrage as Rocky sat behind bars for weeks before a formal charge was ever levied against him. Sweden does not have a cash bail system, and he was quickly deemed a flight risk by a Swedish judge, catalyzing his indefinite detention and the ensuing international uproar.
Trump has trained his Twitter feed on Rocky's plight multiple times, bringing diplomatic pressure to bear in an unusually public and ill-conceived manner: despite the president's repeated urgings to Swedish Prime Minister Stefan Löfven, the country's constitution forbids the intervention of the prime minister in legal cases.
Nevertheless, Trump consistently advocated on Rocky's behalf, a cause apparently taken up after a conversation with rapper Kanye West, whose wife, Kim Kardashian West, has previously leveraged her connection to the president to secure clemency for Alice Marie Johnson, an incarcerated grandmother.
A number of other celebrities came to Rocky's defense as well, and a Change.org petition calling for his release garnered more than 640,000 signatures.
Reports have alleged that Rocky's detention involved inhumane conditions and long periods of solitary confinement.
A group of U.S. Democratic lawmakers expressed their concern over Rocky's detention as he was being held while the Swedish prosecutors' investigation was still ongoing.
"We remain deeply concerned about the detainment of Rakim Mayers, also known as A$AP Rocky, and his two companions David Rispers Jr., and Bladimir Corniel," Representatives Adriano Espaillat (D-NY), Hakeem Jeffries (D-NY), André Carson (D-Ind.) and Joaquin Castro (D-Texas) wrote. "All three of these gentlemen are not only American citizens, they are young men of color."
The congressmen also held a press conference invoking the language of Dr. Martin Luther King Jr., calling the conditions Rocky had been subjected to "inhumane" and "human rights violations" and alleging the oppressive use of solitary confinement.
ASAP Rocky Arrives at LAX After Release From Swedish Jail, Verdict in Assault Case Still Pending | News