ASAP Rocky to Headline Concert in Sweden Months After Legal Battle and Detainment in Country
ASAP Rocky is returning to Sweden to headline a concert.
The show comes less than four months since a judge in Sweden delivered the rapper a guilty verdict for his assault of a man in Stockholm over the summer.
LiveNation announced the concert would take place in the very same city where the incident occurred.
"After tremendous support from the Swedish fans, he returns to Stockholm for a long-awaited gig for all his supporters," the events promotion and venue company said in a statement on Friday.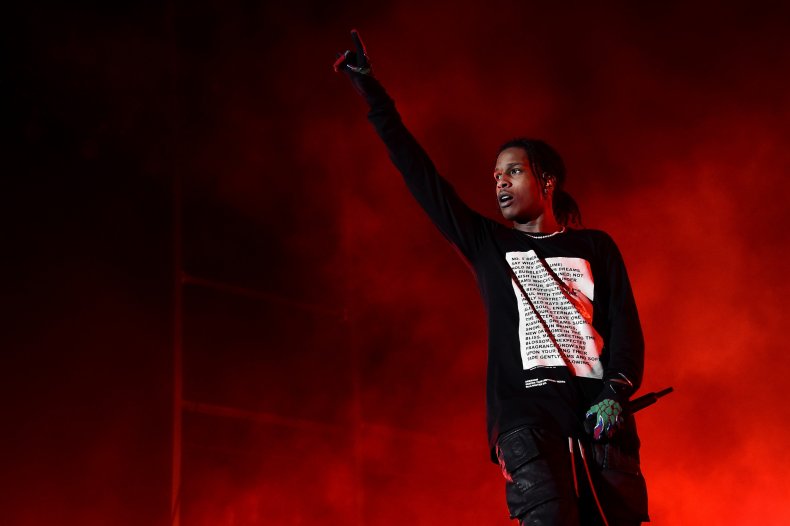 Rocky is set to perform at the Ericsson Globe in Stockholm on December 11 alongside various other Swedish artists, who have not yet been revealed. Tickets will be available for purchase starting November 12. A portion of the proceeds from ticket and merchandise sales will be donated to the Swedish Network of Refugee Support Groups (FARR), a non-profit organization that aids asylum seekers.
Rocky, whose birth name is Rakim Mayers, was arrested in Stockholm in July following a street brawl involving a 19-year-old Swedish man named Mustafa Jafari, who accused the rapper and his entourage of attacking him. Attorneys for 31-year-old Rocky argued the Testing rapper was merely acting in self-defense after Jafari followed and harassed the men despite their requests to be left alone.
The incident made national headlines after a judge ordered Rocky to remain in Swedish custody for two weeks while authorities investigated the altercation. Fans and celebrities rallied behind Rocky, sending petitions to the Swedish government demanding the New York native be allowed to wait out his trial in the United States. After being notified of the situation by Kanye West and Kim Kardashian West, President Donald Trump even got involved by calling Sweden's Prime Minister Stefan Löfven to advocate for Rocky's return to the U.S., but the appeals were denied.
Rocky spent a month behind bars before he was finally allowed to return home in early August.
Although he was allowed to go back to the U.S. to wait out the verdict in his trial, a judge still found Rocky guilty of assault. However, he was not given more jail time despite prosecutors' request of a six-month prison sentence.
At the time, Rocky didn't agree with the verdict but noted he was thankful to be back home.
"I AM OF COURSE DISAPPOINTED BY TODAY'S VERDICT. I WANT TO SAY THANKS AGAIN TO ALL OF MY FANS, FRIENDS, AND EVERYONE WHO SHOWED ME LOVE DURING THIS DIFFICULT TIME. IMMA KEEP MOVING FORWARD. THANK YOU TO MY TEAM, MY MANAGEMENT, ATTORNEYS, LABEL AND EVERYONE WHO ADVOCATED FOR JUSTICE," he wrote in an Instagram post following the judge's verdict on August 14.
ASAP Rocky to Headline Concert in Sweden Months After Legal Battle and Detainment in Country | Culture