'The Ascent' Walkthrough: How to Defeat the Megarachnoid Boss
The Megarachnoid is one of the most challenging foes that you will encounter during The Ascent's early missions.
Obstructing your progress towards the end of the "Empowerment" quest, this mechanized boss has a beefy health bar for you to whittle down, an endless legion of minions that it can spawn at will, and a flamethrower attack that is capable of inflicting serious damage.
To help you decommission the out-of-control robot, we have put together this handy guide with some useful tips and tricks.
The Megarachnoid Walkthrough: Preparing With the Right Gear
If you are certain that you are at the appropriate level to be taking on the Megarachnoid, and still find that you are having trouble defeating it, you might want to consider editing your loadout.
Like most robots in the game, the automated spider is vulnerable to energy guns, so make sure you have one of those upgraded to a reasonable state before heading into the boss arena. For your secondary firearm, we would recommend using something with explosive capabilities, such as the RPG23 launcher, which uses rounds that are designed to punch through armored vehicles. It should go without saying, but incendiary weapons will be next to useless here.
Throughout the "Empowerment" quest you will have been dealing with a relentless onslaught of androids that fire laser-based projectiles. As such, you might have equipped your character with energy resistant armor to even the odds a little.
While that was prudent at the time, this apparel will not serve you well against the Megarachnoid. Instead, you will want to change into armor pieces that have stronger fire-resistance stats, so that you have a better chance of withstanding the boss' devastating flamethrower surge.
Finally, it would behoove you to take another look at your augmentations as well. We found that the "Biometric Timestamp," which is basically a quick heal ability that you buy from a grafter, was particularly invaluable. It is also worth investing in the "Javelin Dash" module, so that you can dodge any incoming flames. Again, this upgrade can be purchased from a grafter.
The Megarachnoid Walkthrough: Strategies for the Fight Itself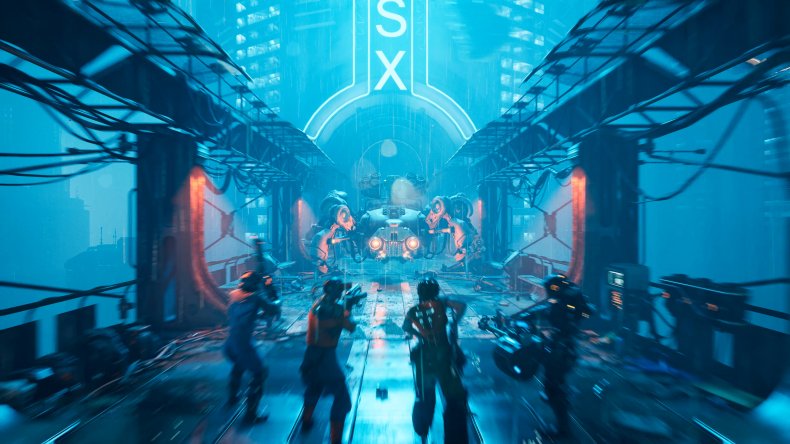 The Megarachnoid has two abilities that you need to watch out for.
The first is its aforementioned flamethrower attack, which has a remarkably wide spread. This means that (unlike with the sentry mech bosses) circle-strafing around the enemy is a very bad idea. Instead, you should keep your distance and use the "Javelin Dash" move to get out of any tight spots.
The other trick that the Megarachnoid has up its sleeve is that it can summon a horde of kamikaze spiderbots that will self-detonate in your proximity. Obviously, you can use grenades or rockets to help with crowd control here, but there is another tip that the game does not give you until after you have unlocked the Megarachnoid's codex entry.
It turns out, you can actually prevent the spiderbots from hatching in the first place by getting in range of their eggs and using the quick-hack ability. If you are playing on an Xbox controller, you will need to hold down the Y button for this. By doing so, you will be able to focus all of your firepower on the main boss, although it is worth pointing out that destroying wave after wave of these minions will reap you a generous amount of bonus XP.
Once you have finally vanquished the Megarachnoid, you will be able to progress into the next room, where you can loot an augmentation that enables you to rouse your very own spiderbot army.
The Ascent is out now for PC and Xbox consoles. It is also featured as part of the Xbox Game Pass Service.