Ash Carter, in Baghdad, Seeks to Intensify U.S. Islamic State Fight, Retake Ramadi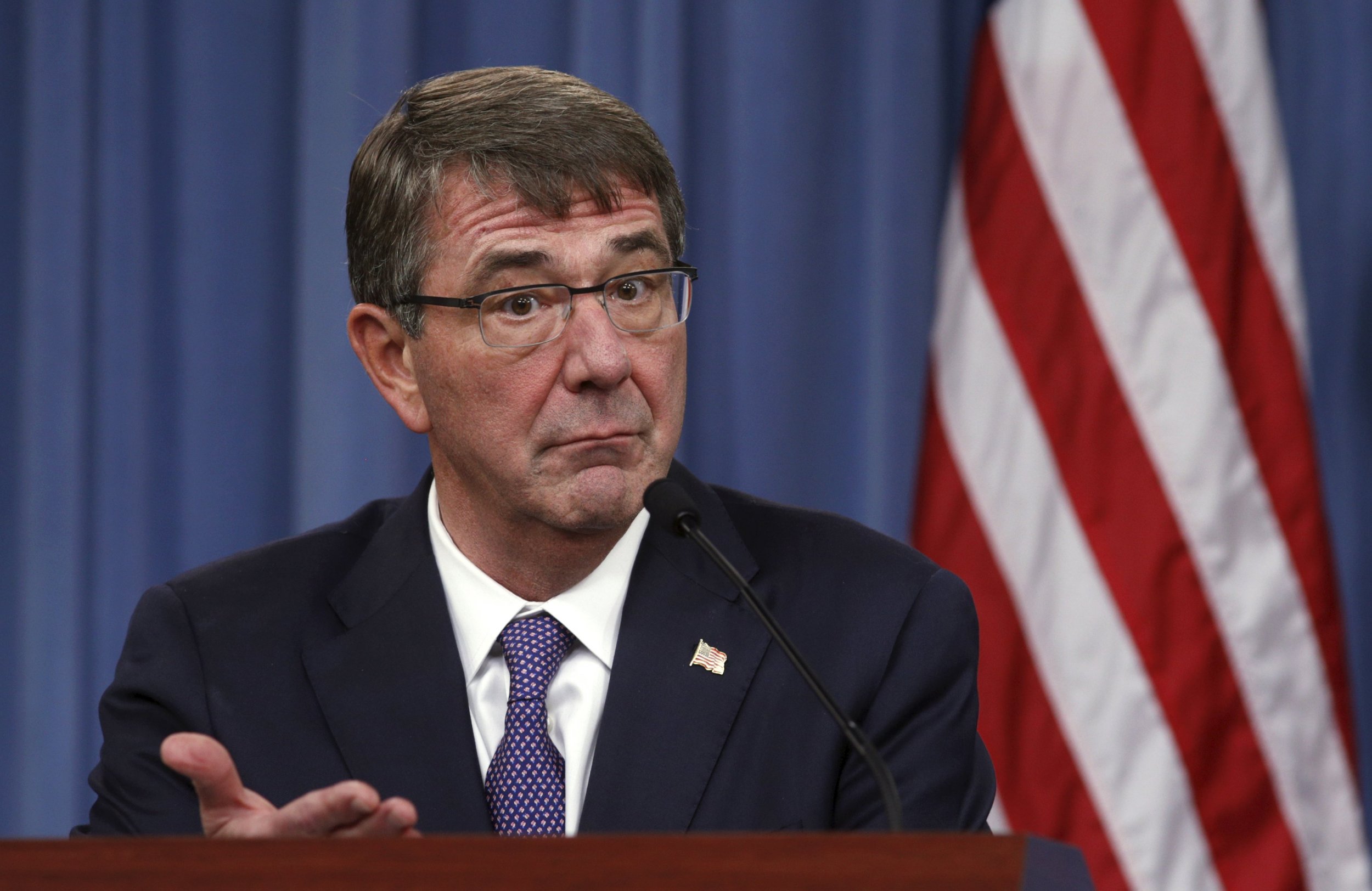 BAGHDAD (Reuters) - U.S. Defense Secretary Ash Carter was on Wednesday hoping to discuss with Iraqi officials Washington's offer of attack helicopters and advisers to help retake the city of Ramadi as part of an intensified fight against Islamic State.
Carter said he would also be speaking to U.S. commanders during his visit to Baghdad to get a reading on the battlefield and "their thinking about ways that we can continue to accelerate the campaign to defeat ISIL."
Islamic State, also known as ISIS or ISIL, is an ultra-hardline Sunni Muslim group that controls swathes of territory in Syria and Iraq and has a presence in other Arab countries such as Egypt and Libya.
There are growing signs of the United States seeking to step up its military campaign against the militants, who have killed thousands of people in Iraq and Syria and claimed responsibility for attacks in the West, including the attacks in Paris that killed 130 people in November.
The fall of Ramadi, the capital of Anbar province, to the Islamic State in May was the biggest defeat for Iraq's weak central government in nearly a year, dampening its hopes of routing the group from the country's north and west.
This month, the United States announced plans to deploy elite American military teams to Iraq to conduct raids against Islamic State there and in neighboring Syria.
The United States has said it is willing to deploy advisers and attack helicopters to help Iraq retake Ramadi, west of Baghdad. The United States has around 3,500 troops in Iraq now.
Carter said he planned to discuss that offer with Iraqi officials including Prime Minister Haider al-Abadi.
Oil Revenue
A U.S. deployment of Apache attack helicopters to provide close air support in the Ramadi fight is dependent on a formal request from Abadi. That request had not been made before Carter 's arrival.
"If the prime minister asks for them, they can be available on a very short notice," Colonel Steve Warren, a spokesman for the U.S.-led coalition in Iraq, said of the Apache helicopters.
Abadi faces resistance to closer cooperation with Washington from Iranian-backed Shi'ite groups who oppose greater American military involvement in Iraq and wield significant power.
Ten thousand members of the Iraqi security forces surround Ramadi, but U.S. officials have expressed frustration at how long it has taken Iraqi security forces to take back the city.
The visit to Iraq is part of a trip around the Middle East that began in Turkey on Tuesday and is also aimed at asking U.S. allies for greater contributions in the military campaign against Islamic State. Saudi Arabia has announced a 34-nation Islamic coalition against the group.
In Syria, the United States has focused on reducing Islamic State revenues, particularly from oil fields in the east.
Though officials believe the campaign has had an impact, a senior U.S. official said it was too soon to say how much Islamic State's oil revenues had been choked off.
"As we've begun to impact their ability to make money through things like oil ... what we've seen is that the fines that they impose on the civilian population ... have gone up," the official said.
Major population centers including Syria's Raqqa and Iraq's Mosul remain Islamic State strongholds, allowing it to maintain a revenue base and possibly plan attacks outside its territory.
Speaking to troops on Tuesday at Incirlik air base in Turkey, which the United States and its allies are using for the air campaign against Islamic State, Carter acknowledged that the threat posed by Islamic State had grown beyond the Middle East.
"This has metastasized to other parts of the world including our own homeland," he said. "But the defeat here in Syria and Iraq is necessary and we need to hasten that."