Who Is Ainsley Earhardt? 'Fox & Friends' Co-Host Interviews President Donald Trump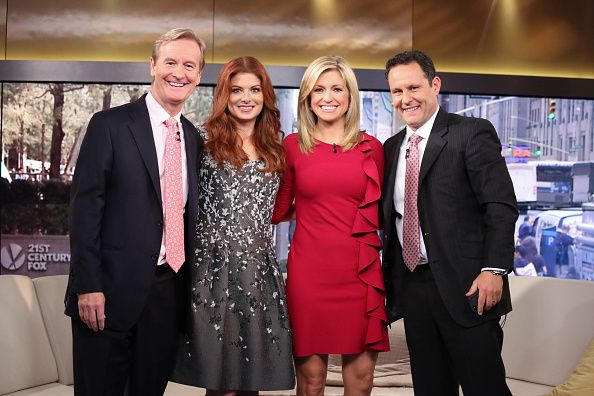 Fox & Friends co-host Ashley Earhardt sat with President Donald Trump for his first major interview following news of his former campaign chairman Paul Manafort's conviction on Thursday.
Earhardt spoke with the president on a number of pressing topics, including Manafort's sentencing and a guilty plea by his former personal attorney, Michael Cohen, who said under oath in court that he had paid an adult film star and a former Playboy centerfold that Mr. Trump is alleged to have had affairs with for their silence at Mr. Trump's direction. Mr Cohen entered a guilty plea on charges of tax fraud, fake statements to a bank and campaign violations.
Earhardt, a South Carolina native, has spoken with Trump a number of times on the Fox news show along with her fellow hosts Brian Kilmeade and Steve Doocy. The president's admiration for the morning news program is widely known. Since taking the White House in 2017, he has granted the network, which offers him fawning coverage, more interviews than any other.
A graduate of the University of South Carolina's school of journalism, Earhardt joined Fox back in 2007. Initially Earhardt worked as a reporter for the local CBS affiliate in her hometown of Colombia where she became a fan favorite of residents.
Her journalistic pursuits led her to a bigger news network in San Antionio, Texas in 2004. While working in the Lone Star State, Earhardt caught the attention of former CEO and Chairman of Fox News and Fox Television Stations Roger Ailes.
Just as she gained favor of viewers in her hometown, Earhardt, the wife of former NFL quarterback Will Proctor, similarly won the hearts of Fox News fans, who mostly hail from the South and Midwest. A devout Christian and self-described traditionalist, the mother-of-one uses her platform to appeal to the "forgotten Man" of the U.S. similar to message the president often preaches.
"I've had discussions with my friends who are New Yorkers here that see things differently than I do and sometimes that makes for awkward conversation at the dinner table," she told Business Insider in a 2017 interview. "I did grow up in a southern Christian background and I have friends from all walks of life, but I will never forget from where I came."