'Teen Mom: Young and Pregnant' Star Ashley Jones Talks Suicide Over Bullying About Bar Smith
Teen Mom: Young and Pregnant star Ashley Jones talked about suicide in a tweet Wednesday. The day before, Jones said she was getting bullied for staying with her fiancé, Bariki Smith, who she previously accused of domestic violence.
"I have to remind myself that I am doing the best I can do , and thats all that I can do," she tweeted to her 39.4 million followers. "But when I blow my fucking brains out , everyones gonna cry . Everyone's gonna have wished me the best . Everyone's gonna wanna put me on their shirt , come to my funeral . Nah , just keep that same energy . The energy that drew me to suicide in the first place." She added: "Keep your fake ass out of comments . And also . Only dogs carry bones ."
Before that, Jones talked about possibly leaving Smith so she wouldn't have to deal with all the scrutiny. At some point, fighting the same battle gets exhausting. So I'll gracefully bow out . Sometimes I think people won't be happy until I leave bar and disappear . And sometimes I wonder if that would be the best option to stop all the drama . And sometimes I wonder if people wish to humiliate me and talk down on me so bad that I just say fuck it and end my whole life," she wrote. "But then I think like , if those people were happy with themselves they Pilsner be trying to break up a family or bully and humiliate someone . So even if I did kill myself , they wouldn't be happy . Cause it's deeper than me. It's them . Their anger , their hate , their pain ."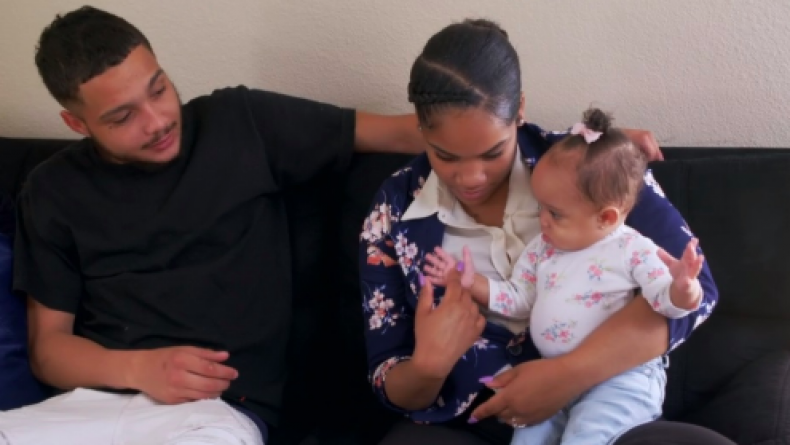 Jones added: "This won't be the story of the girl who folded under pressure . This will be the story of a women , who held her head high through all the obstacles facing her , and has came out stronger ."
As documented on the MTV series, Jones and Smith have a tumultuous relationship. In May, Jones accused Smith of abuse in an Instagram video. "You guys want to know the real about Bar? You guys want to know the real about Bar?! He f**king beats me! How's that for f**king real?"
She continued: "He and his mom are bullies… He puts his f**king hands on me and he expects me not to put my hands back on him. His mom put her hands on me and he expects me not to put my hands back on her."
On Monday's episode of Young and Pregnant, things seemed to be going well for the young mother. Jones got a full-time job as an administrative assistant, bringing her and Smith one step closer of their dream to move to Atlanta. One of the things she likes about her new gig is that she's just "Ashley" there, not a teen mom. There's the issue of Smith's mother, who she has famously feuded with on the series, but she wants to make things better since she's Holly's grandmother.
If you have thoughts of suicide, confidential help is available for free at the National Suicide Prevention Lifeline. Call 1-800-273-8255. Their line is available 24 hours, every day.