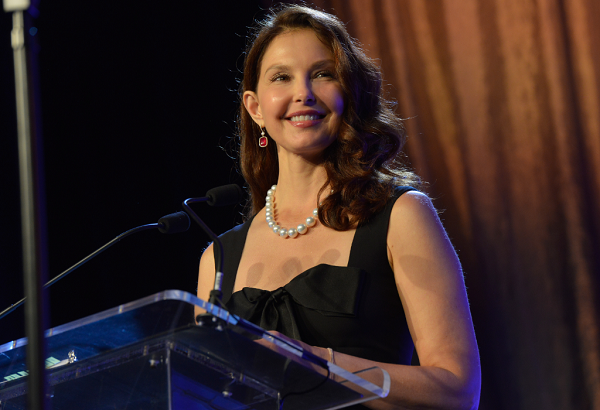 Ashley Judd has been interviewed by Diane Sawyer for various programs on ABC, beginning with Good Morning America, all airing today. It is her first time speaking publicly since she accused Hollywood producer Harvey Weinstein of sexual harassment.
Dozens of women in the entertainment industry have come forward with allegations of sexual harassment and assault since The New York Times and The New Yorker published investigations into Weinstein's alleged decades-long pattern of predatory behavior. The former Miramax and Weinstein Company co-founder's fall has inspired something of a reckoning in Hollywood, with stars like Angelina Jolie, Gwyneth Paltrow, Lupita Nyong'o sharing their experiences with harassment, while men like James Toback, Oliver Stone, Val Kilmer and more are accused of sexual misconduct. Thousands more around the world have rallied around the #MeToo hashtag to detail how pervasive harassment is.
Judd, who starred in the Weinstein-produced Kiss the Girls, recalled meeting him at a hotel in Beverly Hills while filming the 1997 film. Although she was supposed to be meeting Weinstein for breakfast, Judd told The New York Times that she was informed at the last minute that her meeting was moved to his suite. Shortly after her arrival, Judd said Weinstein became sexually suggestive, asking if he could give her a massage and a shoulder rub before asking if she would watch him while he showered.
"I said no, a lot of ways, a lot of times, and he always came back at me with some new ask," Judd said. "It was all this bargaining, this coercive bargaining."
Judd managed to escape the room without further incident. She went on to star in two more Weinstein productions.
Judd's interview with Sawyer will also mark the first time any of Weinstein's alleged victims have spoken on TV about their charges.
Segments of the interview are slated to air throughout the day on ABC, beginning with Good Morning America at 7 a.m. ET, World News Tonight With David Muir at 6:30 p.m. ET, and Nightline at 12:35 a.m. ET. October 27.
The interview also will air on ABC Radio.