What Ashley Judd Has Said About Mother Naomi Judd's Death
Ashley Judd opened up about her mother Naomi's death in an emotional Good Morning America interview. The actor also revealed the cause of death of the country singer.
Naomi Judd died at the age of 76 at the end of April 2022, just weeks after Naomi performed with daughter Wynonna Judd for the first time in two decades.
Ashley Judd had previously paid tribute to her mother on social media, and had posted pictures of her and sister Wynonna Judd paying tribute to their mother at the Country Music Hall of Fame, where she was already due to be commemorated before her death.
The GMA interview saw Ashley Judd go into more detail about losing her mother, including her "grief and trauma" at having found her mother's body.
What Has Ashley Judd Said About Naomi Judd?
Ashley Judd broke the news to her fans on her Instagram on April 30. The actor wrote: "Today we sisters experienced a tragedy. We lost our beautiful mother to the disease of mental illness. We are shattered. We are navigating profound grief and know that as we loved her, she was loved by her public. We are in unknown territory."
In a message on May 3, she shared a video of her father Larry Strickland singing the hymn "How Great Thou Art" in tribute to his wife of over 30 years. She wrote in the caption: "Your outpouring is reaching me. Thank you for every thought, prayer, message, text, email, post, expression. We each are alone and we are in fellowship, broken and held, protected from nothing and sustained in everything. It's the beginning of an old story, life and death, loss and life."
At a Country Music Hall of Fame event—just hours after the announcement of Naomi Judd's death—in which The Judds, Naomi and Wynonna, were due to be inaugurated, Ashley Judd said: "My mama loved you so much and she appreciated your love for her. And I'm sorry that she couldn't hang on until today. Your esteem for her and your regard for her really penetrated her heart. And it was your affection for her that did keep her going in these last years. And please, come see Pop. Please do come see him."
On May 6, Ashley Judd wrote an essay for USA Today in which she compared her mother's story to that of mothers everywhere. In this, she wrote in part: "It wasn't supposed to be this way. I was supposed to visit her on Sunday, to give her a box of old-fashioned candy, our family tradition. We were supposed to have sweet delight in each others' easy presence. Instead, I am unmoored. But my heart is not empty. It is replete with gratitude for what she left behind. Her nurture and tenderness, her music and memory."
Ashley Judd's first television interview after the death was the GMA segment. In this interview, she revealed: "My mother used a firearm. So that's the piece of information that we are very uncomfortable sharing, but understand that we're in a position that if we don't say it someone else is going to."
She added: "When we're talking about mental illness, it's very important to be clear and to make the distinction between our loved one and the disease. It's very real, and it lies, it's savage."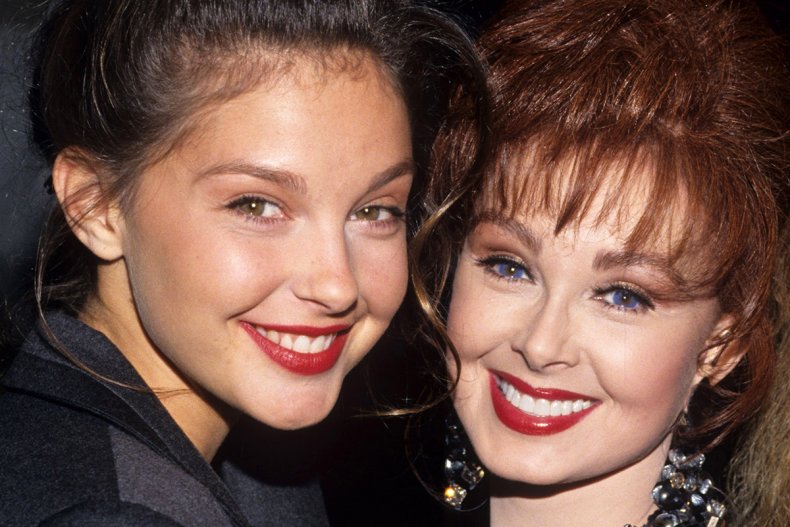 Naomi Judd had previously been candid about her battles with depression. She was a spokesperson for National Alliance for the Mentally Ill, and in 2016 wrote River of Time: My Descent into Depression and How I Emerged with Hope. In an interview with People promoting the book, she said: "Nobody can understand it unless you've been there. It's so beyond making sense but I thought, 'Surely my family will know that I was in so much pain and I thought they would have wanted me to end that pain.'"
In that interview, she mentioned that it was the thought of a family member finding her body that stopped her from taking hew own life in the past.
In her GMA interview, Ashley Judd said: "I visit with my mom and pop every day when I'm home in Tennessee, so I was at the house visiting as I am every day...I went upstairs to let her know that her good friend was there and I discovered her."
"Our mother couldn't hang on until she was inducted into the Hall of Fame by her peers," she added. "That is the level of catastrophe of what was going on inside of her, because the barrier between the regard in which they held her couldn't penetrate into her heart, and the lie the disease told her was so convincing."
If you have thoughts of suicide, confidential help is available for free at the National Suicide Prevention Lifeline. Call 1-800-273-8255. The line is available 24 hours, every day.