Ashley Solis, Deshaun Watson's Accuser, Makes First Public Comments: 'I'm Not Afraid Anymore'
Ashley Solis, one of the women who has accused Houston Texans quarterback Deshaun Watson of sexual assault, made her first public comments on Tuesday, saying she was afraid but is "not afraid anymore."
"Deshaun Watson assaulted and harassed me," Solis said during a press conference held by attorney Tony Buzbee. "I'm here to take back the power and take back control," she added. "I'm a survivor of assault and harassment."
During the conference, Solis explained that on March 30, 2020, Watson sexually assaulted her "in my own home, doing what I love most, massage therapy."
"I can no longer practice the profession I love the most without my hands shaking during the session," she said. "I got into massage therapy to heal people. To heal their minds and bodies. To bring peace to their souls. Deshaun Watson has robbed me of that," Solis said.
Solis also disputed claims that she accused Watson of sexual assault for money, saying they are false. "I come forward now so that Deshaun Watson does not assault another woman," she said.
Her remarks come shortly after the Houston Police Department said it was investigating a sexual harassment accusation against Watson.
"Today, a complainant filed a report with the Houston Police Department concerning Deshaun Watson. As with any allegation, the Houston Police Department is now conducting an investigation and will not comment further during the investigative process," the department wrote in a statement posted to Twitter on April 2.
While Solis is the first to publicly speak about the allegations against Watson, she is not the only woman who has accused the Texans quarterback of sexual harassment. On Monday, ESPN reported that a lawsuit was filed against Watson and alleges that he assaulted a woman "by touching her with his penis and exposing himself."
The woman is the 22nd who has filed a lawsuit against Watson accusing him of sexual harassment. All of the women are being represented by Buzbee.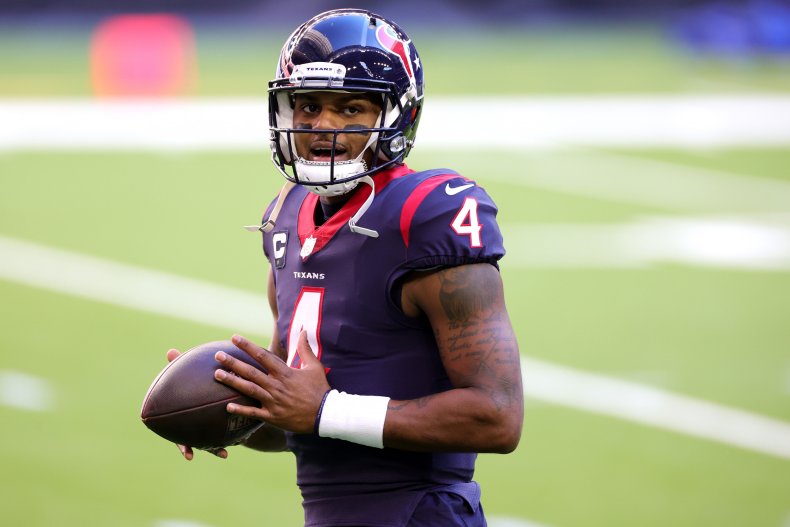 Newsweek reached out to Buzbee for comment but did not receive a response in time for publication.
Watson has disputed the allegations against him. In a statement posted to Twitter on March 16, he wrote, "I have never treated any woman with anything other than the utmost respect. The plaintiff's lawyer claims that this isn't about money, but before filing suit he made a baseless six-figure settlement demand."
Shortly after the Houston Police Department announced that it was opening its investigation, Houston Texans owner Cal McNair sent a letter to season-ticket holders and addressed the allegations against Watson.
"We want to take this opportunity to address the complaint filed with the Houston Police Department and the allegations made in the civil lawsuits filed against Deshaun Watson," the letter said. "We want to assure you that we take these allegations very seriously. As reported, HPD and the National Football League are conducting investigations and we will cooperate fully. We respect the legal process and will continue to monitor the situation closely."
The letter continued, "While we await the conclusion of these investigations, we express our strong stance against any form of sexual assault. Our family and the entire Houston Texans organization are deeply troubled by any form of abuse and we condemn this type of behavior."