Ashli Babbitt's Mother Hands Out 'Justice for Jan 6th' Flyers at Capitol on Anniversary
The mother of Ashli Babbitt, a woman who was killed during the Capitol riot, commemorated the anniversary of her daughter's death with a call for "justice" for the political prisoners and those who were killed.
A Capitol police officer fatally shot Babbitt, 35, after rioters broke a glass panel on a door and Babbitt attempted to climb through it. Babbitt's death prompted mixed reactions, with some considering it a tragic result of the riot and others likening it to a murder and calling for the officer to be prosecuted.
On Thursday, Babbitt's mom passed out flyers at the Capitol that called for "Justice for Jan 6th," according to NBC News' Gary Grumbach. Alongside a photo from the Capitol that day were the names of three people who died that day—Babbitt, Roseanne Boyland, who was trampled, and Kevin Greeson, who had a heart attack. The flyer also included the name of Victoria White, who was arrested inside the Capitol, and the words "political prisoners."
More than 700 people have been charged in connection with the Capitol riot and some have been incarcerated since their arrests. Some prominent Republicans have pushed back against their treatment, likening them to political prisoners. However, a judge rejected the idea that Capitol riot defendants fit the definition.
"He is not a political prisoner," Judge Amy Berman Jackson said in reference to Karl Dresch, a defendant. "We are not here today because he supported former President Trump. He was an enthusiastic participant in an effort to subvert the electoral process."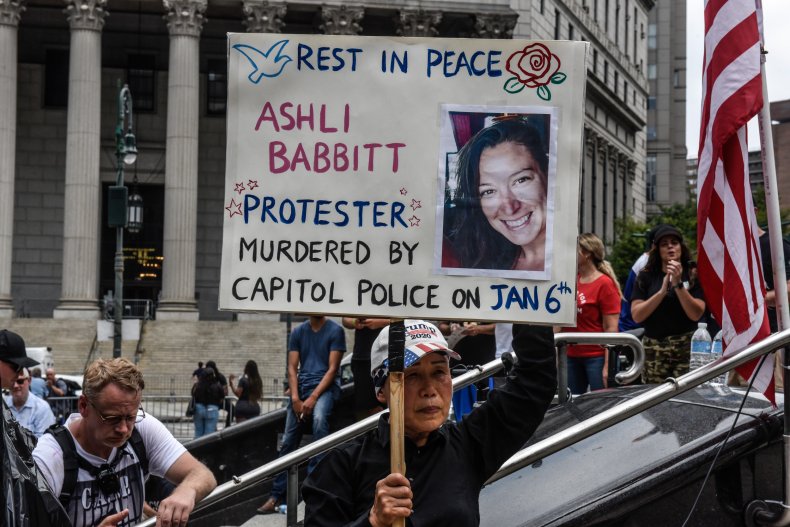 Babbitt's mom, Micki Witthoeft, told Grumbach that she went to the Capitol on Thursday to remember her daughter. In August, Witthoeft criticized the lack of communication with her and her family about Babbitt's death and claimed Representative Dianne Feinstein's aide told her her daughter's death was "unfortunate" but that she should not have "stormed the Capitol."
The officer who shot Babbitt remained anonymous for months, and the family filed a lawsuit in June for records that would uncover the officer's identity. Later identified as Lieutenant Michael Byrd, the officer told NBC News that he "saved countless lives" because the mob would have been able to reach members of Congress if he allowed them to get through the door.
"I tried to wait as long as I could," Byrd said. "I hoped and prayed no one tried to enter through those doors. But their failure to comply required me to take the appropriate action to save the lives of members of Congress and myself and my fellow officers."
Babbitt's family identified her as a supporter of Donald Trump, who said he spoke with her mom in August. Trump said Babbitt was "murdered at the hands of someone who should never have pulled the trigger." He added that there "must be justice."
The Department of Justice announced in August that it would not be pursuing charges against the officer who shot Babbitt. It said there is "insufficient evidence" to support a criminal prosecution because the investigation found the officer reasonably believed it was necessary to shoot Babbitt in self-defense or the defense of members of Congress.