Ashton Kutcher's Testimony Could Potentially Find the Alleged 'Hollywood Ripper' Not Guilty. Here's What We Know
On February 21, 2001, Ashton Kutcher was late for a date. Then single and best known for his work on the Fox comedy That 70's Show, Kutcher was an acquaintance of 22-year-old fashion design student Ashley Ellerin. No one answered when he arrived at Ellerin's home. He peered through a window and spotted what looked like red wine stains. Kutcher assumed she went out without him and the actor left. The next day Ellerin was found dead in her home, stabbed 47 times. Years later police would arrest Michael Gargiulo, the man they suspect is responsible for Ellerin's death and a number of other murders over a 15-year period. It's Kutcher's testimony about that night, however, that could find the "Hollywood Ripper" not guilty.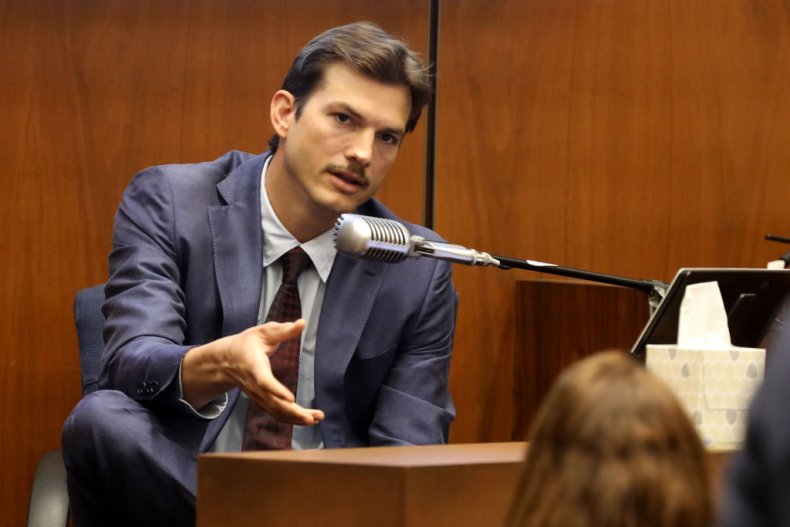 Gargiulo was arrested in June 2008 after DNA evidence linked him to the attempted murder of his neighbor, Michelle Murphy. It was the investigation into Murphy's attack that connected Gargiulo to Ellerin's murder, the 2005 murder of Gargiulo's neighbor Maria Bruno and a 1993 murder of another one of his neighbors, Tricia Pacaccio.
Gargiulo's trial for the two California murders and the attempted murder started on May 2 (he is being tried separately for the Illinois murder of Pacaccio). Even though there's little DNA evidence in the three murders, the prosecution is trying to prove similarities in all the attacks, linking Gargiulo to the murders, saying he stalked and "thrill killed" his victims. The defense, however, is suggesting that due to lack of DNA evidence in the murders, it's possible other suspects with closer relationships to the victims could be responsible for the murders. It's Kutcher's testimony the defense is focusing on, casting doubt on Gargiulo's guilt for Ellerin's murder, and thus all the murders.
So who is the "Hollywood Ripper" Michael Gargiulo, and what started his alleged murder spree? Who were the unfortunate victims? And how is Asthon Kutcher involved in the case? Here's everything we know.
Who is the "Hollywood Ripper" Michael Gargiulo?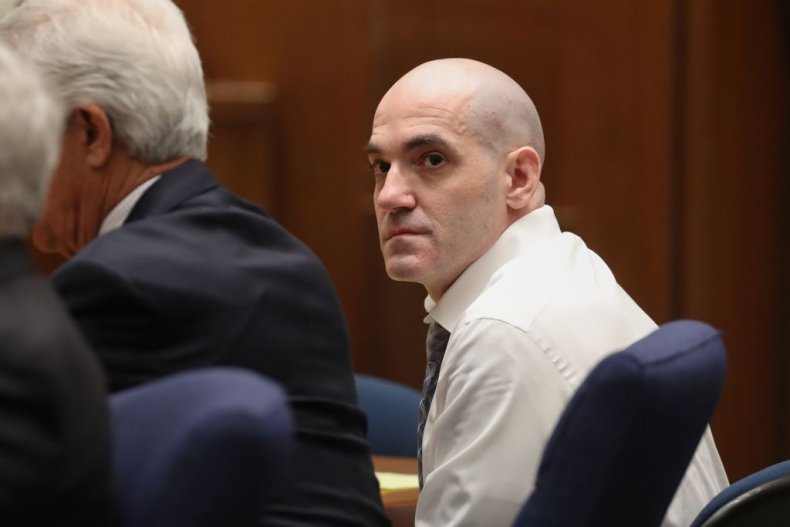 Gargiulo, 43, is originally from Glenview, Illinois, a suburb of Chicago. He is married to Ana Luz Gonzalez, although little is known about her or his family.
Prosecutors in the murder trial said in their opening statements that Gargiulo would target women who lived near him and who were outgoing. He'd stalk his victims, studying their movements so that he would know exactly when to attack. The slayings took place in the dead of night.
"What you will hear [over the course of the trial] is that Michael Gargiulo, for almost 15 years, was watching, always watching," prosecutor Daniel Akemon said. "And his hobby was plotting the perfect opportunity to attack women with a knife in and around their homes."
Aware of his actions, prosecutors say Gargiulo would attempt to cover his tracks. He allegedly had software on his computer that automatically deletes information for the computer's hard drive.
Prosecutors also indicated that Gargiulo allegedly timed his attacks against some of his victims to coincide when they would be with other men, knowing the police would look in the direction of their last known encounters first, giving Gargiulo a cover.
After his arrest, Los Angeles County sheriff's detectives had two undercover deputies placed in Gargiulo's jail cell to record Gargiulo's behavior. Gargiulo told the undercover officers he previously looked up the crimes of serial killers Ted Bundy and Ed Gein, attempted to workshop an explanation with the officers over a particularly damning piece of evidence against him and ran the idea of saying he suffered from blackouts by them as a possible defense.
"How would you explain that to the jury," Gargiulo asked the undercover officers.
Deputy Dist. Atty. Garrett Dameron mentioned these statements by Gargiulo during his closing arguments in the trial on Monday.
"That's Michael Gargiulo trying to fool each and every one of you," Dameron told the jury.
Who were the victims of the "Hollywood Ripper"?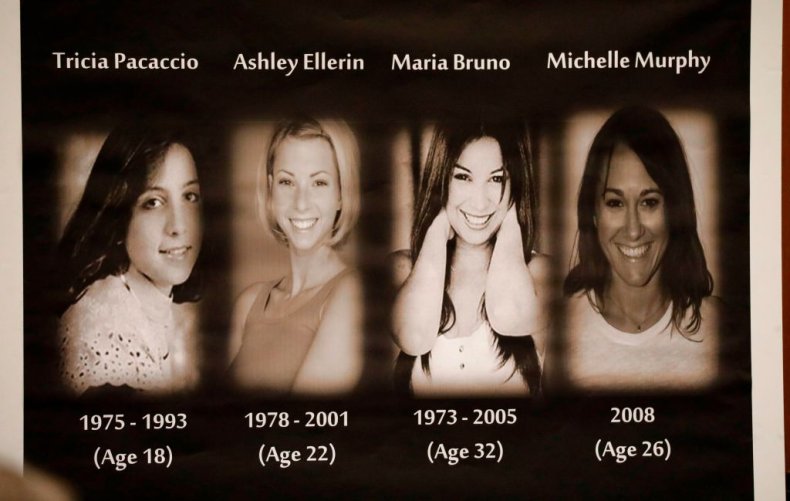 Gargiulo's first alleged victim was his neighbor, 18-year-old Tricia Pacaccio, in Glenview, Illinois. Pacaccio was murdered late in the night on August 14, 1993, after returning from a night out with friends. Her father found her stabbed body the next day outside their home. Gargiulo would have been 17 at the time of the murder. In 1998 he fled Illinois for Los Angeles to allegedly avoid further scrutiny from police investigating the murder.
His second alleged victim was 22-year-old Ashley Ellerin, a neighbor of Gargiulo's in Hollywood. Ellerin was stabbed brutally during the night of February 21, 2001. Kutcher, who met Ellerin the week prior at a housewarming party, testified to "freaking out" after learning of her murder because his fingerprints had been at the crime scene when he attempted to take Ellerin on their planned date.
His third alleged victim was 34-year-old Maria Bruno, a neighbor of Gargiulo's in El Monte, a suburb of Los Angeles. He's accused of the 2005 brutal stabbing, which left Bruno's body mutilated. Prosecutors played the 911 call from Bruno's ex-husband, Irving Bruno, who said he found his wife in a "pool of blood," with her breast implants cut out and her nipple covering her mouth.
The last victim he's charged with attempting to murder was his Santa Monica neighbor Michelle Murphy in 2008. Murphy survived the attack, fighting Gargiulo off, causing him to bleed. It was the drops of blood from that wound that connected Gargiulo to the crime.
What's been revealed at the trial?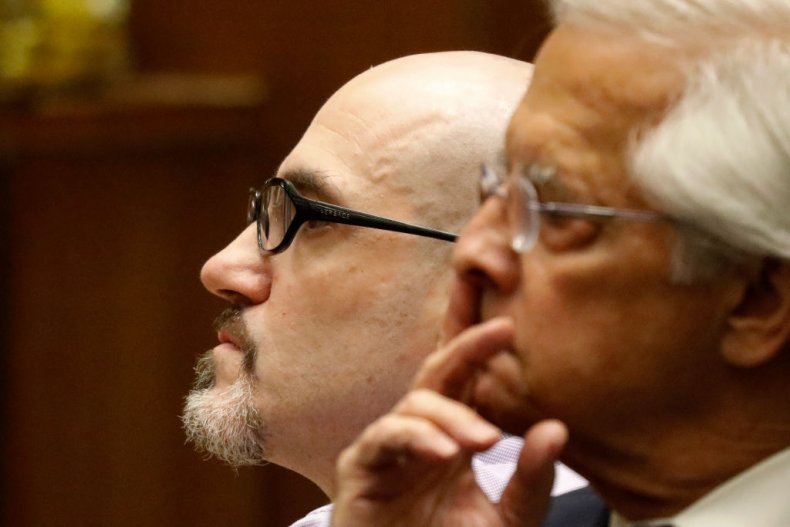 Gargiulo denies he murdered Pacaccio, Ellerin or Bruno, with his defense raising suspicion that other people connected to the victims are the more likely suspects.
"In fact, the evidence is that others were" with the women, Dale Rubin, one of Gargiulo's defense attorney said in court. "There is absolutely no evidence as to where Mr. Gargiulo was at the time of the commission of those crimes."
Both Ellerin and Bruno had been visited by men they knew before their murders—Ellerin by Mark Durbin and Bruno by her ex-husband—but both men testified they had no involvement in the slayings and police cleared them of involvement.
After Bruno's stabbing, a blue surgical bootee with drops of her blood and Gargiulo's DNA were found near the crime scene. Gargiulo wore similar bootees over his shoes as an air conditioner repairman. The defense argues Gargiulo likely dropped the bootee at some point and the killer must have stepped on the glove during their escape, dripping Bruno's blood on the bootee.
The 2008 attack on Murphy is indisputable because of DNA evidence, but Gargiulo's defense says Gargiulo suffers from a mental disorder that left him unable to recall his actions that night.
Gargiulo "has no recollection and no memory of what happened because he was in an amnestic state," Rubin said in court.
How could Kutcher's testimony find Gargiulo not guilty of the crime or crimes?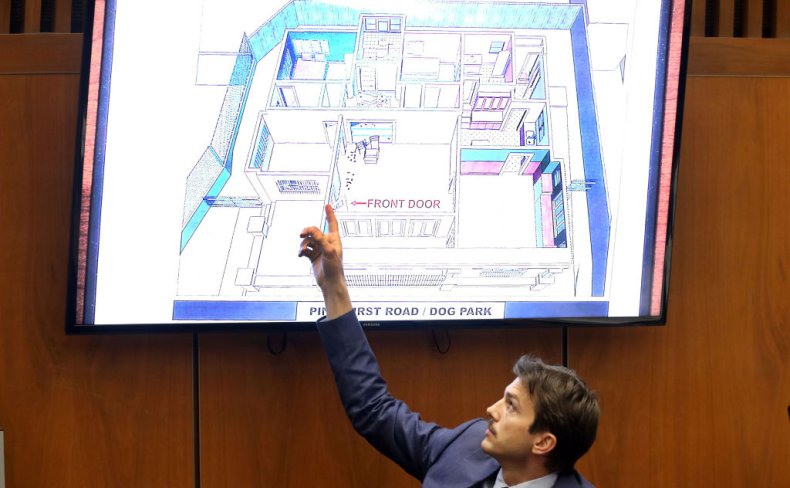 Kutcher testified he last spoke with Ellerin at 8:24 pm on the night of her murder. He called to inform her he would be late for their date, and Ellerin told Kutcher she had just gotten out of the shower.
Gargiulo's defense said Ellerin's apartment manager and somebody she had allegedly had a sexual relationship with the day of her murder, Mark Durbin, was in the apartment at the time of Kutcher's call. Gargiulo's defense suggests this call would have angered the apartment manager, potentially causing violence.
Durbin testified he was "just hanging out" in Ellerin's apartment, that he was there when she took a shower and that he did remember Ellerin taking a call while he was there. Durbin went on to say he left shortly after that, eager to return to his apartment where his girlfriend—now his wife—was waiting.
When the defense asked Durbin if he killed Ellerin, Durbin tearfully replied, "No, I did not."
Neighbors passing Ellerin's apartment told police they had heard screams coming from her residence at 8:30 p.m. Gargiulo's defense suggests this is when Ellerin was killed.
Gargiulo's defense made the same argument for Bruno's killing, suggesting her ex-husband could be involved because he was the last known person to see Bruno alive and because of the brutal nature of the murder.
"Whoever did this, it was personal," Nardoni, one of Gargiulo's defense attorneys, said in court.
Bruno's husband was never charged and is not considered a suspect.
But Nardoni said it is not the responsibility of the defense to find out who killed these three women, but rather to prove reasonable doubt for Gargiulo's guilt.
If the jury agrees with the defense's argument, Gargiulo could be proven not guilty for the two California murders. The attempted murder charge for Murphy's attack is another issue, but how the court views Gargiulo's mental stability is likely what will determine that charge.
Even if Gargiulo is found not guilty, he still faces charges in Illinois for the murder of Tricia Pacaccio.
Jury deliberations are scheduled to begin Thursday.