Asia Argento Says Rain Dove Fed Her 'Hundreds of Lies' about Anthony Bourdain's Death
Androgynous model Rain Dove is "a sick, pathological liar," tweeted #MeToo activist Asia Argento in her latest swing against the model in their back-and-forth Twitter feud.
The Italian actress, who was the girlfriend of the late Anthony Bourdain, was accused of sexually assaulting Jimmy Bennett in a hotel room when he was 17 years old. Rain Dove leaked their texts to police in which Argento seemingly confirmed the incident after saying she and Bennett didn't have a sexual relationship. Her lawyer later explained they didn't have a sexual relationship—it was just a onetime incident.
After taking a break from Twitter for weeks, Argento returned to slam Dove, saying the model had fed her "hundreds of lies" about Bourdain's death. The beloved celebrity chef took his own life on June 8 in a French hotel room while filming an episode for his show, Parts Unknown.
"Why did you tell me you knew the truth about my partner's death and pretended to be some sort of 007? You wrote me hundreds of lies, for over a month," Argento tweeted at Dove Wednesday. "I have all the text messages. Now it's time for YOU to tell the truth if you are capable. Your ex calls you a pathological liar."
Dove responded to Argento's message, saying she needed to be honest. "Very funny coming from a sick pathological liar like you, who made money out of me by selling selected text messages in order to portray me for something I am not," Argento wrote back. "Then tell me why did you invent that articulate, humongous, gross lie about you and your NETWORK knowing 'the truth' about Anthony's death?"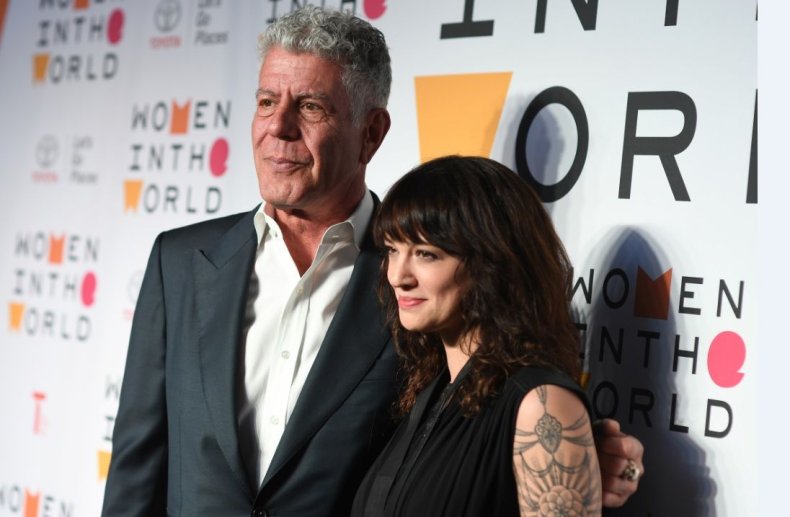 Argento shared a text message exchange the two had in which she and Dove apparently talked about Bourdain on June 26.
"Are you afraid you went too far with your fake espionage stories? The world needs to know all the lies you told me about Anthony's death," Argento continued. "You can't help yourself but keep lying, can you? You never sent me or showed me any documents. And remember, there was a witness."
In an interview with the New York Post, Argento's lawyer said Bennett's accusations, which she denied, did not discredit her as a Harvey Weinstein sexual assault accuser.
"Asia's courage to originally make the accusations against Harvey Weinstein has not waned," Mark Jay Heller said Tuesday. "Phase Two of the #MeToo movement dictates that the voice of a victim, even one with a history that may be in question, should be heard and she is hopeful that in the Court of Public Opinion it will ultimately be determined that Asia never initiated an inappropriate sexual contact with a minor, but rather she was attacked by Bennett and might even be suffering the fallback of a smear campaign by those already accused who may have a vested interest in their accusers being denied credibility."