Asia Argento Compares Jimmy Bennett Encounter to Harvey Weinstein: 'He Literally Jumped on Me'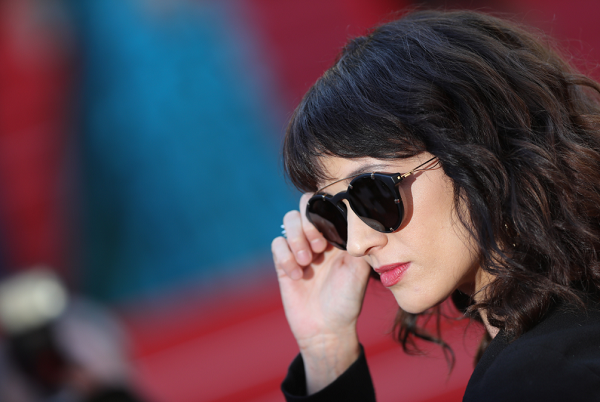 Asia Argento admitted to having sex with a 17-year-old when she was 37. Argento's testament on the Italian news program, Non e l'Areana—or Outside the Arena—came one week after her accuser, Jimmy Bennett, appeared on the same show with details of their sexual encounter back in May 2013.
Bennett claimed Argento kissed him before pushing him onto a bed and proceeding to take his pants off.
Argento's version of the story paints a different picture. The actor, now 43, likened her experience with Bennett, 22, to that of fallen Hollywood producer Harvey Weinstein and said the teen "crawled on top" her while she was "froze" in shock by his behavior. The pair, who co-starred in the 2004 film The Heart Is Deceitful Above All Things, were at California hotel Marina Del Rey Ritz-Carlton at the time of their encounter.
"He began to kiss me and touch me in a way that was not like a child with his mother, but like a boy with crazy hormones,"Argento said. "He said he had a sexual attraction for me, and hearing this from him made me freeze. I did not expect it."
She continued: "He literally jumped on me. He undressed me, put me sideways on the bed, climbed onto me and had complete sex without even using a condom. I was cold and still. Then he told me that I was his sexual desire since he was 12 years old."
Argento was one of the first women to come forward with sexual assault accusations against Weinstein, who reportedly often lured his victims to hotel rooms before assaulting them.
Argento previously admitted to paying off Bennett more than $380,000 in 2018 for his silence over the matter. Their encounter went public after text messages between Argento and model Rain Dove—the partner of fellow Weinstein accuser Rose McGowan—were leaked. The messages described nude photographs Bennett sent to Argento when he was 17. Dove and McGowan initially thought Argento received the illicit photos from Bennett since he was 12.
Dove issued an apology and clarified messages Argento sent were misinterpreted in early September while McGowan only backtracked her claims in an apology to Argento on Thursday. "On 27 August I released a statement about Asia Argento, which I now realized contained a number of facts that were not correct," McGowan wrote on Twitter.
"The most serious of these was that I said that the unsolicited nude text messages Asia received from Jimmy Bennett had been sent since Jimmy was 12 years old. In fact, I had misunderstood the messages that Asia exchanged with my partner Rain Dove, which made clear that Jimmy had sent Asia inappropriate text messages only after they met up again when he was 17 (still legally a minor in California, but notably different from a 12 year old," McGowan continued.