Rain Dove Confirms Alleged Asia Argento Leaked Texts About Jimmy Bennett Were Real
Androgynous model Rain Dove confirmed she leaked the texts where Asia Argento allegedly said she had sex with Jimmy Bennett when he was 17 years old. In California, the age of consent is 18. Argento, who publicly denied the sexual assault allegations, was 37.
The messages, however, showed that Bennett was apparently obsessed with Argento since he was 12 years old and sent her numerous nude photos. According to Dove's account, and the message of Rose McGowan, Argento allegedly never took the proper actions to stop the illicit photos.
"I can confirm that the text messages are indeed between Asia Argento and myself," Dove wrote in a Wednesday statement. "When I reported them to police I remained silent socially because I didn't wish to be a part of the narrative or distract from the path to justice."
"While the conflict may feel murky—the situation is cut and dry," Dove said. "An individual admitted to sexual engagement with a minor (according to the age stated by California), which is an illegal act that can qualify as statutory rape. As well as such they admitted to receiving continued nude images without reporting/blocking the account/written rejection/or action. When the individual made it clear that they were not going to be honest about their engagement, I turned in materials that may contribute towards an honest investigation. All victims deserve justice. Justice rarely exists without honesty."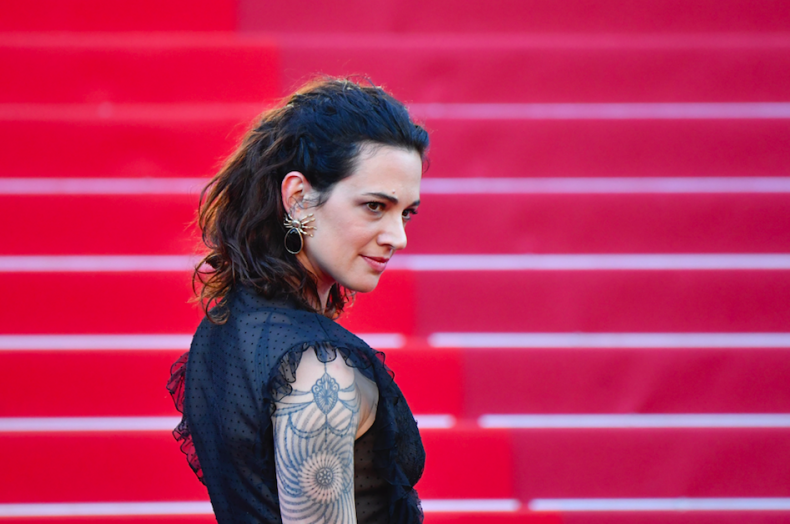 Argento was a leader of the #MeToo movement against disgraced movie mogul Harvey Weinstein. She was one of the first people to speak out when he was exposed in October.
Weinstein aside, Argento's alleged lies is what prompted Dove, who uses gender-neutral pronouns, to go to the police. In the past, others have come forward about their actions and Dove tried to help them through rehabilitation. Since Argento allegedly wasn't being honest with herself or Dove, the model went to the authorities.
"This is a person who represents a certain ideal and who has called out for those accused of sexual assault to be honest about their experiences in order to allow justice for the victims," Dove wrote. "However, then the NYT statement came out, in which Asia Asia denied any sexual engagement, that's when it became clear that they were not going to follow their own ethics."
Dove was alarmed by the August 21 denial Argento issued to the New York Times because it dismissed Bennett and "robbed" every one of the truth. "It was painful to read," the model wrote. "I had hoped that the narrative would change after our conversation but unfortunately the piece went straight to the press."
Argento has not issued a statement since Dove and McGowan confirmed the texts leaked to the press allegedly came from her.