Asian Americans Report Rise in Attacks As Senate Readies Vote on Hate Crime Bill
Asian Americans believe violence against them is increasing in the U.S., according to new data released as the Senate prepares to vote on an anti-COVID hate crime bill aimed at improving efforts to reduce attacks on the community.
A new poll released by the Pew Research Center found that 81 percent of Asian Americans believed violence against them was increasing, compared to only 2 percent who believed it was decreasing.
Six percent felt violence against Asian Americans had stayed the same, while the remaining 9 percent told pollsters they were unsure whether violence had increased or decreased.
Asked if they had experienced one of five incidents related to their race, 32 percent of Asian Americans said they feared someone might threaten or physically attack them, and 27 percent reported people acting uncomfortably around them.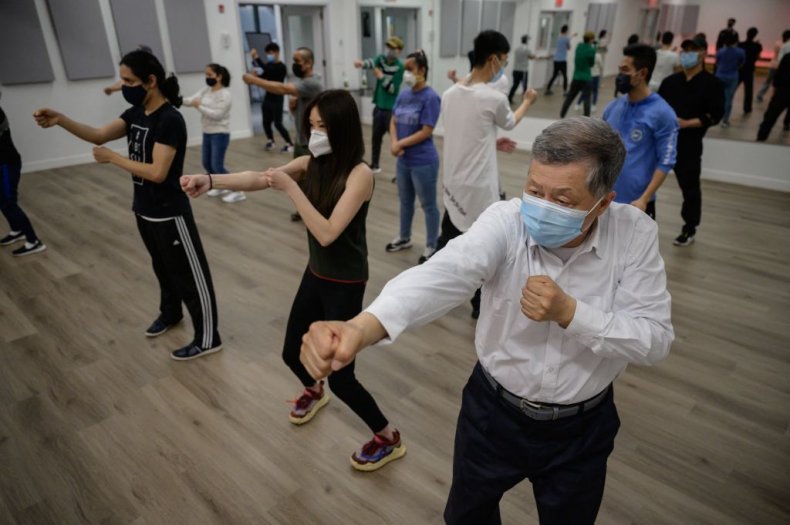 A little more than a quarter of those polled said they had been the target of a racial slur or joke. Sixteen percent said someone had told them to go back to their home country, and 14 percent said someone had blamed them for the COVID-19 outbreak.
Just under half of Asian Americans (45 percent) said they experienced at least one of the five incidents set out above.
When they were quizzed on what they believed was behind the perceived rise in violence against Asian Americans, a fifth blamed former President Donald Trump and 15 percent blamed the COVID-19 pandemic.
A further 12 percent felt it was the result of them being blamed or scapegoated. Pew Research Center interviewed 352 Asian adults from April 5 to April 11 for its latest poll.
Pew released the poll results as senators were expected to vote on an anti-Asian American hate crimes bill that passed a near-unanimous vote on whether to proceed with debate on Wednesday last week. The Democratic Senate Majority Leader Chuck Schumer said a vote would be held on Wednesday, CNBC reported, but the Senate roll call shows no vote has taken place yet.
Under the bill put forward by Sen. Mazie Hirono (D-HI), the attorney general would be told to assign a Department of Justice staffer to review COVID-19 hate crimes. These hate crimes would include attacks on people based on the notion that one of their characteristics links them to the spread of COVID-19.
The administration would also be tasked with issuing guidance to state and local authorities on how to create systems for reporting hate crimes. "It is now time for Congress to take a stand and pass this legislation against this kind of targeted, unprovoked attacks on AAPIS [Asian Americans and Pacific Islanders]," Hirono said earlier this month.