Asian Father Attacked With Flurry of Punches as His Stroller With Baby Rolled Away
A 36-year-old Asian American man was brutally attacked by stranger outside of a San Francisco supermarket Friday.
Just outside of Gus's Community Market in the Mission Bay district of San Francisco, the victim who wishes to be identified as "Bruce," was waiting to cross the street at the intersection of 4th and Channel streets with his 1-year-old toddler in a stroller when he was approached from behind, knocked to the ground, and assaulted with a series of punches.
"I was right on the ground and in that exact second I was trying to shield my head and prevent any worse injuries," he told KGO-TV. "I couldn't protect my child. I was on the floor and he was in a stroller that was slowly rolling away, so it's definitely very scary as a parent."
The suspected attacker has been identified by police as 26-year-old Sidney Hammond. In fact, Hammond had been arrested just a few weeks prior at the same location for a separate assault and theft. several charges—both felony and misdemeanor—are being filed against him, according to KGO-TV. Hammond was booked last Friday for "assault likely to create great bodily injury" and for "child endangerment," according to court documents obtained by Newsweek.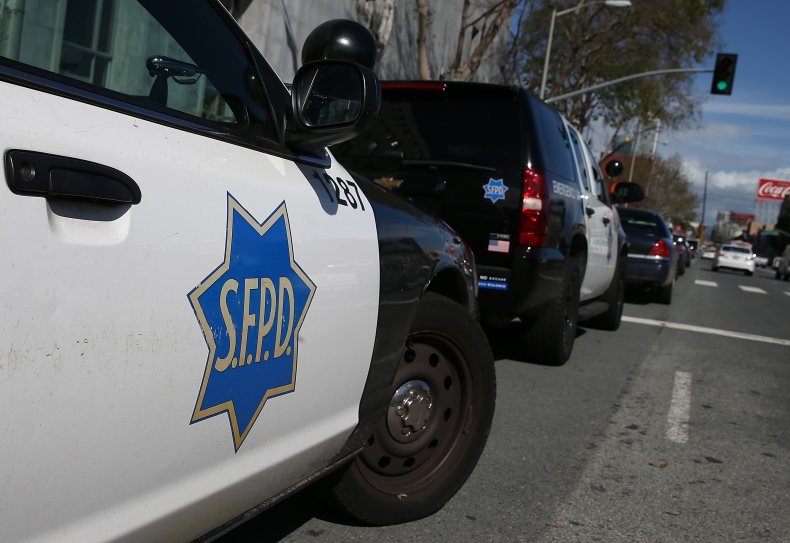 Though the attack happened Friday afternoon, Bruce only eventually agreed to speak in an exclusive interview with KGO-TV's Dion Lim on Monday. Lim tweeted Monday that "Despite being hesitant to speak out but did so to raise awareness [sic]."
"My sense of security has been shattered," Bruce told Lim. Police say the incident was "random and likely not motivated by anti-Asian racism," according to a report obtained by SFGate. However, when Lim questioned Bruce about his suspicions, he said the thought did cross his mind. He didn't know the attacker, making it likely to be a profiling incident, plus there has been a rising number of anti-Asian hate crimes recently.
Bruce told Lim his reason for speaking out is "that my attacker can be somewhere where he can't harm anyone else, or if he needs help, he can get the help he needs."
Incidents like this one are not uncommon in Mission Bay or other San Francisco neighborhoods, nearby business owners told Lim. Nani Tsegaye, the owner of nearby Tadu Ethiopian restaurant said, "We just expect something to happen now more than we expected before."
Racially motivated violent crimes, especially against Asian Americans, continue to climb. According to the Pew Research Center, almost one in three Asian Americans have reported experiencing racial slurs or racist jokes since the beginning of the pandemic, and "A majority of Asian Americans (58%)...say that it is more common for people to express racist views toward their group since the coronavirus outbreak."
Newsweek reached out to Mission Bay Law Enforcement for comment. This story will be updated with any response.