Asian Longhorned Ticks Found in Connecticut As Species Continues Spread Across U.S.
Scientists have discovered the first established population of invasive Asian longhorned ticks (Haemaphysalis longicornis) in Connecticut, according to state officials.
The ticks are native to Japan, the Korean Peninsula, eastern regions of Russia and China. They are a major livestock pest in Australia and New Zealand, where they were introduced more than 120 years ago.
They were spotted for the first time in the United States in 2017 on a farm in New Jersey. Since then, they have spread to more than a dozen states across the country—primarily along the Eastern Seaboard—including Arkansas, Delaware, Kentucky, Maryland, New Jersey, New York, North Carolina, Ohio, Pennsylvania, Rhode Island, Tennessee, Virginia, and West Virginia.
Now, the Connecticut Agricultural Experiment Station (CAES) has detected an established population in Fairfield, which is located in southwestern Connecticut.
As a livestock pest, Asian longhorned ticks are known to transmit diseases to animals. But the ticks also presents a potential risk to human health.
While they appear to be less attracted to human skin than other well-known native species—such as the blacklegged tick, lone star tick and American dog tick—they have been found on people.
According to the Northeast Regional Center for Excellence in Vector-borne Diseases, Asian longhorned ticks may be capable of infecting humans with a virus that causes "severe fever with thrombocytopenia syndrome"—an emerging infectious disease in China, first detected in 2009, that causes symptoms such as fever, vomiting, diarrhea, and multiple organ failure.
The disease has a high fatality rate of between 12 to 30 percent, according to a research letter published in the journal Emerging Infectious Diseases.
It is not yet clear if and to what extent these ticks can pass on infectious diseases to humans in the U.S. The CDC is currently in the process of investigating what pathogens this tick can become infected with and transmit to humans in the country.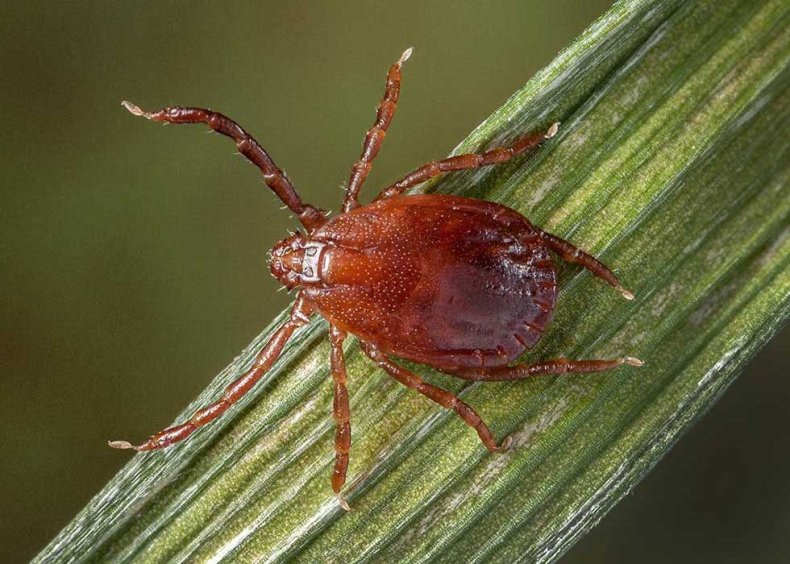 "The identification of an established population of the Asian longhorned tick in Connecticut highlights the challenge and risk to human and animal health in the state, though this risk is not limited to Connecticut," Goudarz Molaei, head of the CAES Passive Tick Surveillance and Testing Program, said in a statement.
"The potential is high for invasive ticks capable of transmitting pathogens of human and veterinary concern to become further established in new areas as environments continue to change. Proper surveillance, interception, and identification of exotic ticks are vital to protecting human and veterinary health."
Molaei said CAES was closely monitoring the distribution and human biting activity of the invasive tick species, as well as its potential to transmit local and non-native diseases.
Asian longhorned ticks are reddish-brown, with adult females measuring up to 3.4 millimeters long and 2 millimeters wide, according to CAES. They are able to reproduce without mating, with each female able to lay up to 2,000 eggs at a time.
They are generalists, feeding on a range of different hosts at each stage of their lifestyle, including birds, small mammals, cattle, sheep, goats, horses, dogs, cats, coyotes, foxes, groundhogs, deer, raccoons and opossums.