Asian Man in Coma After Being Brutally Assaulted in NYC, Mayor Vows Suspect Will Be Caught
A 61-year-old Asian man has been placed in a coma after being brutally attacked in New York City on Friday, prompting Mayor Bill de Blasio to vow that the suspect will be caught.
Yao Pan Ma, a Chinese immigrant, was attacked in East Harlem Friday night while collecting cans. According to the statement given to Newsweek by New York Police Department, Ma was approached from behind by an unknown suspect who "struck the victim in the back causing him to fall on the ground.
"Once on the ground, the individual kicked the victim multiple times in the head before fleeing the location on foot to parts unknown," the statement added.
Video footage of the harrowing incident has since been released by the NYPD, showing the suspected repeatedly stomping on Ma while he laid motionless on the ground. Police were called to the scene after a bus driver reported seeing Ma laying unconscious, ABC 7 News reported.
Ma was then transferred to a hospital in Harlem, where he was placed in a medically induced coma after suffering from a cerebral contusion and facial fractures, the New York Post reported. His family additionally confirmed his current condition, ABC 7 reported.
On Saturday, de Blasio commented on the assault, calling it "outrageous."
"This is outrageous. Make no mistake, we will find the perpetrator and they will be prosecuted to the fullest extent of the law. If you have any information on this vicious act of hate please contact@NYPDHateCrimes IMMEDIATELY," he tweeted.
Ma's family told ABC 7 that he had immigrated to New York two years ago, and was collecting cans for extra money after losing his job in the coronavirus pandemic.
"We are completely in shock -- terrified and scared and frustrated," she said. "My uncle is a very quiet person, very hardworking. He's not the person to cause trouble," Ma's niece said in an interview.
Police have not yet determined if Ma was targeted due to his race, but the incident is now being investigated by the NYPD's hate crimes unit and officers within the 25th precinct.
"The individual is described as an adult male, dark complexion. He was last seen wearing a black jacket, black pants, white sneakers and a multi-colored baseball cap," the NYPD told Newsweek.
The attack comes amid a wave of anti-Asian hate crimes across the country.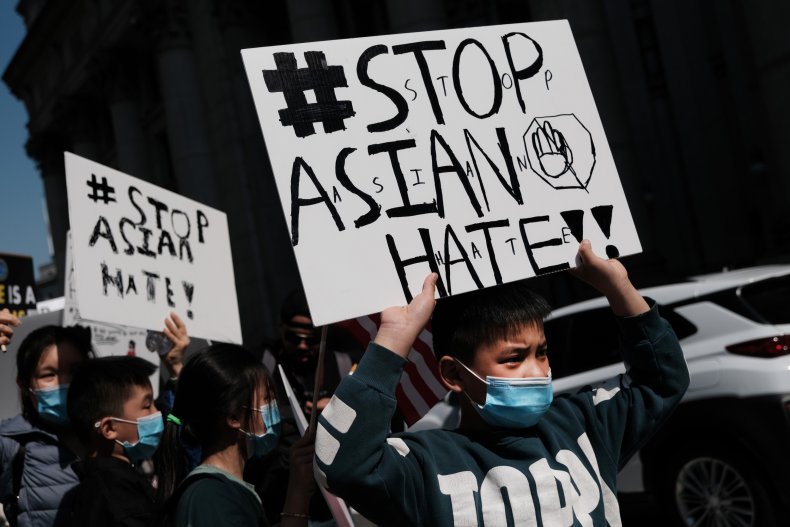 According to a report released last month by the Center for the Study of Hate & Extremism at California State University, San Bernardino, anti-Asian hate crimes increased by 145 percent last year in 16 of the largest cities in the U.S. The report attributed the rise in hate crimes in part to "negative stereotyping of Asians relating to the pandemic."
The nonprofit organization Stop AAPI (Asian American Pacific Islander) Hate also recorded 3,795 separate hate crimes, including both verbal and physical altercations, between March 19, 2020 and February 28, 2021.
The issue was further brought to light last month after eight people, six of them Asian women, were killed during a mass shooting in Atlanta.
In a poll released this week by the Pew Research Center, 81 percent of Asian Americans believe violence against them is increasing, compared to only 2 percent who believes it is decreasing.