Asian Man Looks to Move Out of California After Being Partially Blinded in 'Hate Crime'
After two decades in California, a 59-year-old Asian man is looking to leave the state because of a brutal attack he suffered, which he believes was racially motivated.
"Why [do I think it's a hate crime]? Because I have my wallet with me. I still have my cell phone with me. The stuff I bought is still with me. Why would you attack someone you don't know just to attack them?" Danny Yu Chang told Newsweek.
Anti-Asian sentiments rose amid the COVID-19 pandemic and a recent report from Stop AAPI Hate identified nearly 4,000 hate incidents in the past year. AAPI noted that it's likely to only be a "fraction" of the true number and California topped the list with 44 percent of the total incidents reported.
Yu Chang said he was attacked on Monday while on his lunch break in San Francisco. Police didn't identify Yu Chang as the victim, but the alleged attacker of a 59-year-old victim, identified as Jorge Devis-Milton, "punched him multiple times in the head, causing him to fall to the ground where he laid motionless," according to a witness' statement to police.
"With what's happening right now, my wife is still afraid to go out and we are still trying to cope with what happened," Yu Chang said. "I haven't gone out since that act. I've been living in California—in the Bay Area—for a long, long time and this is the first time this happened to me."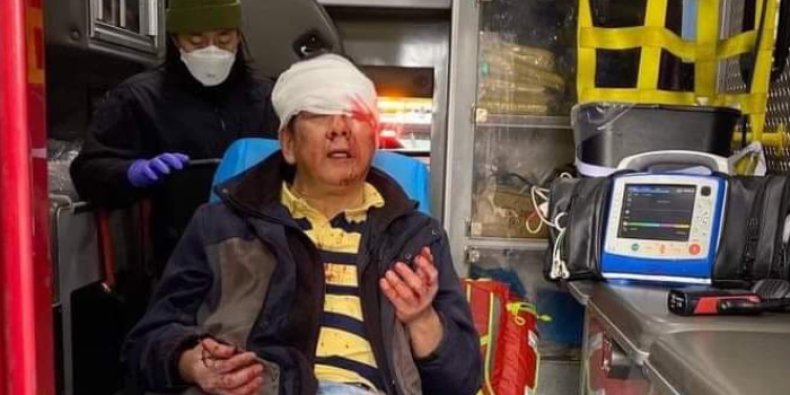 Yu Chang, who is partially blinded from the attack, has lived in California for 21 years but he's seen a change in recent years. He pointed to the rise in homelessness and said he no longer feels safe walking around at night. Without a car, he and his wife are looking to relocate to Nevada, where he has friends, or Indiana, where his sister lives.
They started a GoFundMe to help finance their relocation and raised about $10,000 of their $50,000 goal in less than 24 hours.
He doesn't remember the attack and the first thing he said he remembers is a doorman of a nearby hotel handing him a tissue. Police used surveillance footage to track down the suspect and Yu Chang wants access to the video despite it being trying emotionally to see the attack.
Devis-Milton, 32, was arrested on Tuesday for the attack on a 59-year-old male and a 64-year-old male who was stabbed in his cheek and had "life-threatening injuries." Both cases remain open, but at this point, Michael Andraychak, a public information officer for the San Francisco Police Department, told Newsweek there's nothing to indicate either attack was motivated by racial bias.
Attacks against Asian Americans prompted Jacob Azevedo to start the organization, Compassion in Oakland, which provides escorts to anyone feeling unsafe, especially elderly Asian people. Its creation came after a string of violent attacks, including the assault of a 91-year-old man, the death of an 84-year old and the robbery of a 64-year-old grandmother.
Yu Chang said he's speaking out about his experience in an effort to put an end to attacks on Asian Americans.
"I pity old Asian Americans that cannot defend themselves. Just imagine it's your parents, it's your mom or dad or grandpa, you don't want anything to happen to them. You have to speak up. You have to let people know these things are happening," Yu Chang said.